Here's the Scoop on How to Snag a Job and What Fields Are Hiring Right Now
May is going to be a hot month for entering the job market. Between college graduates, people getting vaccinated, and those who lost their job due to COVID, job searching is competitive. Here's how to search for a new job and what fields are hiring right now.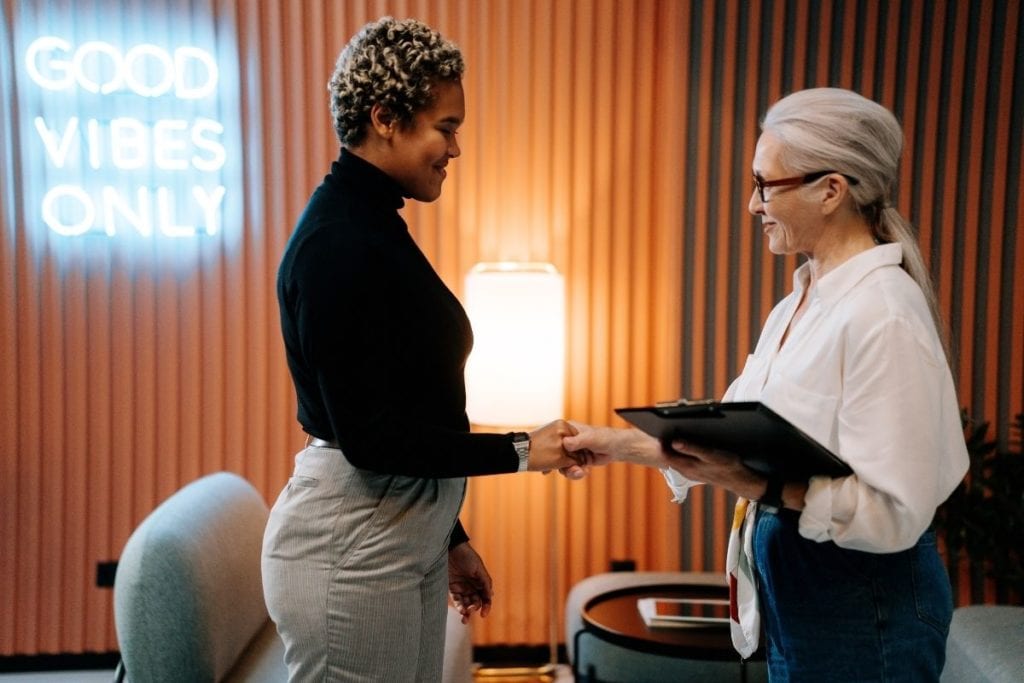 Advice for entering the job market
Candidates entering the job market right now should know that remote and hybrid work is here to stay. "The pandemic revealed that companies are able to remain productive even when employees are working on a remote or hybrid basis," says George Santos, Director of Talent Delivery and Head of Marketing at 180 Engineering. "As a result, telecommuting will remain a prevalent trend in contemporary workplaces. For candidates, this means that you can access a wider pool of potential job opportunities beyond nearby companies."
New roles are constantly emerging. Many of the most sought-after jobs did not exist a few years ago. Advancing your education through formal training, hands-on experience, and observing changing trends will give you a competitive edge.
Anjela Mangrum, founder and president of Mangrum Career Solutions and a Certified Personnel Consultant, says those job seekers should "brush up on your digital skills. For instance, if you majored in marketing a few years back, you could benefit from learning the latest techniques in social media marketing, data analytics, and SEO."
Take your networking efforts to the next level. Connecting with the right people could be a great help in landing you a job, later if not immediately. To get noticed, you can also add meaningful comments on relevant LinkedIn posts to show interest in the company. Writing articles on relevant platforms, increasing your participation in professional group discussions online, and attending industry-relevant webinars can help you create a good impression.
Cover letter advice
"Industry experience can be as crucial as formal education. Many workplaces are looking for candidates who have practical rather than theoretical knowledge, in order to account for the drastic disruptions that industries are experiencing," Santos says. "This means that it is crucial for candidates in many fields to be able to demonstrate hands-on experience. This can include volunteer work and/or paid positions. By making an effort to pad out your resume with extracurriculars and demonstrated involvement in your industry, you can drastically increase your chances of getting hired."
Another tip from Mangrum: knowing about the company's background, vision, and mission can be helpful, along with its recent news. You can use this info during your interview and in your cover letter to sound genuinely interested. For example, for a company that takes eco-friendliness seriously, you could mention your dedication and efforts as an environmentalist.
Lastly, Mangrum advises you to research the company and job role before you apply—and reflect that on your application. Generic resumes and cover letters have no place in this high-competition era.
"As a recruiter, applications tailored to highlight the key skills and achievements relevant to the particular position stand out for me," she notes. Mangrum also specifically recommended having a 'Key Achievements' section in your resume to mention relevant successes or challenges that you overcame.
What fields are hiring right now
So, now you're totally prepared with the scoop on how to land the job. Let's look at what fields are hiring right now.
"Some of industries that are especially looking for employees right now are healthcare, mental health, artificial intelligence, programming, finance, e-commerce and online retail, social media marketing, content creation, streaming, science, and engineering," says Santos. "These industries are very likely to continue looking for high volumes of new candidates over the next few years, mainly as a result of the shifts towards remote work and online consumer experiences."
Mangrum added some additional insights:
Manufacturing and engineering companies continue to hire as they struggle to meet the demand for medical and protective equipment, among other things.
Job vacancies in the fields mentioned above are not difficult to find right now. Whether you're a buyer or truck driver, employers need you, so claim your space.
The digitalization of the traditional workplace has changed the way businesses function forever. The IT industry continues to thrive, with newer in-demand skills each day.
The healthcare industry obviously needs more professionals in the wake of the pandemic. Even though vaccination has started, Mangrum doesn't see this field slowing down any time.
Now go nail that job you want!