These Are the Best Sports Bras for Every Workout
With so many sports bras out there, it can be difficult to decide which one, exactly, is right for you. The best one for you depends on a variety of factors — most importantly, what type of workout you'll be doing while you wear it. Yep, the sports bra you wear to a low-impact yoga class isn't the one you should wear to a super-sweaty indoor cycling class or high-intensity HIIT workout.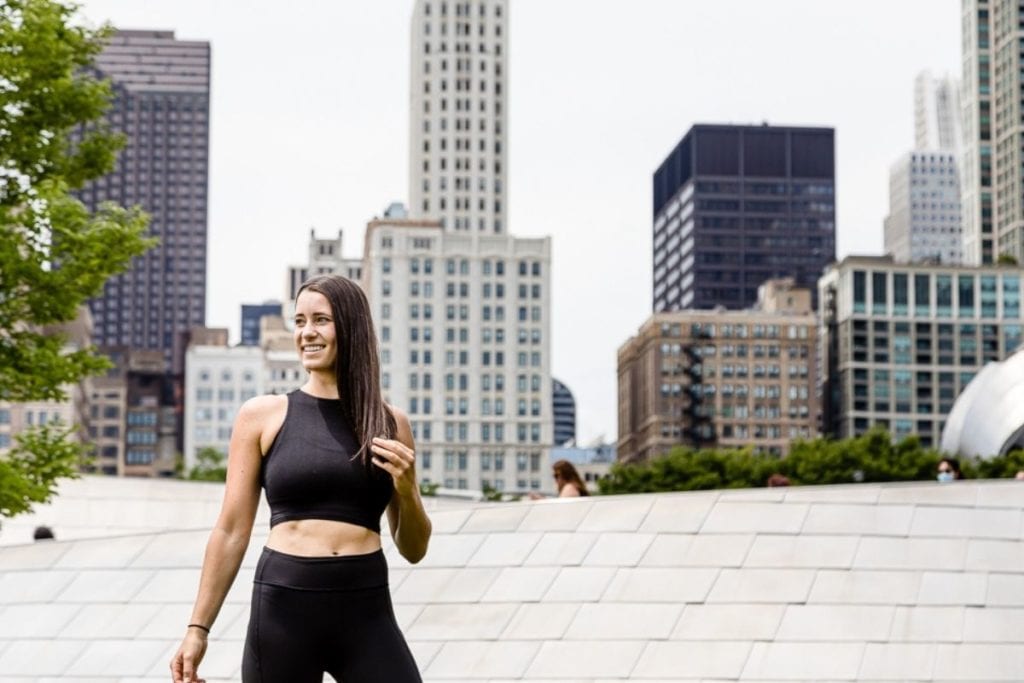 To help you find the most comfortable sports bra for your needs — so you can totally rock your workout — we put together this guide with the help of a few top fitness instructors.
Here's what you should look for when it comes to support, cut, fabric, strap style, and more, based on the workout. (And if you want product recommendations after reading, we've got you covered, literally, with this sports bra roundup!) 
Best sports bras for yoga, barre, and Pilates
For low-impact workouts like yoga, barre, and Pilates, you don't have to worry as much about support as you would for higher-impact exercises.
"While support isn't as much of a factor, you still want your sports bra to be functional and make sure it's not digging in, cutting into, or poking you in any way," says Heather Thomas, owner and lead instructor of The Barre Code in Louisville, Kentucky. "You can get away with wearing your more fashionable bras over performance — however, make sure you can move freely without restriction."
Amanda Simms, lead instructor at CycleBar Chesterfield in Missouri and co-owner of SweatNET STL, says she usually wears low- to medium-support bras for yoga. Because support isn't much of an issue here, she likes cute, strappy bras, sometimes with a higher neck.
Katy Neville, head of talent and Barre Burn trainer at cure.fit, is also a fan of high-neck sports bras, which she says take pressure off her shoulders.
"With any high-neck sports bra, the straps are about an inch wide and lay around the top part of your shoulder/neck rather than on the edge of your shoulder," she says. "Teaching Barre Burn at cure.fit, there are a lot of planking moves, so the more my shoulders get to breathe the better."
Neville also suggests looking for a sports bra with a seamless design that allows you to twist and turn without uncomfortable bunching. She chooses one that fits snugly without any predetermined cup sizes. "This allows the bra to hug my body tightly without any ill-fitting mishaps," says Neville.
For low-impact megaformer workouts, Dana Churchill, lead instructor at CycleBar Redmond TC in Washington, coach at Row House, and instructor The Pursuit, a Lagree fitness studio, reaches for her cutest, most delicate sports bras.
"I don't sweat as much [in megaformer classes], so this is my chance to bring out the bras that I wish I could rock in my cycling classes but would crumble the second I came out of the saddle," she says. "Bras that have cute back details or delicate straps are usually what I go for since many of the shirts I wear in this type of workout have open backs."
Churchill adds that she likes sports bras made from softer materials for low-impact classes such as the megaformer. (Think soft pima cotton.)
"While these workouts are still high-intensity, I find that the majority of people don't sweat as much as in a cardio-based class," she says. "Softer materials are key here, especially since there is a lot of movement of the upper body — these help prevent chafing." 
Best sports bras for spin class, running, and dance
For workouts that work up a sweat, like indoor cycling, choosing a sports bra made from a moisture-wicking material is key. "I prefer a polyester/spandex blend," says Churchill. "It is a slicker type of material, but it is the most comfortable when I walk out of class super-sweaty."
She avoids softer, buttery-type materials for these types of classes because they take longer to dry and can feel uncomfortable if you have to run errands post-class. Churchill adds that the slicker material is more compressive, a must for these higher-intensity workouts.
As for support, aim for medium or high. "Cycling requires the highest level of support since there can be a lot of bounce, especially when we ride out of the saddle," says Churchill. "I like to keep the girls tight to my chest to make sure there isn't any extra bouncing."
Churchill favors higher-cut bras for spin classes. "Since I am leaning forward facing the class, I don't want to give anyone an unwanted peep-show," she says. Simms, meanwhile, says she finds anything from a traditional 1-inch racerback style to thinner, cute strappy styles comfortable here.
Avoid sports bras with overly-tight bands for classes like indoor cycling or rowing. "These feel too compressive and can sometimes feel like I can't take full breaths in moments of recovery," says Churchill. If a band is too wide, though, it can start to roll or crease, which is also uncomfortable. "The sweet spot is no more than 3 inches, I've found," says Churchill.
She explains that wide straps are usually a must for these types of workouts, especially cycling, due to the up-and-down/side-to-side motion in your pedal stroke. Avoid straps that are too tight because they can cut into the sides of your body and cause chafing, says Churchill.
Also, while some people prefer sports bras with clasps in the back because it's hard to take off a sweaty bra after class, Churchill prefers the look and feel of continuous bands and straps.
Because you might ride in a sports bra only, you should consider the look of the sports bra too, in addition to the function. As Churchill suggests, ask yourself these Qs: Do you feel like a rockstar while you wear it? Is the neck a flattering cut? If you feel comfortable wearing just a bra while you ride, would you wear just this bra?
"One of the great things about being in a dark room is that if you've ever wanted to try wearing just a bra to a class, it's a great place to start since everyone is so focused on themselves — and wearing a bra that you love can help drive your performance even more," she says.
Cardio dance classes also require a high level of support in a sports bra. "More than often, you'll find yourself doing a lot of jumping — i.e., 'bouncing' — in many dance fitness classes," says Mahri Relin, founder and creator of Body Conceptions in New York City. "This can include jumping around on the ground or even doing your dancing on mini trampolines."
Even if you're someone who normally doesn't need extra support, it's a must while doing dance fitness because of the bouncing, says Relin.
For outdoor runs, meanwhile, Neville likes sweat-wicking high-neck sports bras.
"One added bonus of a high neck bra is the ability to run and not worry about a sunburn on my chest," she says. "I think any added benefit when purchasing a workout product goes a long way."
A breathable, non-cotton blend means you can transition quickly from workout to meeting without looking like a mess, adds Neville. 
Best sports bras for HIIT, bootcamp, and weightlifting
For the highest-intensity workouts like HIIT and bootcamp classes, it's best to choose a highly supportive sports bra.
"Breasts move in all directions so minimizing the amount of movement will allow you to focus more on your workout rather than the discomfort you are feeling," says Thomas. "Finding a bra that is designed for high impact with support and movement control is top priority."
Material is important too for these kinds of workouts.
"Moisture-wicking technology has come a long way over the years and allows your body to feel dryer by not socking in as much moisture," says Thomas. "Stay away from heavily padded bras that will soak up more sweat and stick to lightly-lined bras that will allow more air flow."
What about powerlifting, or weightlifting? Since you're not jumping or running around, comfort and breathability are more important than stability or unmoving support, says Nerissa Zhang, USA Weightlifting certified sports performance coach, CEO of The Bright App, a fitness management app, and owner of Bunny Barbell Club in San Francisco.
"You're really going to be working up a sweat, so a sports bra made with moisture-wicking material is going to be your top priority," says Zhang.
Any crisscrossing or thin, flimsy straps will get twisted under the barbell or bench and will begin to chafe or cut your skin pretty quickly, says Zhang, so you'll want to avoid these styles.
"Also keep in mind that you'll be placing a lot of weight on your back or shoulders when you're doing squats or bench presses for example, so wide, flat, and simple bra straps are going to be your best option," adds Zhang.