How to Find the Best Lash Serum for You
Unfortunately, most of us weren't born with super-long, fluttery lashes.
While mascaras and falsies can help you fake a longer fringe, these products will only take your lashes so far. Of course, you could always get eyelash extensions—but going to an experienced pro could set you back upwards of $300.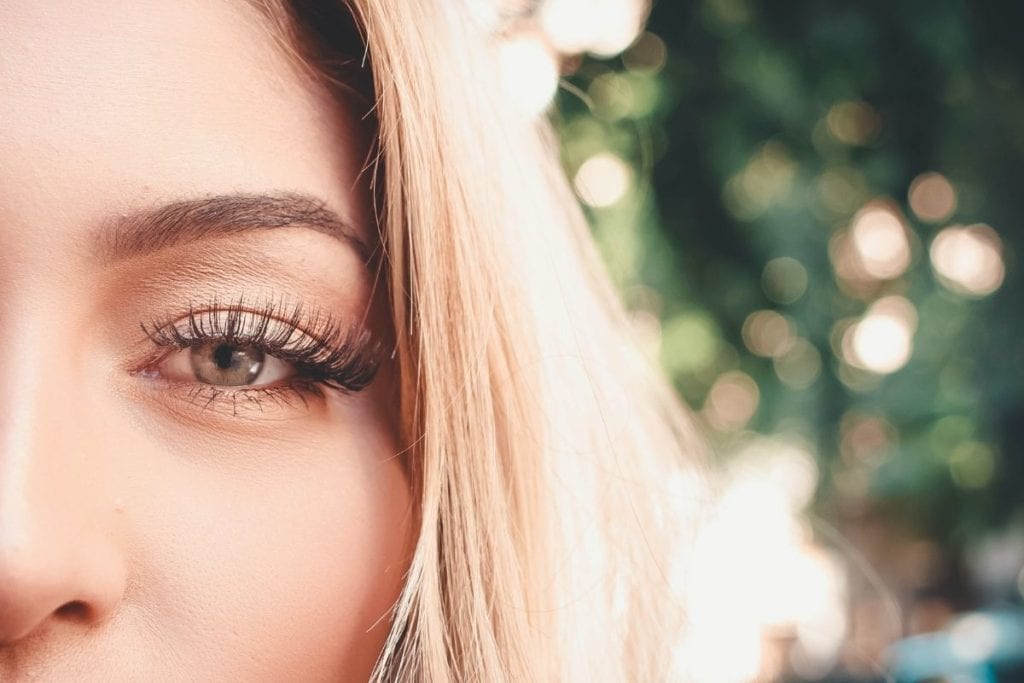 Luckily, there is something else out there that can give you longer-term results without totally breaking the bank (or taking up too much of your time). We're talking about lash growth serum. However, not all lash serums are created equally.
Here's how to choose the best lash serum for you.
What is lash growth serum?
"Lash growth serums are serums that help speed up the lash growth cycle, bringing your eyelashes to the resting—or telogen stage—of the lash cycle," explains Britni Bionca, eyelash extension expert and owner of BB Lash Boutique in Los Angeles. "This phase lasts two to four months and is when your lash sits in the follicle and forms completely."
Medicated lash serum contains an ingredient called prostaglandin to stimulate hair growth, says Bionca. This ingredient was originally used to manage an eye disease known as glaucoma.
"It was noted that patients who were using it regularly inside their eyes started to grow long, thick eyelashes after about eight weeks," says Tsippora Shainhouse, MD, dermatologist in Beverly Hills.
Thus, a lash growth serum, known as Latisse, was developed. Latisse is a medication called bimatoprost. It's the only FDA-approved treatment for growing longer eyelashes, and you must have a prescription to get your hands on it. A Latisse Rx will typically set you back somewhere between $120 and $140 for a one-month supply.
Can you get a lash growth serum without a prescription?
There are plenty of OTC lash growth serums similar to bimatoprost on the market. They contain synthetic prostaglandin analogues that work similarly to the real thing, says Shainhouse. These products generally come with a lower price tag than Latisse.
Some of the most popular OTC lash growth serums include:
How do you use a lash growth serum?
"Lash serums are along the same lines as a skin care serum and should be a part of a daily skin care routine," says Michelle Huber, director of sales at LiLash. You should apply lash serum to a clean, dry upper lash line in a thin layer using the applicator brush or wand.
Most brands recommend you apply their lash serums at night because there's much less of a chance you'll rub your eyes and remove the serum. Have sensitive eyes? Huber suggests using a lash growth serum every other day for the first week or two to give your body time to adjust.
Keep in mind it may take a few weeks to see any difference—and you'll have to keep using the lash serum to keep up the results. You can even use some lash serums on your eyebrows to condition and encourage hair growth there as well.
What are the potential side effects of lash growth serums?
You could experience minor side effects from a lash growth serum. These include reversible darkening of the skin at and around the application site (such as your lash line, eyelids, and the skin around your eyes), says Shainhouse. She adds that skin lightens back up once you stop using the product.
Lash growth serums may also cause contact dermatitis.
"Discontinue use and see your dermatologist or allergist if you develop an itchy, red, burning, stinging, flaky rash, or eyelid swelling," Shainhouse advises.
Lash growth serums also have the potential for a more serious side effect, although it's quite rare. They could permanently darken light-colored eyes (green, hazel, and potentially blue), says Shainhouse, due to the prostaglandin. "This is irreversible," she says.
In general, though, lash growth serums are safe to use as directed. For the best and safest results, Huber recommends looking for a brand that's physician-formulated. She also notes that most lash growth serums are not intended for use by anyone pregnant or nursing since they haven't been tested in those instances.
What about non-medicated lash serums?
You can find plenty of non-medicated lash serums on the market. While they won't specifically trigger new hair growth, they will improve the quality of your current lashes and help minimize breakage, says Shainhouse. These are also the most affordable lash serums of the bunch.
"Serums with peptides, hyaluronic acid, vitamins, antioxidants, and soy protein may help to heal and strengthen the lash line akin to help support healthy lash growth," she explains. "They may also soften, condition, strengthen and even thicken the appearance of individual eyelashes."
Some of the most highly-rated non-medicated, conditioning lash serums include:
You can also condition lashes using ingredients you already have in your pantry.
"Using a spoolie, apply a mix of coconut oil and castor oil to lashes each evening," says Bionca.