Change the Play to Make This a Healthy Football Season, Here's How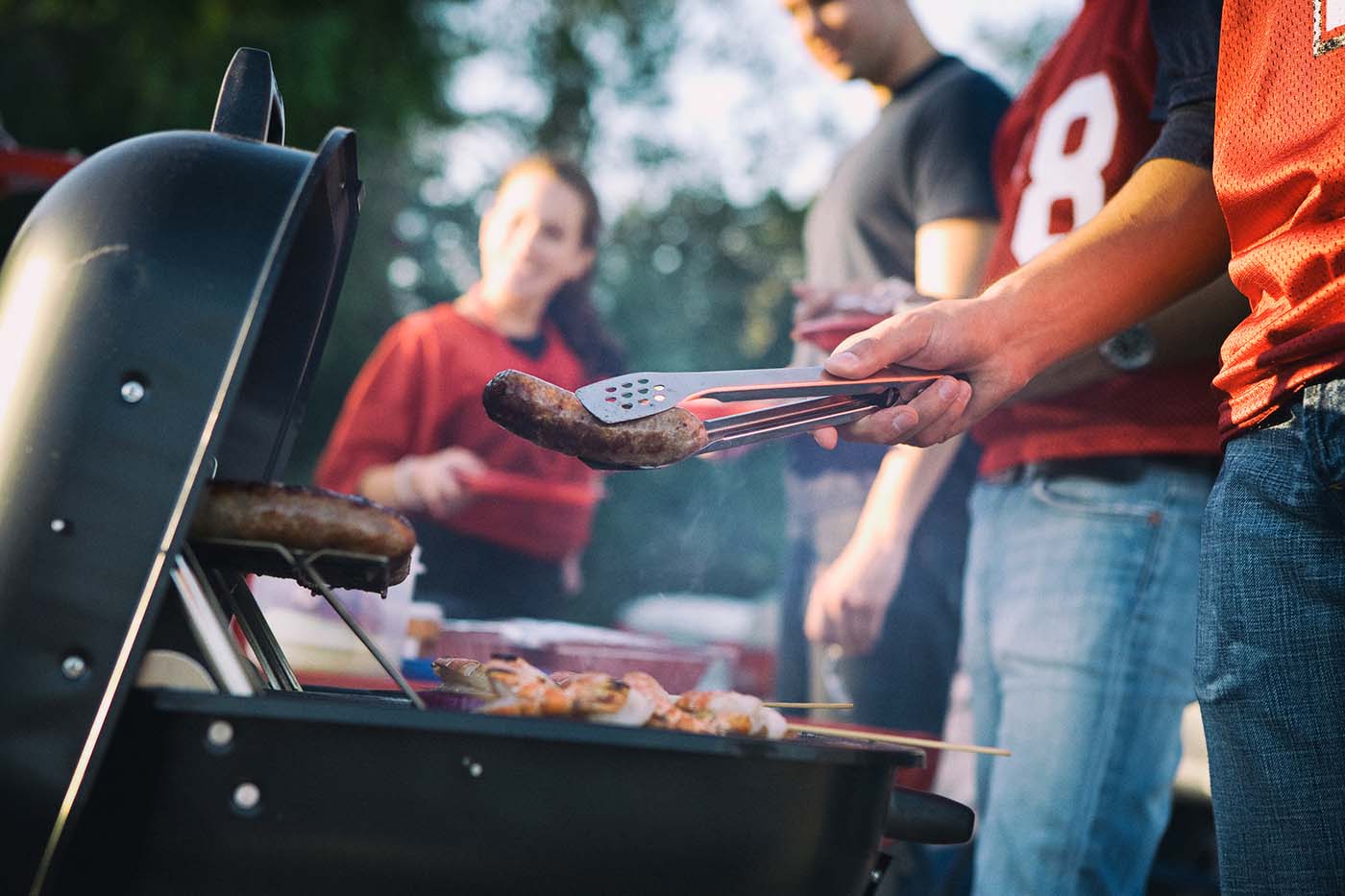 With the simple flip of a coin, football season is officially here. We love this time of year because it means we get to meet up with friends to cheer on our favorite college and NFL teams, while enjoying the best foods.
This time of year can also be challenging, because when it comes to football, the food tends to be nutritionally unhealthy, the beer is always flowing, and we're all suddenly spending a lot more time on the couch than we were a few weeks ago. It's too close to call this season a loss, however. To make this year a winning season, follow our playbook for healthy football habits.
Don't forget to warm up
First things first, we're doing away with skipping workouts on game days. Make your AM workout a priority and you won't be tempted to snooze your alarm. Accountability is key; schedule a workout date, book a fun class,or team up with a buddy and commit to being each other's virtual workout buddies by texting before and after your sweat sessions. Getting your workout in early on game day is the best way to feel amazing heading onto the field.
Make it a home game
Avoid sports bars and organize at-home game watches, alternating hosting duties among your friends. Not only will you save money and calories, you'll also be more comfortable. Never hosted a game watch? Don't stress, make the day a potluck and ask everyone to bring something to share. We also recommend that game day is always BYOB; everyone drinks what they like, and you don't worry about being stuck with beer you don't want.
Fuel properly
Football season is traditionally associated with unhealthy foods, such as wings, pizza, and pretty much anything fried. While these treats have their place, we recommend enjoying them, in moderation, alongside healthier fall recipes, such as slow cooker pulled chicken, turkey chili, sweet potato nachos, and more of our make-at-home football favorites.
Pace yourself
There is nothing like sipping a cold beer while cheering on your favorite team. We're all about enjoying drinks on game day in healthy moderation. To stay within your personal limits, set a drink maximum for yourself at the beginning of the day, and work towards sticking to that. If you need help remembering how much you tossed back, try an app like DrinkControl for iPhone to record as you imbibe. To pace yourself and stay hydrated, try alternating alcoholic beverages with a glass of water.
Put me in, coach
Don't just say it, play it! Watching football is fun, but playing football can be even more fun. Your elementary school glory days are not behind you; there is still time to leave it all on the field in a game of tag or flag football. Playing football is a fun way to get active in the fall, and will be a perfect complement to all your couch time as the weather gets colder. Grab a friend, and check out your local rec league to get started. In Chicago, try out Chicago Sport & Social. For D.C. athletes, play with your alma mater at Capital Alumni Network  or find a league with Capital Flag Football.
Get your touchdown dance ready
Find creative ways to incorporate activity into game watching. Just getting off the couch will make you feel better, whether that means a game-length workout with moves tied to plays on the field, or adding in movement breaks after each quarter. Some of our favorite plays include planking during the times out, stretching at halftime, and of course, dancing for every score for the good guys.
Are you ready for some football?