Gift Guides, Day 9: For the Person Who's ALWAYS Cold
This post was written in partnership with HigherDOSE. As always, we only write about brands, products, and experiences we truly love.
Baby, it's cold outside… and while we're still committed to getting outdoors and enjoying fresh air every day, sometimes we just want to remember what it feels like to get REALLY sweaty in the name of wellness. That's why the Infrared Sauna Blanket V3 is one of the top items on our wish list this year.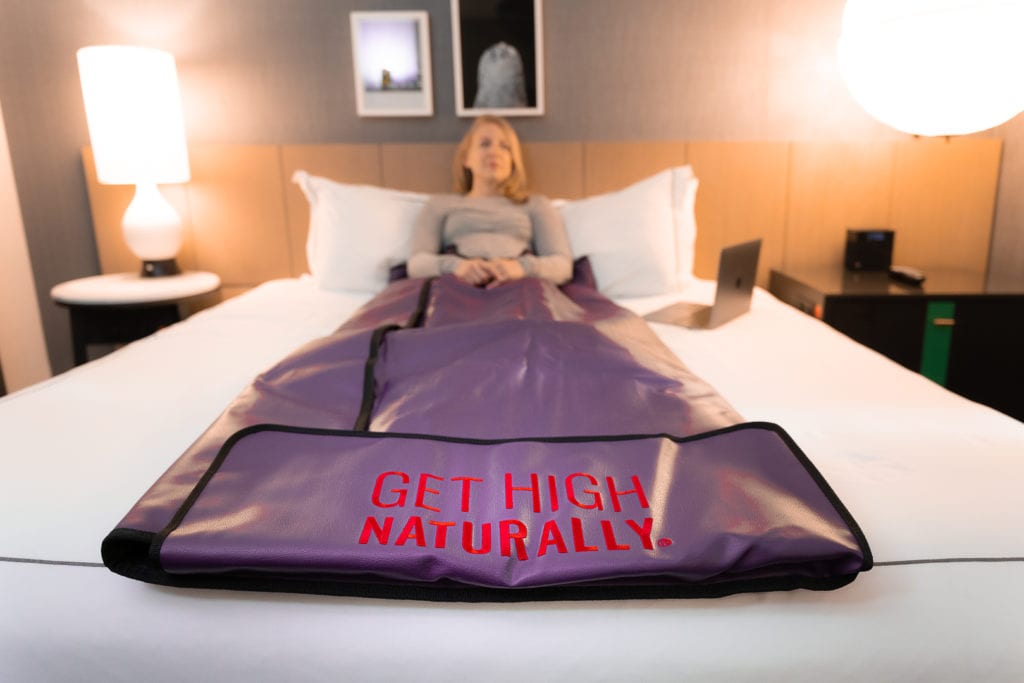 For the person who keeps the thermostat at 80° year-round: Infrared Sauna Blanket, HigherDOSE
What it is: The Infrared Sauna Blanket is like if an infrared sauna and a sleeping bag had a baby. It's a portable, at-home sauna that folds up and stores easily when you're not using it. Wrap yourself like a burrito, turn the blanket on, and relax as the heat loosens your muscles and your tension. The temperature goes up to nine levels that heat your body up incrementally from the inside.
Infrared saunas have been linked to several health benefits, like more energy, a higher calorie burn, glowing skin, decreased muscle soreness, and reduced stress and anxiety. Yes, you'll get hot, and yes, you'll sweat—so make sure your giftee knows to drink plenty or water before, during, and after every sweat session.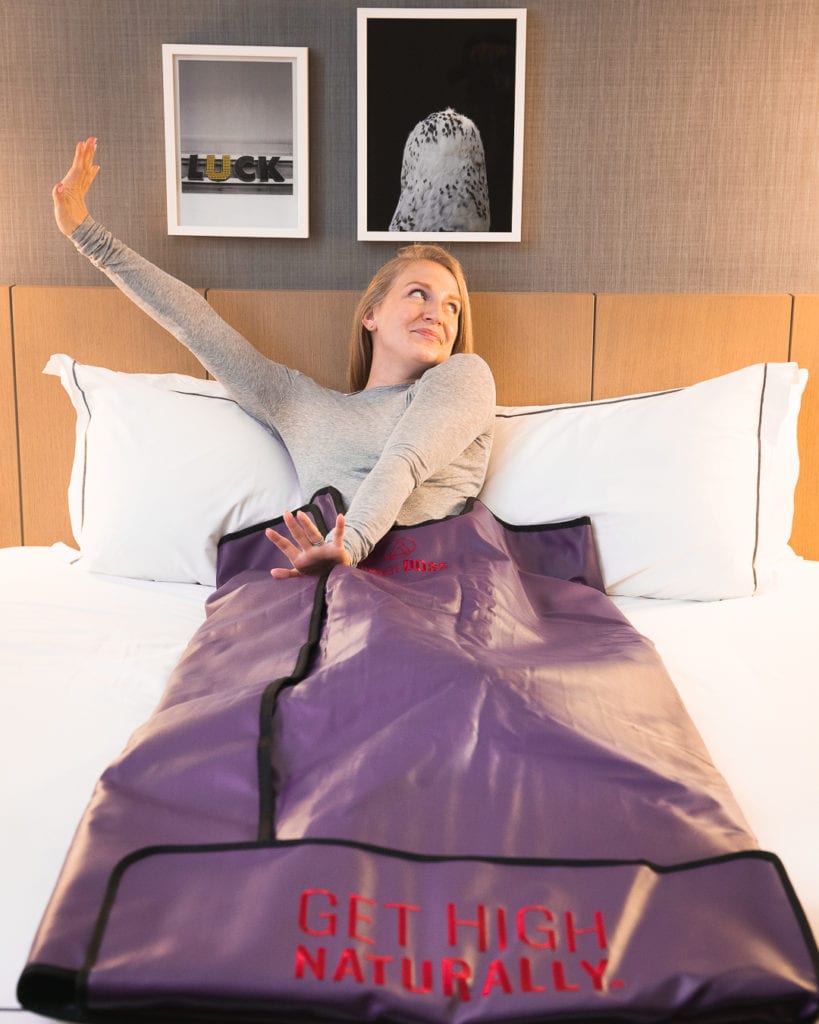 Why we love it for gifting: The Infrared Sauna Blanket is a luxury item, no doubt about it. But (we say this from experience), you feel *amazing* after using it—loose, warm, relaxed, and totally tension-free.
And while you're sweating your buns off, you're kind of forced into relaxation mode. After all, it's near impossible to do any serious multitasking while you're confined to a pocket; you can watch television or listen to a podcast, but even turning the pages of a book doesn't really work when your arms are supposed to stay by your sides. An hour without doom scrolling, responding to work emails, or being on Zoom? Priceless.
Also, the traditional spa experience has been totally rocked this year. Our go-to places may have had to close down, or we might not feel 100 percent comfortable there yet. The Infrared Sauna Blanket assuages those fears and lets you get your relaxation on at home. Who knows? You might find that you prefer the at-home infrared sauna to going back to a spa for a schvitz.
Oh, and keep an eye on HigherDOSE's latest offering, their Infrared Mat. This tricked-out mat combines the benefits of infrared with PEMF, a.k.a. Pulsed Electromagnetic Field technology. Basically, the mat sends electromagnetic waves through your body at different frequencies to help promote your body's own recovery process, and unlike the Sauna Blanket, you can use it however long you want. Is it appropriate to take Zoom calls from the mat? We're willing to find out in the name of science. It's currently sold out, but you can pre-order here.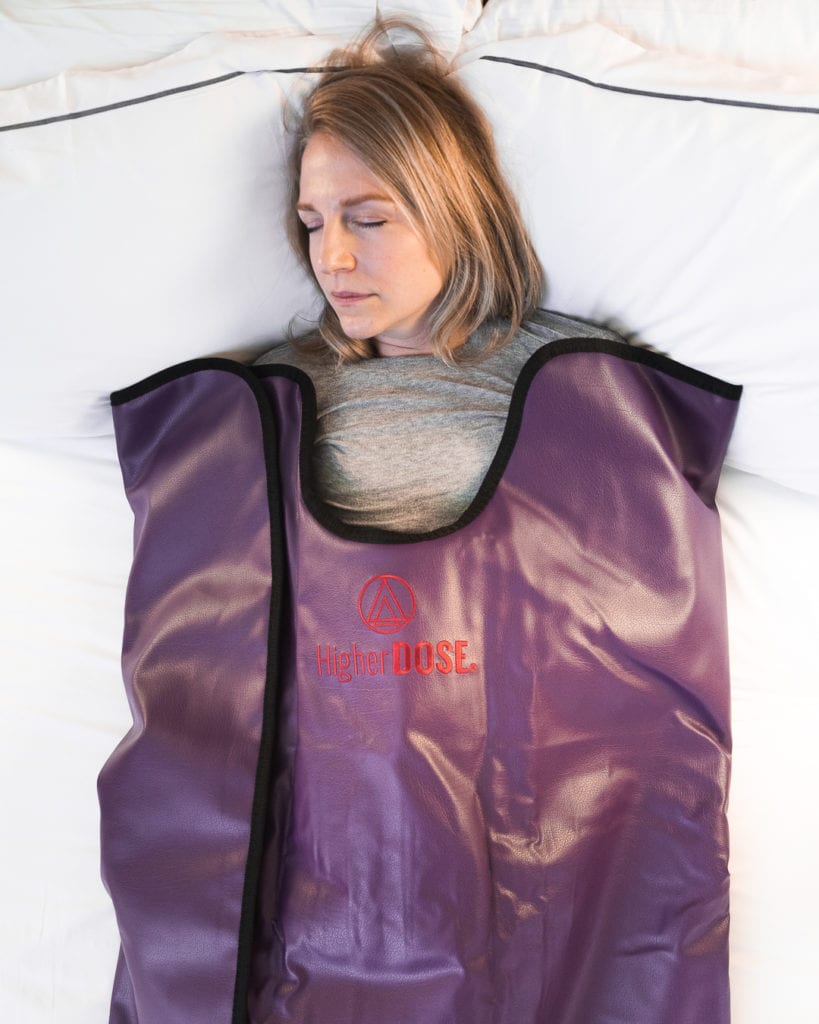 Who we're giving this to: The diehard yogi who misses her heated classes, the high-powered business woman who needs to schedule time for herself to decompress, and the sister-in-law who says every winter that this is her LAST winter in Chicago. Also, ourselves—the women of aSweatLife HQ are heat-seeking missiles who find a good sweat incredibly cathartic. Just call us Hot Pockets.
Where to buy it: Right here!