aSweatLife's Free Digital Workout Schedule for the Week of August 24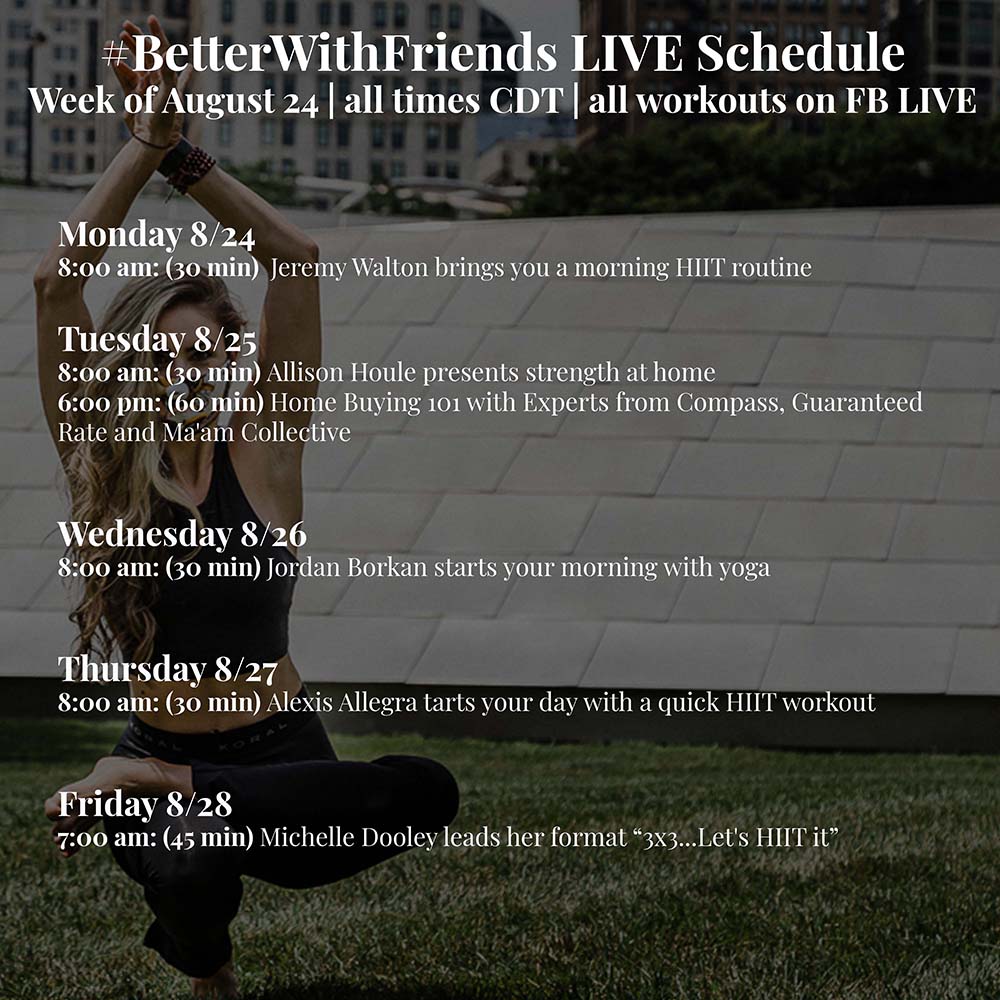 Next week, we're bringing you non-stop action in the form of live content. And great news – workshops are back.
We've taken a little time away from our beloved workshops – a summer break, if you will. But they're back this week starting with a digital evening event that came straight out of the ambassador Slack Channel – home buying 101.
You'll also catch one of the fitness pros from the virtual running series leading a class Monday – Jeremy Walton.
Your digital workshop for the week!
We're bringing in experts to help us better understand the home purchasing process, including deciding between renting and buying, and some re-decorating tips. Carissa Giancarlo is a Broker at Compass and part of the Kate Waddell Group – one of the brokerage's top producing teams and in the top 1% of Chicago realtors. She is a firm believer in developing a strong, honest relationship with every one of her clients. They appreciate her attention and enthusiasm, as well as her responsiveness and willingness to do whatever she can to address their questions, concerns, and when necessary, nerves. Dean Vlamis is SVP of Mortgage Lending at Guaranteed Rate. He has been originating mortgages for over 19 years and has consistently ranked as one of the Top 200 Mortgage Originators in America according to Scotsman Guide – aka, he is a mortgage aficionado. Marcie Blanco, Founder and Principal Designer of the Ma'am Design Collective, will share some interior design tips and quick ways to update your current space with an eye on creating a work-from-home space.
Block off your Tuesday night and bring a pen and paper.
Here's your digital workouts schedule
Remember – all of these workouts will take place on aSweatLife's Facebook LIVE and all the times listed at Central.
Monday 8/24:
8:00 am: (60 min) Jeremy Walton brings you "Hustle + Flow" – a 30 minute tabata circuit and 30 minute yoga flow.
Tuesday 8/25:
8:00 am: (30 min) Allison Houle presents strength at home
6:00 pm: (60 min) Home Buying 101 with Experts from Compass, Guaranteed Rate and Ma'am Collective (RSVP here)
Wednesday 8/26
8:00 am: (30 min) Jordan Borkan starts your morning with yoga
Thursday 8/27
8:00 am: (30 min) Alexis Allegra starts your day with a quick HIIT workout
Friday 8/28
7:00 am: (45 min) Michelle Dooley leads her format "3×3…Let's HIIT it"