Is Your Face Mask Making You Break Out?
I never leave my apartment without wearing a cloth face mask these days–and while I'm happy to follow CDC guidelines and do my part to curb the spread of COVID-19, my skin has definitely suffered. In fact, I've noticed an uptick of pimples around my nose and mouth (with one giant whitehead right above my upper lip that is proving to be particularly tricky to treat). So, I called up a few skin care experts to get their advice on keeping skin clear while dealing with the new face mask normal.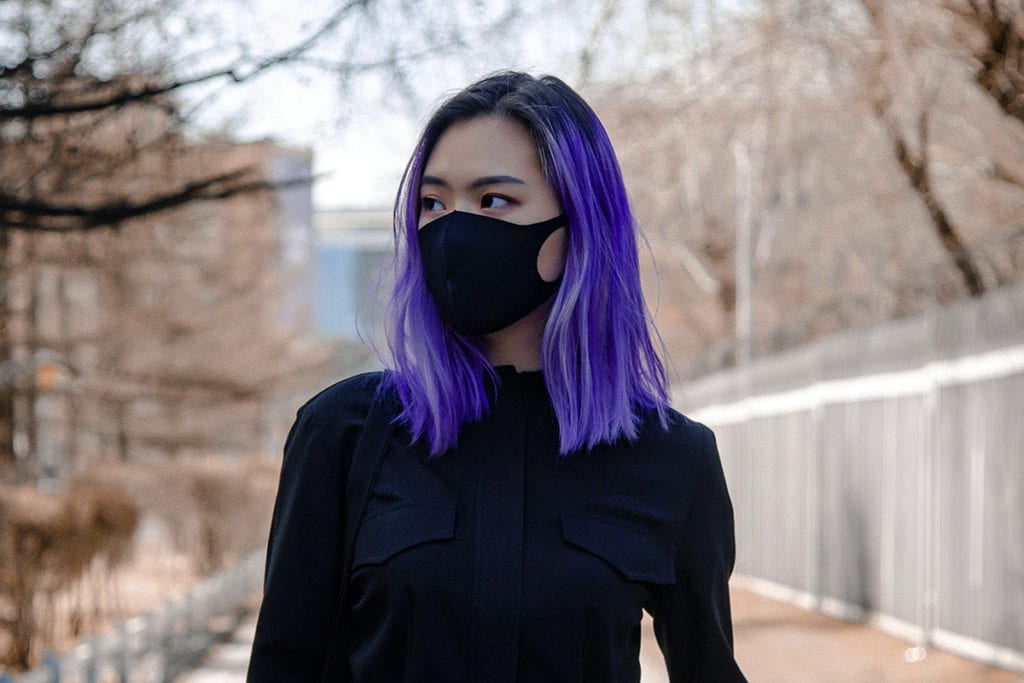 How face masks affect skin
There's a very good reason why I've had a surge in breakouts from the adorable cloth Hello Kitty mask I've been rocking whenever I venture outside.
"The occlusive nature of a protective mask creates a humid and  warm environment under the mask, which can lead to increased sebum and sweat," explains Hadley King, MD, New York City dermatologist. "And this can lead to irritation, inflammation and breakouts." 
Healthcare workers are especially prone to mask-induced skin issues. The N95 masks they have to wear must be tight-fitting for best efficacy, and they often wear them for hours upon hours.
"This can result in abrasions and cuts, redness and irritation and post inflammatory hyperpigmentation," says King. 
How to prevent your face mask from breaking you out
Sticking to a consistent skin care routine will go a long way toward keeping your complexion clear: 
1. Get serious about cleansing.
One of the best things you can do is wash your face thoroughly before and after wearing your mask, says Josie Holmes, esthetician at SKINNEY Medspa in New York City. "Foaming cleansers are the best type to remove excess oils, sweat, and dirt from the skin," says Holmes. King is a fan of Schaf Skincare Facial Cleanser ($40, schafskinare.com), a gentle foam that effectively gets rid of dirt and oil without over-drying skin. 
2. Exfoliate with acids.
If you have oily or acne-prone skin, King recommends using a cleanser with salicylic acid, which exfoliates the surface of skin and deep-cleans pores. "This helps prevent pores from becoming clogged and can help remove clogs that have already formed," she says. King likes AcneFree Blackhead Removing Scrub ($8.50, amazon.com), which contains both two percent salicylic acid and charcoal to fight oil and acne. 
Holmes, meanwhile, recommends SkinMedica AHA/BHA Exfoliating Cleanser ($47, skinney.com), which combines salicylic acid (a beta hydroxy acid) with lactic, glycolic, citric, and malic acids (alpha hydroxy acid) for a one-two exfoliating punch. 
3. Skip the makeup.
No one's going to see much of your face under a face mask anyway, so give your skin a break and skip the makeup.
"Wearing makeup will cause blockage to pores in the skin and can sometimes increase the amount of sweat produced," says Holmes. "Clogging your pores with foundation and then trapping your skin into this warm and moist environment will exacerbate breakouts and blockage." 
If you must wear face makeup, Holmes suggests a tinted moisturizer, like EltaMD UV Tinted Broad Spectrum 46 ($38, skinney.com).
"It will give you a bit of coverage while providing your skin with moisture and sun protection," she says. Just because experts caution against wearing face makeup doesn't mean you have to forgo makeup altogether. "While I would recommend no to minimal makeup under the mask, perhaps focus makeup more on areas that aren't covered by the mask, like the eyes," says King. 
4. Moisturize the right way.
Whenever I break out, I tend to shy away from applying moisturizer, but that's not the best idea. That said, some moisturizers are better than others in this situation.
"Use a light moisturizer that's non-comedogenic, to support and bolster the skin barrier without clogging pores," says King. "Hyaluronic acid is a great ingredient to look for to hydrate the skin, and it will perform particularly well in the humid environment created by the mask." 
Versed Dew Point Moisturizing Gel-Cream ($14.99, target.com) is a budget-friendly hyaluronic acid moisturizer that also contains green tea and aloe vera to soothe irritation. 
5. Spot-treat zits.
Holmes suggests spot-treating pimples. Salicylic acid and benzoyl peroxide (an antimicrobial that kills acne-causing bacteria) are two popular ingredients found in spot treatments. I've had success with Peace Out Acne Healing Dots ($19, sephora.com), which contain salicylic acid and aloe vera. 
6. Calm irritation.
For healthcare workers dealing with skin stress caused by spending hours in a mask, King recommends lubricating the skin with an occlusive ointment, like Aquaphor Healing Ointment ($9.58, amazon.com) or Cerave Healing Ointment ($11.99, amazon.com).These will create a barrier and help your skin heal, she says. 
"Thin hydrocolloid bandages can also be placed in high impact areas like the nose and cheeks to relieve some pressure," says King. Another option: 1% hydrocortisone cream, which can ease inflammation wherever you have a rash or are itchy, as well as Bacitracin ointment, which can be used on open areas to help prevent infection, adds King. 
How to choose a face mask that won't mess with your skin
Beyond changing up your skin care routine, it's a good idea to put some thought into your mask choice.
"Cotton is a breathable fabric and will therefore be relatively less irritating for the skin." says King, who explains that you can insert a coffee filter between layers of fabric for extra protection.
How you handle your mask matters too if you want to keep your skin clear.
"If you are using a reusable cloth mask, be sure to wash it every day that you use it," says Holmes, who suggests using a fragrance- and dye-free detergent to prevent skin irritation.