How to Make Your Outdoor Runs More Exciting (And More Effective)
For the first time in three years, I finally started using my condo building's gym facility over the winter. With the help of Peloton, I had become addicted to interval treadmill workouts and loved the convenience and challenge the sweat sessions provided. Sprint for 30 seconds? No problem, just jab the plus sign repeatedly. A hill interval? Adjust your incline to the exact percentage the instructor asked for. Everything about my workout was controlled and measured—just the way I like it.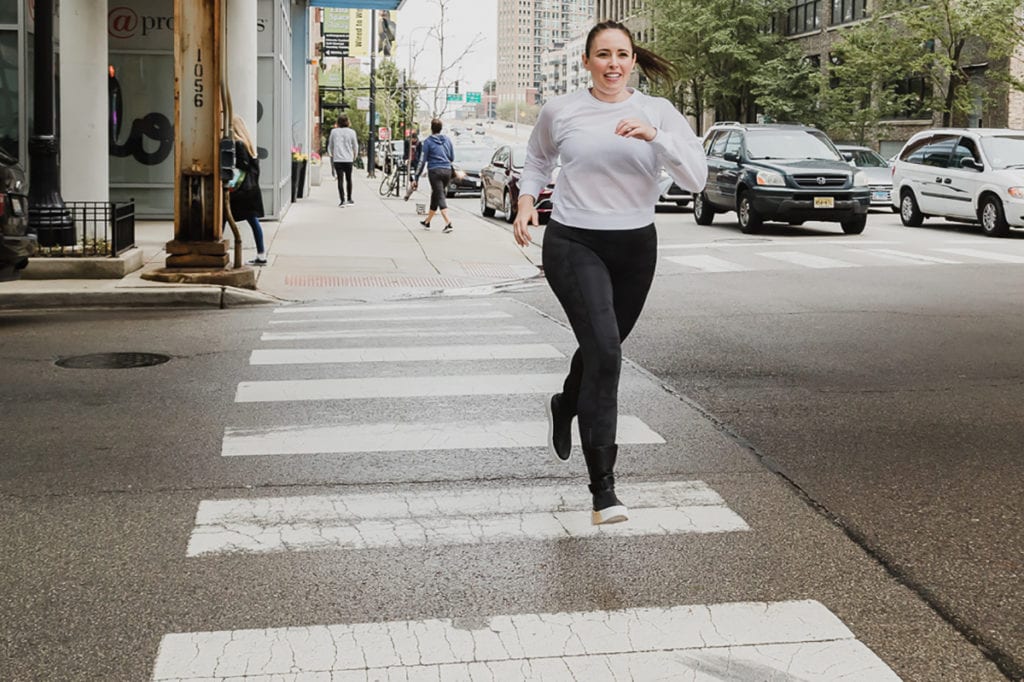 Of course, nothing good can last that long. The coronavirus shut down residential and commercial gyms and studios, and an indoor treadmill was not in my pandemic budget. I found myself going back to my outdoor runs, but after a few days of running the same, socially-distanced two-mile loop over and over again, I was bored.
Sound familiar? Probably—after all, running is one of the few sanctioned outdoor activities we're allowed to enjoy during the pandemic (provided we're following all the social distancing rules and best practices). According to a recent survey we conducted, 44 percent of respondents are including running in their fitness routine during the pandemic, while a whopping 74 percent are walking for fitness. Another survey from RunRepeat.com found that people who ran one, two, or three times per week pre-Covid are all running more frequently now.
But the expectation when running outside is that you'll run the same pace the entire time. While that's totally appropriate for recovery runs or just-for-fun runs, there are ways to spice up your outdoor runs so that you don't get bored. Here are the best ways to add excitement to your outdoor runs.
Download a guided run
I'll admit, I was wary of Peloton's audio outdoor run workouts. How could the instructors accurately cue different speeds and effort levels? Would it be totally impossible for the rolling hills I was constantly encountering?
But I found myself really enjoying them. You can choose among intervals, fun runs, and marathon prep based on your goals for the workout, and run lengths vary from 20 minutes to one hour. The runs are based on rate of perceived exertion (RPE), so it's easy to follow and adjust your effort level accordingly. Having a coach in my ear reminded me to focus on various aspects of my form, and the coaches also share personal stories and motivational messages that work just as well outdoors as they do on the bike or the tread.
The coaches always make a point to note when you're halfway through the workout so you can turn back towards home if you need to, which is a nice touch. Plus, I kind of loved giving up playlist control and being surprised when a favorite song randomly came on—"OMG, Robin Arzon likes Waka Flocka Flame too?! We're meant to be best friends."
Peloton and Aaptiv, another on-demand workout app, both offer audio Outdoor Runs (and walks!). If you're new to running, start with a shorter workout or a power walking workout to get used to the format.
Work regular pushes into your pace
For non-recovery runs, incorporate your own HIIT intervals into the workout—sans plus-sign buttons. There are a few different ways to do this:
Sprint for the duration of the choruses of the songs on your playlist
Alternate one push song with one recovery song, aiming for a 7-8 RPE
Sprint for one block, walk for one block (or sprint between any two landmarks on your run)
If your running path takes you into hill territory, remember the wise words of Jess Sims (my favorite Peloton coach): "Hills are speedwork in disguise." Sprint the uphills, walk the downhills.
Add bodyweight strength work at regular intervals
True story: a fellow instructor recently told me she did two laps at the track of just walking lunges. TWO. LAPS. (Pause for disbelieving reaction)
While you don't have to go to that extreme, you can take regular breaks to add bodyweight strength work or more cardio bursts to your run. Here are a few ideas:
After every mile, complete 30 air squats, 20 push-ups, and 10 burpees.
Challenge yourself to walking lunges for one entire song on your playlist.
Set a timer for one minute and do broad jumps one right after the other—track your distance and aim to jump a little further each week.
For however many miles you run, finish with a plank challenge of that many minutes. Three miles = three minutes of planking. (Break it up however you want to—we realize a six-minute plank isn't entirely reasonable)
What other ways do you add intensity and variation to your outdoor runs?