Covid-19, the Destroyer or Constructor of Plans?
One month from today, my high school students and I will close the 2019-2020 school year. While, unlike many schools around the world right now, we are back in session here in Shenzhen, China, much about our current reality is still quite surreal. In years past, by the middle of May, I would have set up my Instagram stories countdown, I would be setting up dinner dates with friends back home, and I would be compiling recipes to make with my nieces over summer vacation.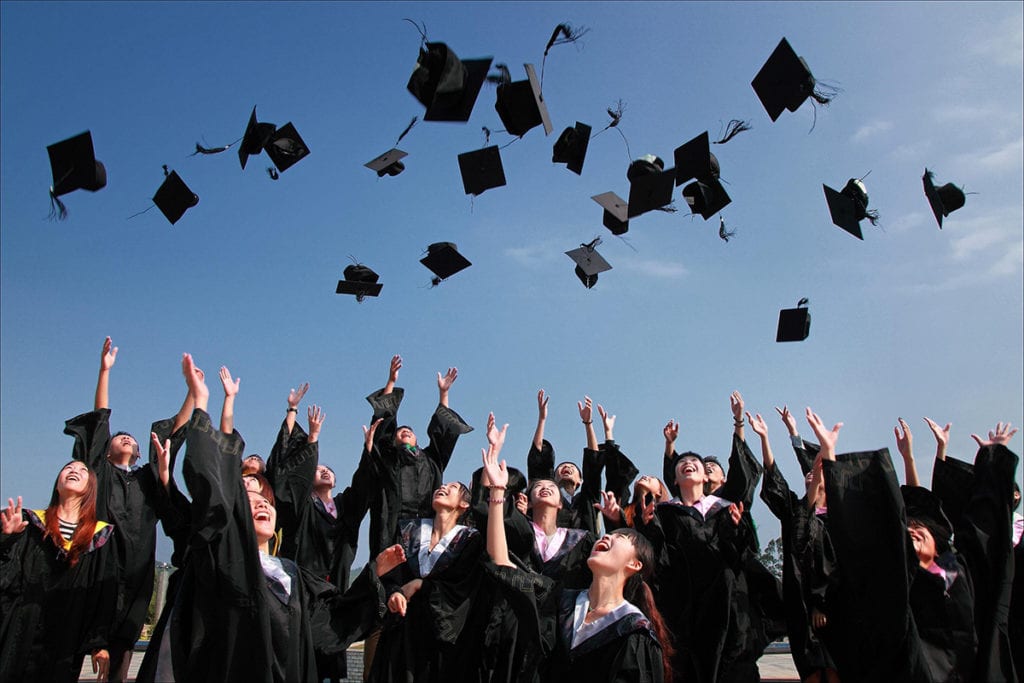 This year, though, in one month I will not be loading my suitcases onto a plane to return to Minnesota for a six-week stay as I have for the past six summers of my life as an international teacher. Between China's caution and the state of the virus still on the rise in the United States, my summer plans have undergone a great revision; Covid-19 has written in an unforeseen plot twist to my narrative.
I have been sitting with grief about this change in big plans. I know I am not the only one processing deep disappointment in regards to the best laid plans being laid to waste. As a high school English teacher, I have been thinking a great deal about the rights of passage that my seniors, like many around the world, will now not take part in. Three of my graduates sat down with me this past week to talk about the ways that they are processing missing out on events that they had counted on.
Sumin Kim, Shekou International School's Co-President of Student Council, began our conversation by reflecting on how she felt both relief and disappointment at the news that the International Baccalaureate exams were canceled this year. While the exams induce a great deal of stress for the students, Sumin noted that they also offer a sense of great accomplishment when students walk out of their last exam. 
The other Student Council Co-President, Leo Chang, added that his initial reaction to not only exams, but also the senior trip and the original graduation ceremony being canceled was, "Why did this have to happen to us?" 
This initial part of our conversation is being echoed by many others all over the globe, myself included. We feel a loss of control on such a grand scale, and it just seems so unfair along many lines. 
In a world of many restrictions, and a great deal of new normals, Leo wondered, "How do we now fill our time?" As we sat in the classroom, with our masks on, sitting at an acceptable distance from one another, Emma Flaskgaard Andreasen, a student originally from Denmark, began to speak, reflectively. 
Similar to Sumin and Leo, at the beginning of our chat, Emma had agreed with her classmates that without constantly having to turn out yet another assessment, she felt a bit unmoored and directionless as she entered the senior summer. It was after setting aside her sadness that Emma began to see an opportunity for herself. 
For the past four years, the students have been in an academic grind, working to finish a rigorous international curriculum. In this time of newfound freedom, Emma began to see that she could attend more consciously to her mental health. She has allowed herself to sit viscerally with the sense that she is in the midst of an identity crisis. While she walks around the small part of the large city she inhabits, taking in parts of the culture she had not noticed before, appreciating the beauty of the boardwalk along the South China Sea, Emma is now delighting in finding a new identity, outside of herself as a student. 
Both Sumin and Leo nodded as Emma spoke about her new, mindful routines. "Yeah," added Sumin. "My friends and I have been going to parts of the city that we've never been to before. We bike to the artsy area, and find new hiking trails, and try out fitness classes." Leo, too, expressed a new gratitude for the city he has been living in since his family moved to Shenzhen from Seoul a number of years ago. He noted the parks that he visited for the first time, the green space and the city skyline that were simply a blur in the background of his hurried life as a student. 
In the time that we spent together, talking about how each of these students had reframed their situation and begun to turn disappointment into opportunity, they each also expressed how grateful they were to eat dinner with their families, help out their younger siblings with schoolwork or planning for the future, and find tutoring jobs to support others in their quest to succeed at online learning. This opportunity arose from the destruction of Covid-19; their final school year has been cut short by a month, thus leading them down a path of reflection and discovery. 
Sumin, Leo, and Emma have demonstrated maturity and wisdom in the ways that they have chosen to frame the situation they find themselves in now. I was curious what else we might do as we meet with our grief in the time of Covid-19, and so I spoke with Dr. Tracy Pinshow Navon, a therapist in Shenzhen, China.
"It's about bringing a focus onto the journey. Perhaps it's journaling or looking at pictures. It's about validating our experiences," Pinshow Navon explained. She continued by noting that graduation is about a celebration of the self, a moment of pride, and so it is important to make sure that this moment is not forgotten. 
This past weekend, as I was considering my losses and my seniors' losses, and what we might also stand to gain, I listened to Hidden Brain's Shankar Vedantam in his podcast on commencement. Vedantam reminds us that in chaos and destruction we are given the space to discover things about ourselves that we had not known or seen before. While this discovery will likely come with stress, annoyance, anxiety, if we reframe our current context from one of loss to one of possibility, we are also likely to discover some parts of ourselves long hidden away or buried, waiting to blossom during this time of Covid-19, a time of fear and uncertainty, yes, and yet, still a time of blooming pear trees and warmer, sun-streaked mornings, and cardinals returning to the feeders outside of our windows. 
I found something useful to reflect upon here myself. While I am not grieving the loss of graduation, I am grieving the loss of time with my family. The moment that I feel is lost is about love; but, in the end, the love is really not lost. It will not be the same, of course, but I can hold cooking classes on Zoom, and I can continue our family workouts in this space as well over the summer. 
While I have been working with my students on literary analysis and digesting the themes of texts and applying them to our own lives for the past three years, in the end, my students have schooled me. They have shown me just how much they can learn and discover and love in the very face of disappointment. I might not be setting my instagram story to count down the days until I take off for the States, but I can set that countdown to mark the days until I find a new space for myself this summer, perhaps one of more deeply understanding what exists right outside my door, or deep within.
Let us know!
Did this post help you get closer to achieving one of your goals?