How Coronavirus Is Changing the Beauty Industry
It would be an understatement to say that the coronavirus is changing life as we know it, for good. One area that's been particularly affected: the beauty industry. In many parts of the country, hair and nail salons, dermatologist offices, and your local beauty retail stores are still closed—and business owners are making changes to ensure the health and safety of their clients once they are able to reopen.
What might a post-coronavirus world look like when it comes to all your beauty needs? Here's what experts in the industry have to say:
Teledermatology will become an increasingly popular option.
Did a weird rash pop up on your skin, or have you noticed that a mole has changed color? For some skin issues, you may not need to head to your doc's office to be seen.
"There's no substitute for an in-person live evaluation and consultation; however, telemedicine and images for dermatology offer a fantastic opportunity to evaluate lesions, rashes, and to determine a cosmetic treatment plan," says Kenneth Mark, MD, cosmetic dermatologist in New York City. "This can help minimize in-person contact and optimize safety for patients, staff, physicians, and everybody's families."
We'll see a rise in beauty technology.
The days of going into Sephora to swatch a new foundation or lipstick might be a thing of the past.
"Apps like Snapchat already use filters to give us red lips, freckles, and bunny ears, and I imagine a lot of the big beauty brands will develop something similar to this—for example, a kind of 'virtual makeup counter' on their websites allowing customers to try out colors," says Marie Hayag, MD, dermatologist and founder of Fifth Avenue Aesthetics in New York City.
Brands will continue to connect with customers online.
Charlene Valledor, partner at SOS Beauty, notes that the beauty industry has always been a leader in digital marketing and commerce, but now we're seeing brands put even more effort and creativity into their digital presence. This is something that will last long after this pandemic has subsided.
"Utilizing apps like Zoom and Instagram to connect with their audience in real time has been really effective for brands, and I think it's here to stay." says Valledor. "People are really craving connection right now, so for a person to be able to have a live dialogue with the founders and educators of some of his or her favorite brands can really help to lift the spirits and strengthen one's trust in the brand."
Retail stores will see less foot traffic but experience major online growth.
"Physical stores themselves will need to reduce volume to conform to the new normal of social distancing," says Hayag. "Traditional in-person visits to stores will see a further percentage shift of customers toward an online, digital experience." To make a better experience, brands will have to provide engaging video tutorials, education, and more, to meet the needs of beauty consumers, says Hayag.
"Beauty companies will need to prioritize their education and product development departments as people look for products they can use at home and get the same look and feel as they relied on professionals for," adds Terri Bryant, celebrity makeup artist and founder of Guide Beauty. This means giving people the tools, tips and formulas that increase their skills. Universal design, accessibility, and creating a community are key to realizing this need."
Nail salons will take extra safety precautions.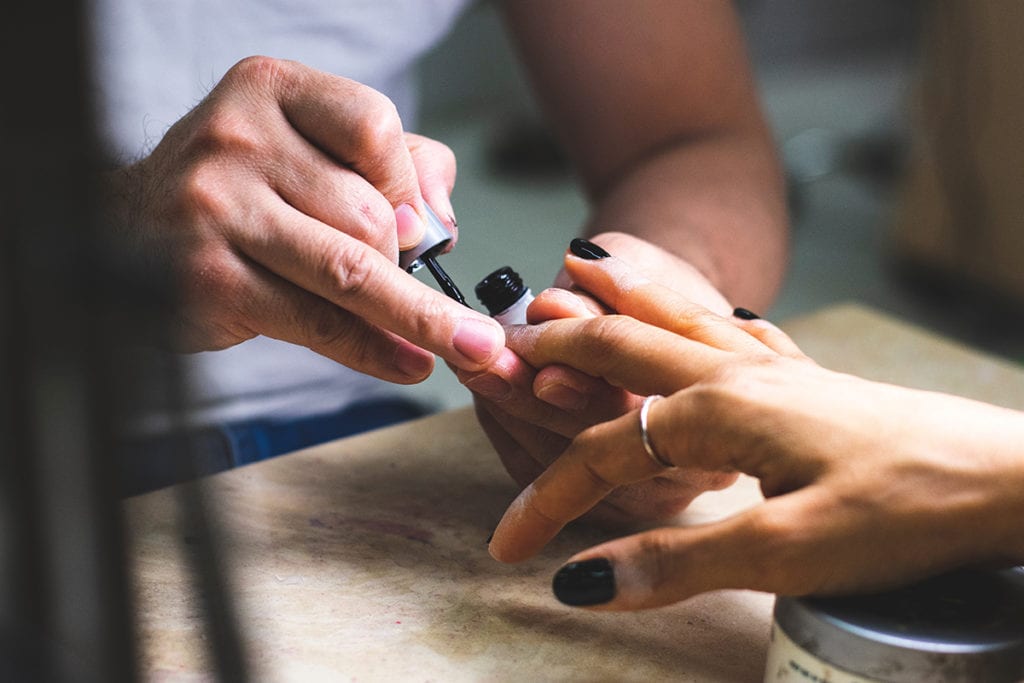 Getting a mani/pedi used to be one of the most relaxing activities ever, but new safety precautions will make things feel a little more clinical. According to celebrity nail artist, Elle, some of these new protocols may include stepping into a shoe covering as soon as you step onto the premises, washing your hands immediately upon arrival, and wearing a face mask for your appointment. Elle also says cleaning and disinfecting nail salons will become even more of a priority for businesses. You may also find your local nail salon stops accepting cash to reduce the spread of germs.
Hair salons will limit customers.
Similarly to nail salons, hairstylists will also take extra precautions once they're able to reopen their salons. The stylists at Mario Tricoci Hair Salons & Day Spas in Chicago, for example, will limit guests to one per 100 square feet. They'll also instate touch-free booking, check-in, and payment enabled through technology and have employees and guests answer digital health questionnaires about Covid-19. Hair salons will also go through more deep cleaning and employees will be given protective gear to safeguard their health. 
Clean beauty will become an even bigger trend.
"With COVID-19 posing a threat to everyone's safety, people will start making conscious decisions in everything they do or buy," says Sumaiya Shareef, website content manager for Clean Beauty Con. "As they become more aware of everything they put on their bodies, ingredients will be more important than the brand."
Shareef predicts clean beauty will become not only better understood post-pandemic but also more sought after. "Clean beauty is not just about the ingredients but also about transparency, safety, and trust, and that is what consumers are looking for the most," she says.
So will natural beauty.
A full face of makeup may just be a thing of the past.
"With a lot of people working from home and less face to face socializing, I think there will be a stronger move to 'natural beauty' and 'low maintenance,' says Ramon Padilla, founder of EverTrue Microblading in New York City and Chicago. "It will also be interesting to see if the widespread use of masks focuses attention on some parts of the face more than others, like brows and eyes over lips."
Consumers will demand stricter safety regulations.
"I think clients will become more aware of what to look for and have raised expectations for things like cleanliness and sanitation across the board," says Malin Singleton, owner of Art of Lash DC. "And as business owners, we'll have to do the same to eliminate potential risk and liabilities." Singleton also predicts that state licensing requirements may get stricter.
Beauty pros will find new ways to make money.
"If this situation teaches us anything, I think it will be that we all make sure that we get our rainy day funds in order," says Annagjid "Kee" Taylor, celebrity hair stylist and owner of the Deeper Than Hair Salon. The beauty service industry is labor-based, so pros only get paid when they provide said labor, explains Taylor. That means finding new revenue streams is a must.
"I hope a lot of creative energy will come out of this time—we are creatives, after all—and there will be a lot of new types of businesses, new e-commerce-based business, new ways of earning passive income and so on."