How To Avoid "Less Than" Syndrome While Sheltering At Home
In case you haven't heard, we're living in unprecedented times. Since we're at home with all these hours on our hands, social media influencers are using it to be extremely productive. After all, everyone and their mother is baking sourdough bread or banana bread. Others are picking up new hobbies like knitting or cross stitch. And since Shakespeare wrote King Lear while in quarantine, you should roll up your sleeves and accomplish as much as you can … right?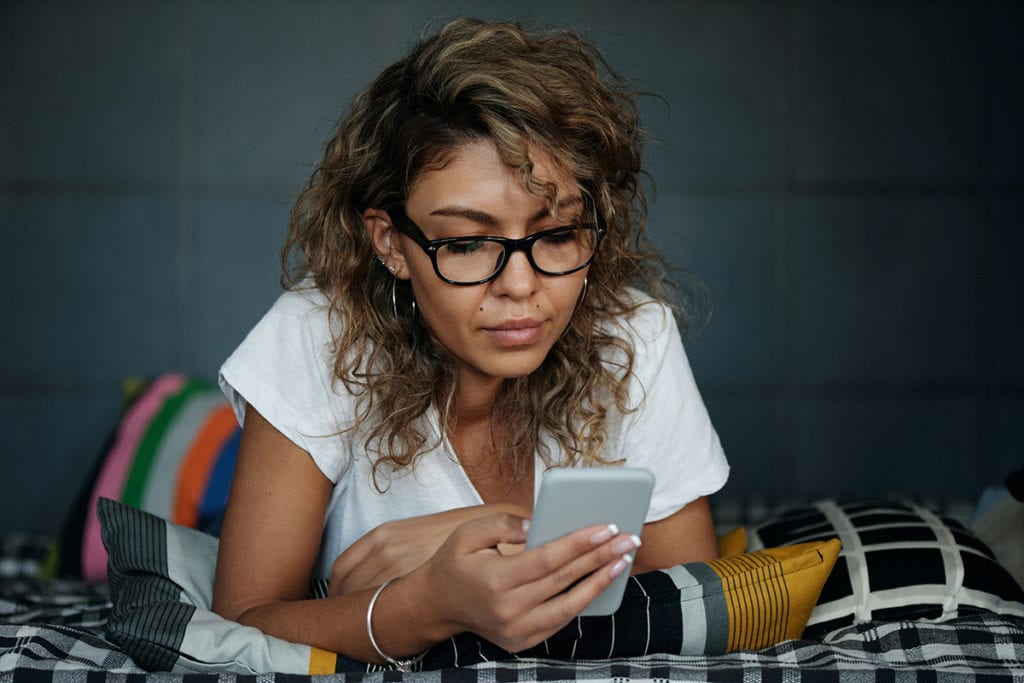 Not at all. It turns out that you don't have to be highly productive if you don't want to. But seeing all those highly productive influencers on Instagram can take a toll on your mental health and leave you feeling "less than" or not quite good enough.
Luckily, there are numerous ways to eschew such feelings. Thanks to guidance from therapists, here are a few tips on avoiding "less than" syndrome.
Remember that social media doesn't give you a complete picture of someone's life. 
"You might see the beautiful sourdough they've baked or the Pinterest-perfect crafting projects, but they're not showing you any photos of the fight with their partners, the toddlers having meltdowns, or their own personal meltdowns," said Kellie "Casey" Cook, a licensed professional counselor who offers online therapy in Texas. "And when you are repeatedly comparing yourself to carefully curated images and words, you're always going to fall short."
It's certainly challenging to refrain from falling into comparison mode. If you find yourself constantly feeling like you don't measure up to the folks you're seeing online, perhaps you could …
Limit your time on social media. 
This can be far from easy in today's tech-driven society, particularly as we're trying to stay connected to the outside world during the COVID-19 era. But Elizabeth Brokamp, a licensed professional counselor with a private practice outside Washington, D.C., noted that too much social media time "can lead to feelings of inadequacy, loneliness, and depression."
While every person has their own social media tolerance level, it's crucial to take a break.
"Interspersing online activities with getting out in the world — even a socially-distant one — can help stave off 'less than' syndrome," Brokamp said.
Take a closer look at your personal values.
What do you truly care about in your life? It may be assisting people in your community. Perhaps it's spending time with people you love. Or maybe it's spreading joy however you can.
"Whatever your list includes, when you notice yourself comparing, turn your attention back to your values and ask yourself, 'In light of my values, what would I benefit from doing right now?'" said Mikela Hallmark, a therapist in Atlanta. "And that may mean you don't focus on that DIY project that everyone's doing."
Know that everyone copes with stress differently.
Who among us isn't stressed out? We're living in the middle of a global pandemic, for Pete's sake! But everybody has a different reaction to stress, noted Amanda Villaveces, a licensed marriage and family therapist in Kentucky. She compared it to the fight or flight response.
"For some people in this pandemic, they respond by being highly productive (fight), [and] being active is an important tool for them in processing and coping," she said. "For others, retreating to their bedroom (flight), slowing down and minimizing their productivity and interaction with the world are the beneficial coping tools for this moment." Villaveces pointed out that both mentalities are totally valid.
Those uber-productive influencers are coping with stress by … well, doing stuff. Maybe you're coping with stress by relaxing. And both are A-OK.
While you're staying healthy at home, take some time to do what you love. Watch some Netflix. Do a puzzle. Catch up on some reading. Heck, bake some banana bread if you want (I know I have). But don't feel the need to go overboard and attempt every quarantine trend. And if those "less than" feelings creep up, try the experts' advice.