How to Substitute Ingredients in Any Recipe
I'm generally pretty uncompromising when it comes to the ingredients I keep in my kitchen. My parm has to be parmigiano reggiano, my lime juice has to be fresh, and my "milk" has to be unsweetened oat milk, to name a few. I don't like ordering groceries online because I like to hand pick each piece of produce, cut of meat, and carton of eggs.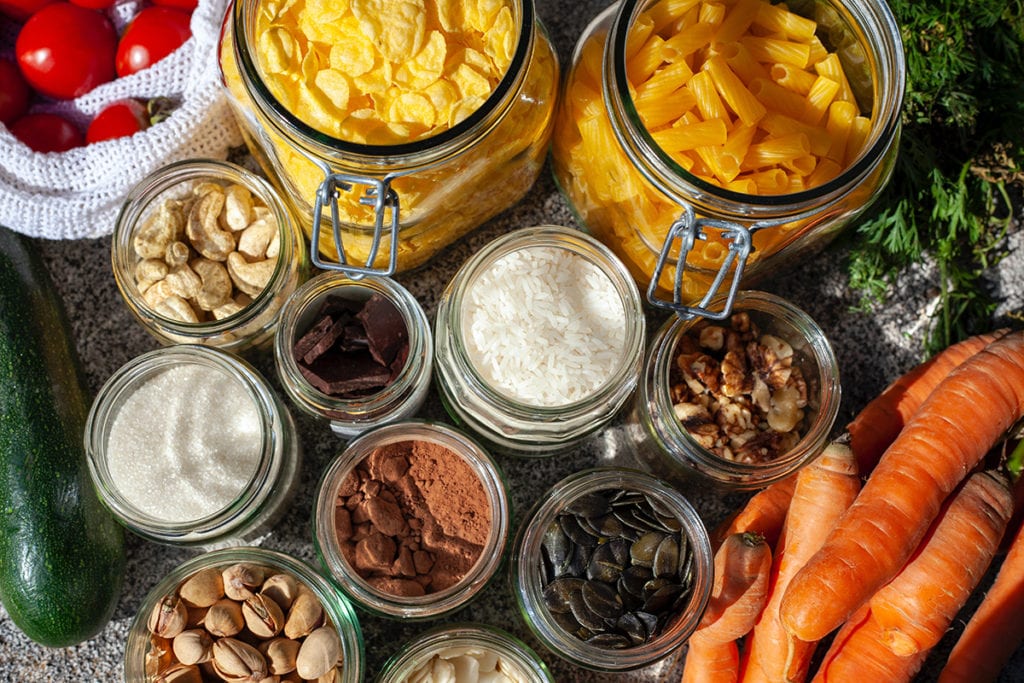 Well… not anymore. Enter a pandemic and everything that comes along with it. From uncertainty around entering a grocery store to people panic buying to disruption of the agriculture industry, shelves are empty and I've had to learn to take what I can get.
There are items where I continue to do everything in my power to not have to compromise or substitute. Mostly these are items that I don't want to sacrifice from a health, sustainability, or ethical perspective. I'm trying to stick to things like organic produce when it comes to fruits and veg on the dirty dozen list, clean label ingredient statements, humanely raised animal products, and plastic free packaging as much as possible, while still forgiving myself for small compromises in unprecedented circumstances.
On the flip side, I'm learning that from a culinary perspective, I might be able to loosen the rules a bit and still have fun experimenting in the kitchen and making delicious meals. Whether you're an expert cook or finding yourself regularly cooking for the first time, odds are you're struggling to get every ingredient you want. If you can't get that ingredient you just had to have, use this time as an opportunity to get creative in the kitchen and use these common ingredient substitutions as your guide.
Generally, most ingredients you would use in a given recipe can fall into a broader category. Use these common ingredient substitutions groupings as a guide and feel free to substitute any ingredient in these categories for each other.
Produce Substitutions
Alliums: Red onion, yellow onion, white onion, shallot, garlic, leek, fennel, scallion, chives
Tender herbs: Parsley, basil, dill, cilantro, mint, tarragon, chives
Hearty herbs: Rosemary, sage, thyme, oregano, bay leaves, marjoram
Root vegetables: Potatoes, sweet potatoes, parsnips, carrots, fennel, turnips, beets
Salad greens: Spinach, arugula, endive, mesclun, kale, beet greens, watercress, romaine, green leaf lettuce, red leaf lettuce, cabbage, butter lettuce, escarole
Cooking greens, Spinach, arugula, kale, broccoli rabe, bok choy, collard greens, mustard greens, beet greens, swiss chard, cabbage
Hearty vegetables: Broccoli, cauliflower, bell pepper, cabbage, brussels sprouts, asparagus, bok choy, eggplant, zucchini, summer squash, butternut squash, spaghetti squash, mushrooms, snow peas, snap peas
Citrus: Navel orange, blood orange, grapefruit, clementine, mandarin orange, lemon, lime, tangerine
Berries: Strawberry, blueberry, raspberry, blackberry
Stone fruits: Peach, plum, nectarine, cherries, mango, apricot
Melon: Watermelon, cantaloupe, honeydew
Pantry Staples
Grains: Rice, pasta, couscous, farro, barley, quinoa, buckwheat, spelt, amaranth, bulgur
Vegetarian proteins: Eggs, legumes, tofu, seitan, nuts, tempeh, seeds
Legumes: Black beans, lentils, chickpeas, white beans, pinto beans, kidney beans, peanuts
Acids: Lime juice, lemon juice, balsamic vinegar, red wine vinegar, white wine vinegar, apple cider vinegar, rice vinegar, wine
Fats: Olive oil, canola oil, grapeseed oil, peanut oil, butter, coconut oil
Sweeteners: Sugar, honey, maple syrup, agave
Meat and Dairy
Best egg replacements: Tofu, flax seed, chia seeds, aquafaba (chickpea brine)
Lean meats: chicken breast, chicken thigh, skirt steak, ribeye, strip steak, flank steak, pork chop, tenderloin
Roasts (best for braising or slow cooking): Pork butt, pork loin, pork shoulder, beef chuck, short ribs, brisket
Ground meats: ground beef, ground pork, ground chicken breast, ground chicken thigh, ground turkey, ground lamb
Cured meats: bacon, sausage, pancetta, bacon, prosciutto, canadian bacon, turkey bacon, serrano ham
Flaky fish: Tilapia, cod, snapper, flounder, trout
Firm fish: salmon, tuna, mahi mahi, halibut
Shellfish: Shrimp, scallops, mussels, clams
Tinned fish: Tuna, salmon, anchovies, mackerel
Hard cheeses: Parmesan, pecorino, grana padano
Melting cheeses: Cheddar, mozzarella, swiss, havarti, colby, monterey jack, emmental, gruyere, gouda, munster
Milk: Dairy milk, oat milk, almond milk, soymilk, pea milk, coconut milk
Creamy dairy products: Yogurt, labneh, mayo, sour cream, cream cheese, ricotta, sour cream
Let us know!
Did this post help you get closer to achieving one of your goals?