Is Recovery the New HIIT? How The Fitness Industry Can Encourage Recovery and Where the Vertical is Headed
For the past several years, we've seen HIIT (High Intensity Interval Training) crowned as one of the top trends in the fitness industry. As a byproduct of this vigorous, joint-pounding form of exercise, studios and classes focused solely on recovery and preserving the longevity of the body have emerged, giving birth to a new vertical in fitness.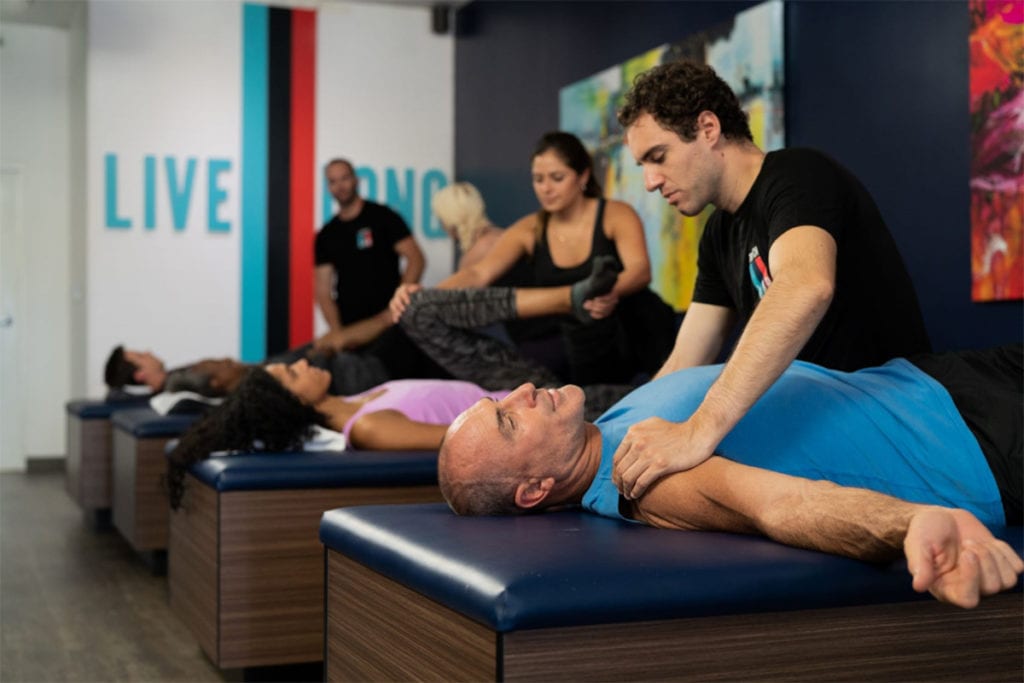 As word continues to spread about the importance of stretching and taking care of one's body, an entirely new legion of consumers beyond just athletes and fitness enthusiasts is starting to take control of their health and wellness. All ages, shapes, sizes and abilities can benefit from a consistent recovery practice, and it's up to fitness industry leaders to implement the right education, tools and resources to meet the growing demand.
How fitness professionals and studios can encourage recovery
This starts with fitness professionals. Trainers might be experts in strength training, cardio and nutrition but they need to make sure they are equally educated in the area of recovery, which is an important and necessary component to every aspect of fitness.
For example, our Flexologists at StretchLab come to us from many different areas of the fitness and health industry. While they are all intelligent individuals and have some working knowledge on recovery when we first meet, there is always more to learn and assisted stretching is a beast all its own. This is why we hold over 75 hours of training right off the bat and then ongoing education even after they are practicing as Flexologists. The extensive training not only makes them great Flexologists, but makes them great in their other fitness roles as well.
Personal trainers shouldn't be parting ways with their clients as soon as they finish their last exercise, and stretching can no longer be relegated to two abrupt minutes at the end of a group exercise class. More education and training on recovery will help eradicate the stigma and neglect around it and set clients up for long-term success. Encouraging recovery can also prevent newcomers to exercise from burning out so quickly.
Beyond education, facilities need to have the proper tools, equipment and setup to encourage recovery. Studios and trainers should have foam rollers, stretching straps, mats, etc. to help members properly cool down, prevent injury and improve mobility. Every square foot of a studio doesn't need to be filled with weights and cardio equipment. Open spaces foster an atmosphere where it's okay to focus only on flexibility without equipment and stretch out. Gyms may even consider adding stretch-focused classes to their schedules if they don't already exist or partnering with a local stretching studio like StretchLab, which takes recovery to the next level, as clients can achieve so much more when paired up with a certified Flexologist.
Once consumers realize how much they benefit from a little recovery, they are willing to take more time for and spend more money on it. Stretching and recovery studios are no longer a fad; they are part of a larger movement in which people are shifting their focus from fitness to overall wellness. With that said, it's up to fitness industry leaders, brands and trainers to keep innovating and expanding offerings and educating clients in order for people to feel good and ultimately live longer.