Notes from a Whole Bowls Belly: Four Months into a Yearlong Cookbook Challenge
Sitting in my small apartment in Shenzhen, China, the space surrounding me is brightened by the warm aroma of sweet potato latkes and roasted Brussels sprouts. I am deliciously, mindfully working my way through the steps to the recipe for Holiday Bowls with Stuffing, Sweet Potato Latkes, Brussel Sprouts, and Balsamic Glaze. For the past 15 weeks, I have been befriending Allison Day's Whole Bowls cookbook on the regular. So far, I have kept my promise to make at least one whole bowl a week.
As with any vows, this commitment to make my way through the cookbook has come with its own challenges. Tofu, a staple of many of Day's vegetarian and gluten-free meals, is readily available here in China while millet, halloumi cheese and even unsweetened coconut flakes have yet to make their debut in Shenzhen. When I choose my recipe for the week, I generally visit 3-4 shops to get the ingredients that I need. This all makes me want my local co-op in Minneapolis so hard.
In addition to these logistical frustrations, which generally just equate to a bit of a time drain and having to switch out one ingredient for another, frequent weekend travel has, at times, led to temptations to abort ship on this challenge. A couple of weekends ago, I had the opportunity to take a 24-hour trip to see Roxane Gay at the Singapore Writers Festival. It turned out to be one of my most treasured experiences in Asia thus far, but this also meant arriving home late Sunday night, leaving no real time to food prep for the week.
Listen, we all know there just isn't an Easy button to press for the things we want most out of life. When it comes to my health and wellness, I regularly have to just sit with my exhaustion some days, the exhaustion that entreats me to curl up with Netflix and order in Indian (which is amazing from time to time), and ask myself What is it that you really want here? I want to feel good in my clothes, to have a healthy gut, the kind I know really comes from giving veggies like broccoli and beets and purple cabbage the starring roles on my dinner set.
Coming off a weekend of travel can lead me to feel so harried and stressed, but the way that Day has set up her recipes, it's brilliant really, and will help any 21st century human to food prep around all the things. Each recipe has a section listing each component and notes how many days that part of the meal can be made ahead.
So, before heading to Singapore on Saturday, I chose to stay home on Friday and make the apple dressing and quinoa and chickpeas for the Everyday Bowls with Apple Dressing and Feta. This meant that my lunch was ready to go for Monday. It was a much healthier start than grabbing the hot lunch in our cafeteria that can be tasty, but is generally quite oily and contains questionable meat.
This weekend, I am enjoying my own warm and cozy abode. Cracking open Day's cookbook just ended up being more enticing than a night out as I was, for the first time, immersed in the story that unfolded from the first page of Whole Bowls. As an English teacher, as a lover of Story to unite humanity, and a lover of food, how had I never actually read a cookbook? I do not believe in spoilers, so I will not go on here about what I discovered in Day's cookbook today, but when I read her opening line, "One good bowl will take you far," I thought, "You know what Ms. Allison, I believe it will. Yours have already taken my belly to some of its best places."
So on this Friday night in Shenzhen, China, this high school English teacher has fulfilled her best life dreams by cooking in; I have been enjoying the sound of ZZ Ward singing about the woman who doesn't Mary Well — she buys her own diamonds, they don't come with no vows — while I push my two curious cats repeatedly off of the small space of countertop I am food prepping on.
Julia Child, one of my favorite personalities and author of Mastering the Art of French Cooking, was once quoted as saying, "Find something you're passionate about and keep tremendously interested in it." I think the operative word in this quote is "keep" — using this verb, Child was reminding us that passion does take effort. I am passionate about my overall wellness, which is connected to eating healthy whole foods.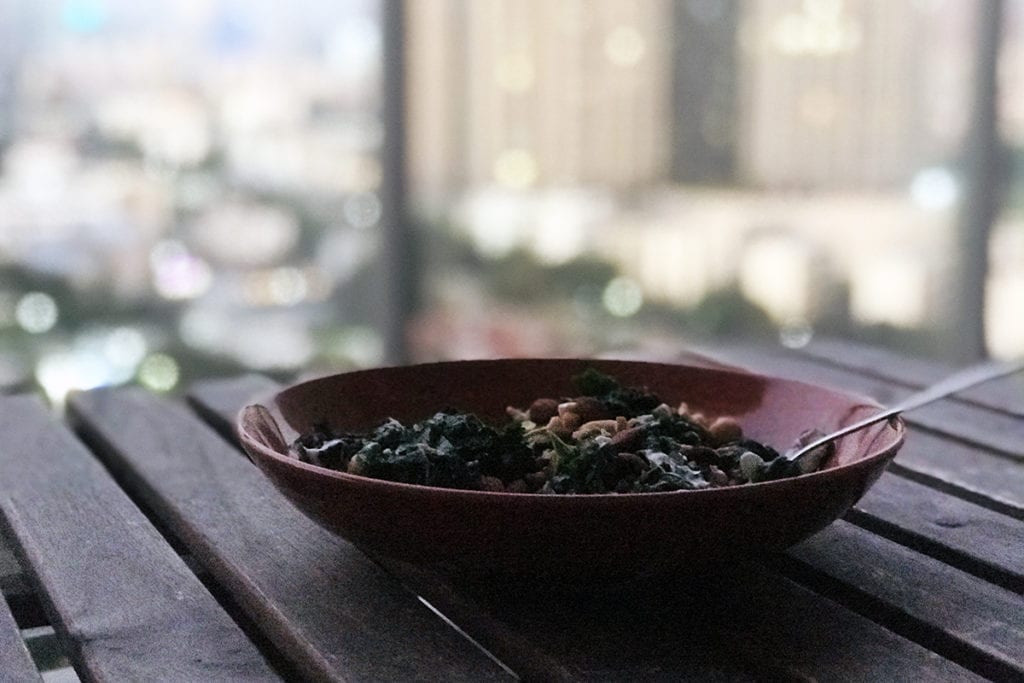 Keeping passionate means purposefully setting time aside each week to plan out some of my meals. While in times of higher stress I am tempted to take a short cut and sink a fork into a container of take-out, plunging my spoon into a whole bowl keeps me on that path of health.