The Whole Bowls Challenge, Part One
At a neighbor's home for dinner in July, my parents and I sunk our forks into some of the best pea hummus I have ever had. In truth, it was the only pea hummus that I have tried to date, but it made me believe in more than just the vibrant color of peas — blend 'em up the right way and you'll befriend them immediately. The pea hummus was just one part of the Buddha Bowls that our friend Jan prepared for us. I raved about the contents of the bowls before us, not simply to ingratiate myself with our hosts, but because I could not help it.
As Jan and Lou's gorgeous feline children purred around our feet and in our laps, Jan told me about the new cookbook that she had bought. Whole Bowls, Allison Day's third cookbook, was bringing fresh dishes into Jan and Lou's vegetarian kitchen. Three days after our dinner, Mom and I each had our own copy of the cookbook too.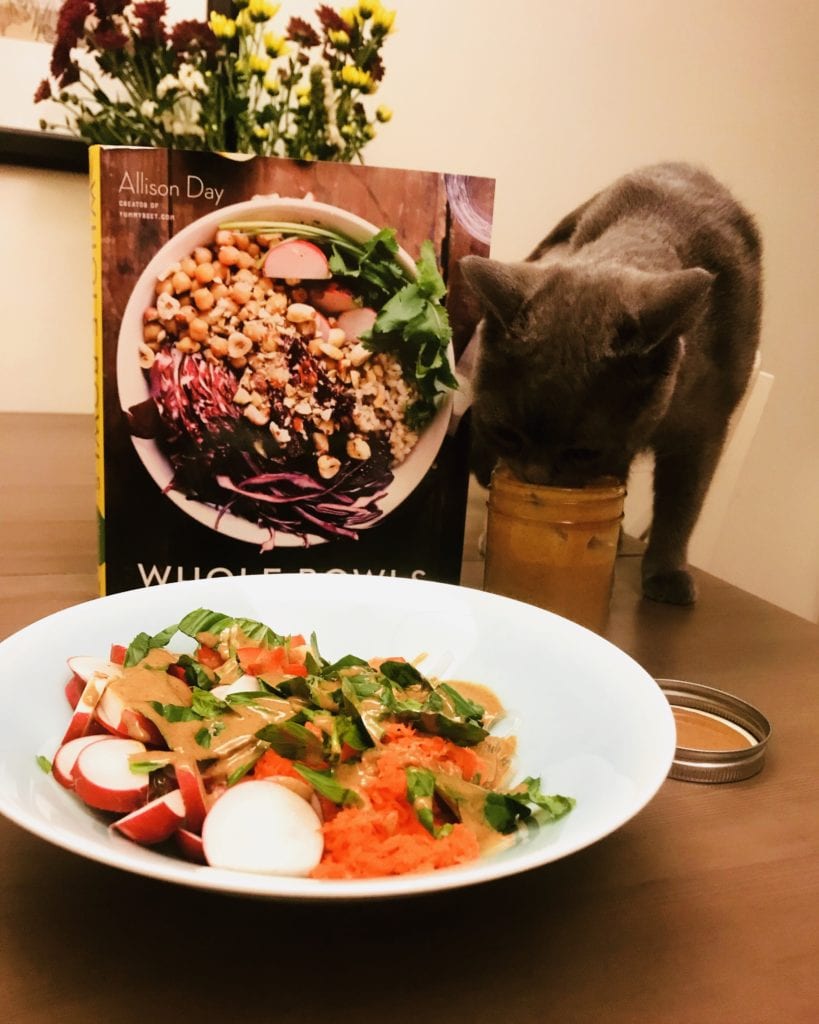 During the summers, I feel like a rockstar in the kitchen. As a teacher, I have more time in June and July to chop and mix and experiment for any willing taste testers. During the school year, when I reside in Shenzhen, China…well, I have been rocking a lot of essay marking and eating out.
A new school year, a new mission
I vowed this year — my fourth in China — would be the revival of my favorite apron. Inspired by Ms. Day's veggie-nutrient-flavor packed bowls, I have set out to whip up at least one of her Whole Bowls each week this school year. (If I am being most candid, I am also daydreaming about writing my own version of Julie and Julia and then of course starring in the made for Netflix movie based on my book. Maybe I will even be fortunate enough to connect with the Allison Day herself throughout this process.)
First successes
I have been back in Asia for four weeks, and I have crunched into four recipes from Whole Bowls so far. I have learned at least two important things so far.
First, Allison, via her cookbook, is a great conversationalist. On Sundays (when I spend a couple of hours food prepping for the week), I rummage through my cupboards and call out an ingredient. Hey Allison! I've got lentils that have been hiding behind gluten-free pasta for far too long. Where should I house them now? Right beside the cauliflower hazelnut pilaf, she answered last weekend.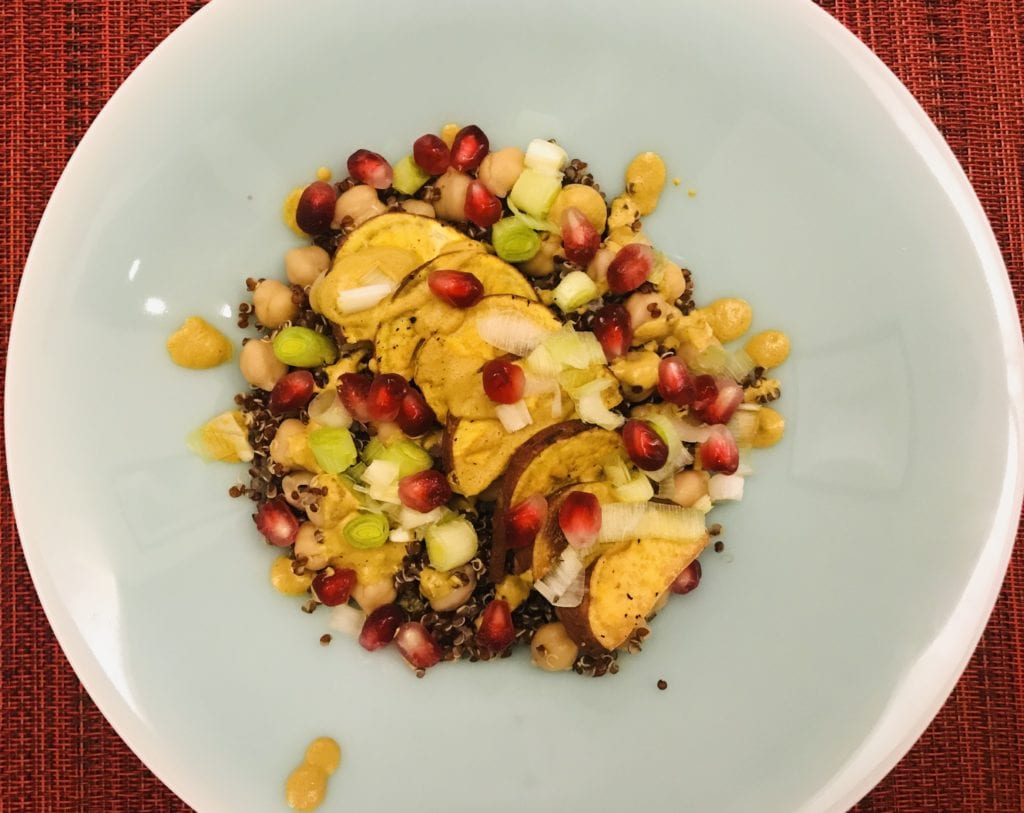 Second, Ms. Day knows the power of dressings and sauces. The almond sauce I made yesterday for this week's Almond Noodle Salad with Radishes and Basil? I'm telling my spoon to stay away from it until dinner time, lest I just drizzle the whole jar onto my tongue before it hits the julienned carrots, red bell peppers and tofu. 
Future hopes and dreams
When I was in kindergarten, when asked by my best friend's mom what I wanted for a snack, I earnestly answered, "a salad please." Dad was on a diet at the time, and while I don't believe in dieting at this point, what stayed with me was the importance of veggies. When I was in college, I discovered FoodNetwork and Rachael Ray's 30 Minute Meals. I began to feel more connected with what I put on my fork and into my belly. When I moved to China, I succumbed to convenience. Several times a week I have walked a block this way or that and hunkered down at one of the many tasty restaurants near my apartment.
I hope that consuming all of the vegetables in Day's recipes restores the balance I know that I feel when I am eating so many whole foods. I hope that I am inspired when I see my retirement account growing because eating in is more fiscally responsible than dining out. I hope that a rededication to my kitchen and cooking brings the joy I feel in the summer into my school-year kitchen. For the past three years, I have lost my chef identity during the school year, and so my greatest hope is that she stays with me this school year — she is, indeed, pretty creative and fun.
Projected challenge
I love teaching in Asia, but we move at light speed here many weeks. Some days even clipping my toenails after work feels like such a task. I know there may be weeks that fatigue sets in, and those are the times when it will be so tempting to say, "I'll get back on track next week." Sticking to my plan may be especially difficult on weekends that I travel as returning Sunday evening cuts down on the time I usually use to prep my meals.
That is where you all come in, aSweatLife fam. Shifting into more mindful and healthy routines is always made more approachable when you've got teammates. Accountability is key. So, who wants to join me for the Year of Whole Bowls challenge?
Give Allison Day and me a follow on Instagram. Tag us in your photos featuring your whole bowls. Let's rock this challenge, Foodie Friends!