This is the Latest Bachelorette Party Trend And We Are HERE For It
Gone are the simple one-night outings at a local dive bar to celebrate your best girlfriend's upcoming nuptials. The millennial generation is much more travel-savvy than that. In fact, not only is this generation upping their bachelorette party game, but there is a new trend that is becoming increasingly popular: wellness bachelorette parties.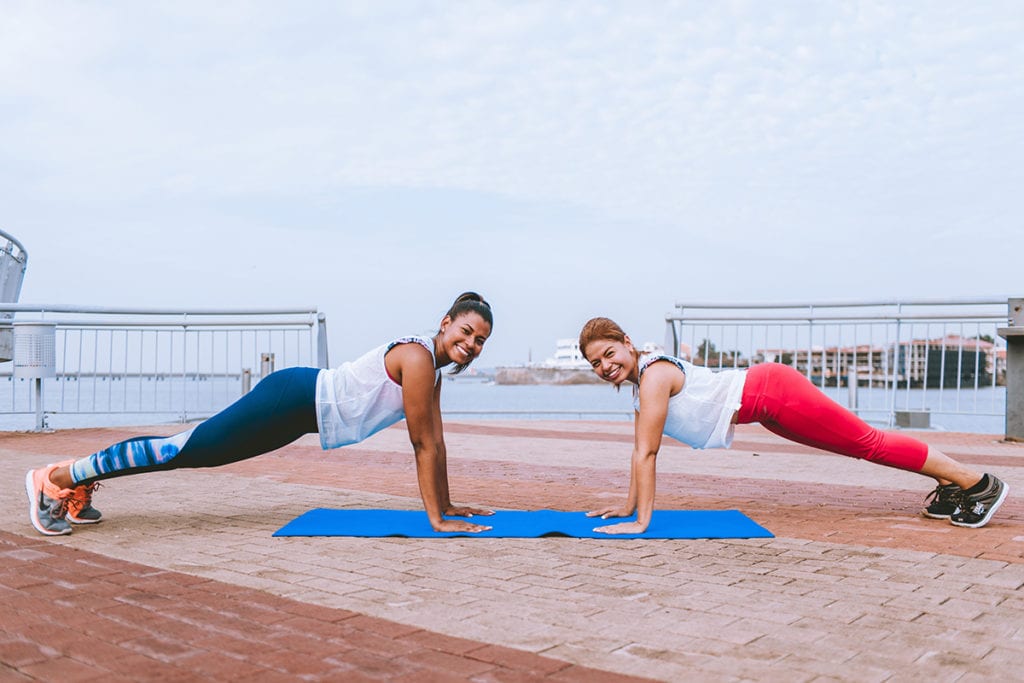 You read that correctly. Instead of drinking all weekend, many brides are opting to take it easy and are requesting a wellness-based weekend focused on yoga, meditation, sound baths, and spa days. 
Allison Odhner, founder of Bach to Basic, an all-inclusive luxury bachelor and bachelorette party planning service, gave us a little more insight into this trend.
"We have definitely seen an increase in the number of groups requesting wellness activities throughout their weekend," she confirms. "Some brides will request one or two activities, or sometimes an entire weekend centered around fitness and relaxation. We still see a lot of groups who want to party all weekend, but the trend of a rejuvenating girls' getaway, or just one night out has become much more of the standard."
What goes on at a wellness bachelorette party?
What do these new age wellness bachelorette parties entail? These parties ranged from private chefs to group spin classes.
Culinary nutritionist Tabitha Lavoie has catered to several wellness-based bachelorette parties.
"I had two types of offerings," she shares. "First, I offered a cooking class-style evening, where everyone participated in making an appetizer, dinner and desert. Or, I was often hired as a personal chef so everyone could participate in their own planned festivities at a cottage/house/apartment but had an opportunity to enjoy food that they were excited about and made them feel good. In either scenario, I presented three menus that were themed to avoid allergens and made food types that they all enjoyed… Those who participated loved the wellness-based bachelorette parties."
Odhner explains the different types of parties they have planned that follow this current trend. 
"Often we book group fitness classes for groups. These can either be private or public depending on group size and budget. For one of our Charleston bachelorette parties, we coordinated a private spin class for them where they got to provide input on the music and the studio to themselves!" she says.
"We booked a studio for a private yoga class that included snacks, drinks and a toast to the bride for one of our bachelorette parties in NYC. In Nashville, we've booked line dancing classes as well as goat yoga – two of our favorite unique activities. We have also coordinated pole dancing classes in many of the cities we've sent parties to," Odhner continues.
She also shared that a lot of brides wanted their weekends to be full of outside activities.
"Some of our favorite activities have included paddle boarding in Savannah, jet skiing in Lake Tahoe and outdoor yoga (on the beach in Miami and overlooking the mountains in Vail!). Hiking or biking are great budget-friendly ways to explore your destination, and we love suggesting the best routes in the area."
And don't forget to make room for a little bit of TLC, ladies.
"We also think wellness includes relaxation and rejuvenation," affirms Odhner. "We've booked everything from massages, spa days, meditation activities, and more. Some of our favorite activities have included a salt cave in Asheville, hydrotherapy and spa treatments in Tulum and Toronto, and blow-outs and makeup application in Las Vegas."
Allison also added that instead of a hangover kit, many wellness bachelorette parties ended with spa kits or party swag that included robes, eye masks and/or slippers for guests to sport.
Okay, now which one of my friends is going to opt for the wellness-themed bachelorette party because I am sold on this idea!