Cyclebar's Tevia Celli on the Transformative Power of Group Fitness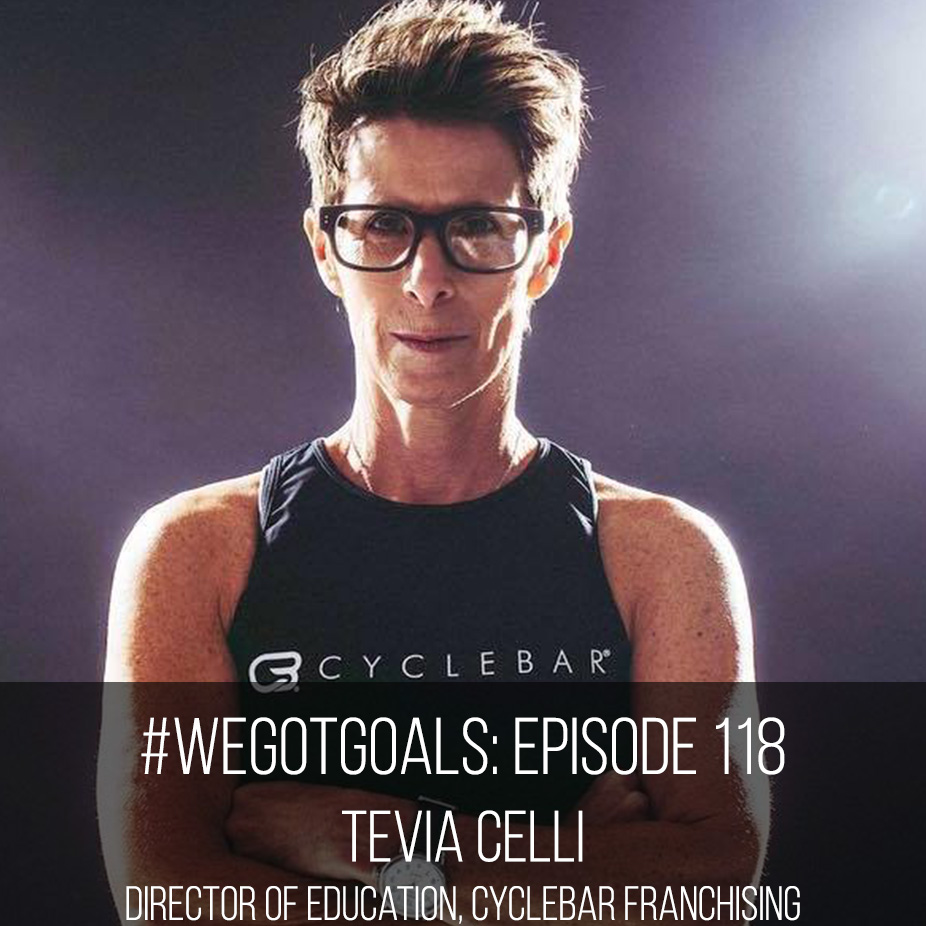 An epic fail at work. A blowout with—even a split from—the love of your life. A life-altering piece of medical news. Every day, people carry all this—and more—into spin studios in Chicago and around the country.
Inside those walls, they seek an hour or so of peace, of active meditation.
"You're riding to the rhythm of the music, you're sweaty, you're working really hard," Tevia Celli told me on this week's episode of #WeGotGoals. "You walk into a class and you've got all this stuff on your mind; you're weighted. Somewhere, pedal stroke after pedal stroke, you're letting that go and becoming present."
Few people understand this transformational process better than Celli. Back in 1998, she opened one of the very first spin studios, Body & Soul, in Los Angeles. She ran it for more than a decade, then stayed in the business to work as a master instructor at Flywheel and then an independent consultant.
Now, she's the Director of Education at CycleBar Franchising, where she trains and develops a team of 1,800-plus instructors at 200 studios and counting. "I have to figure out a way to stay in these people's heads and keep them inspired and motivated and committed," she said.
Since she stepped into the role, she's developed a few nuts-and-bolts strategies to achieve this. CycleStarYou, for instance, gathers newer hires and master instructors for an immersive, in-person educational experience. An online forum allows these CycleStars to continue sharing long after they're back in their home markets.
But to truly encourage the type of authenticity and motivational power CycleBar seeks requires leading by example. In our interview, it's swiftly clear that Celli doesn't hold back in sharing her personal highs and lows. That includes a serious medical event of her own—a diagnosis of multiple sclerosis at age 41—and the complete life overhaul she embarked on in its aftermath.
For Celli, managing the disease involved less in the way of prescription medication and more along the lines of meditation, therapy, adopting a plant-based diet, and even, painfully, ending some close relationships.
"In this day and age, as we're being more accountable for our health and our wellbeing, it's not just what we put into our body, it's what we allow to take up space in our energy as well," she said. "I have to make sure I'm as centered and balanced as I can be, no matter what comes my way."
Tackling the disease on her own terms—and getting back to teaching cycling, something doctors told her she'd likely never do again—stands as the goal she's most proud to have accomplished. And as CycleBar continues to expand, she hopes the growing network of CycleStar instructors embrace their own setbacks as catalysts for empowerment.
"We want people to be authentic, and to really use what they go through," she said. "Say, 'you know, I understand how hard it is to get here. Some days it's hard for me too.'" Only then will they be able to be, in her words, "positive change-makers in their community," shifting their students toward the best possible version of themselves.
Listen to the full episode to hear more about why Celli considers the group fitness experience so magical; the path she took to recognizing her self-worth; and why what she calls "permission to heal" is so critical to achieving any goal.
If you like what you hear, please subscribe on iTunes, Spotify, or wherever you get your podcasts. We'd be grateful if you'd leave us a rating or a review, which helps other goal-getters find their way to us.