How Peloton is Taking the Dread Out of the Treadmill
Maybe you've heard of Peloton, the fitness technology company responsible for bringing indoor cycling into your home, using live classes to fill riders with the high-energy motivation and competition they get from attending a live class.
But chew on this for a minute: the word "peloton" isn't just a made-up, fast-sounding word (like I've assumed for the past four years). Nope, peloton actually refers to the main group of cyclists in a race, who save energy by riding together and drafting off each other.
Put another way, Peloton could be translated to mean "going further, together" (or, in aSweatLife parlance, everything is better with friends).
And now, Peloton is applying that team mentality to an all-new product, revealed at CES at the beginning of January: the Peloton Tread.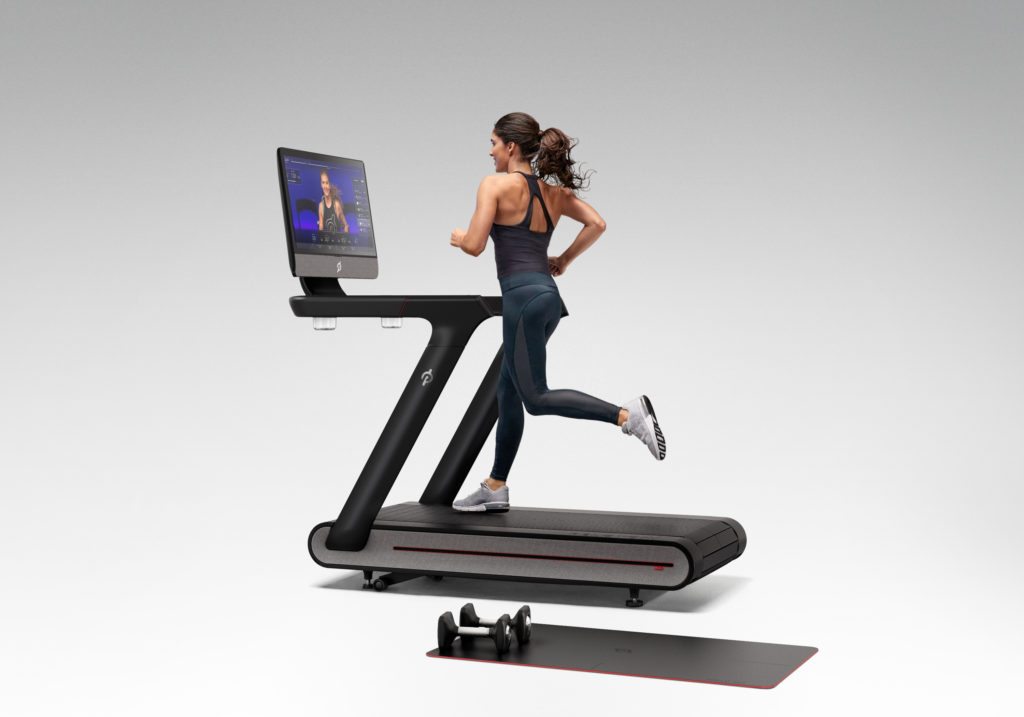 Let's back up a little bit before diving in to the Peloton Tread. There are few fitness machines as universally disparaged as the treadmill. By and large, people tend to view it as the most monotonous way to get their heart rate up. Listen closely at the gym and you'll hear runners grousing about how a treadmill minute is worth at least five regular-time minutes, and commiserating together about how the only way to survive a four mile jog is to single-mindedly focus on a Fixer Upper re-run.
I have a couple of theories about why the treadmill gets such a bad rap. One, of course, is that people tend to set their speed and not touch it again for the rest of the workout. When you're running at 6.0 mph for 40 minutes straight, you naturally start counting down the seconds until you're finished (hence, my personal policy of switching up speed or incline every 60 seconds I'm on a treadmill).
But I think the bigger issue is that, much like any other self-led workout, it's really easy to just half-ass a treadmill workout. After all, there's no instructor pushing you to add just 0.1 to your speed, and your only competition is the woman next to you walking on an incline while idly flipping the pages of an Us Magazine from six months ago. And who wants to get finished with a workout only to think, "Ugh, that was really boring and I'm not even sure I accomplished anything"?
Peloton's differentiator lies in fostering the group connectivity that's missing from solo gym runs, even when the treadmill is in the quiet comfort of your own home. Much like the Peloton Bike, the Peloton Tread features a huge touchscreen that can be used to livestream classes straight from NYC.
And those live classes are the standout feature of the Peloton Tread — the magical fix for everyone who's ever wanted to conquer a treadmill run, but lacked the internal motivation to crank it up without someone actually telling them to.
According to Peloton Master Tread Instructor Rebecca Kennedy, the live classes serve as extra motivation to amp up the intensity of your workout, whether you're a new runner or experienced marathoner.
"Just with the Peloton Bike, the Peloton Tread will have a motivating real-time leaderboard, tracking your performance with metrics, including speed, incline and output. For those more competitive, you can also see your performance in relation to other Peloton members.
"We instructors also interact directly with those in our classes—we cheer you on and share positive reinforcement and your milestones. It's like we're with them in their homes."
With thousands of classes on demand (and at least 10 live classes daily), you can guarantee that there's something for everyone. Running-focused classes are on deck for everyone from beginner runners to those wanting a challenging marathon-training program. You even get to specify the type of music you want to run to.
And if you're paying around $4,000 for this treadmill, you'll be pleased to hear that the programs include more than just running routes. You'll be able to choose from bootcamp-style circuit classes using weights and a mat in addition to the treadmill; walking classes to build endurance and floor classes that take place completely off the treadmill.
Explaining the features of the Peloton Tread in-depth, Kennedy says, "For starters, the Peloton Tread is much more than your basic treadmill, since it is in essence a private fitness studio. From a tech perspective, it uses slat belt technology, providing for an ultimate low-impact and comfortable running experience.
"Similarly, it was designed to have speed and incline knobs that let you easily change your pace without lag time. And the 32" HD touchscreen and powerful soundbar are top of the line and designed to bring your right into our studio.
"And then there is the software— my favorite part! We will be offering hundreds of different class types led by the best instructors in the world that deliver incredible content and motivation daily. Doesn't get much better than that!"
But again, Peloton's unique reputation comes from taking traditionally solo fitness activities (like cycling and running) and infusing them with energy from all-star instructors, bumping playlists and a sidebar that tracks others taking the class at the same time for a little friendly competition. In all seriousness, there's nothing else like it on the market.
Kennedy agrees, revealing "I've never seen something quite like the Peloton community. The users are so engaged with one another, holding each other accountable to goals, providing recommendations and support on fitness topics and beyond. It wouldn't be a stretch to say it's more like a family, than a community."
Ready to commit? Reserve your Peloton Tread here.