Size-Inclusive Fall Activewear to Add to Your Closet
If you need some motivation to get your body moving, especially as the holidays approach, nothing works better than some new fall activewear. Here are some of the most stylish pieces available this season. And more to love: there are lots of size-inclusive fall activewear options here—or rather, amazing pieces that just happen to be size-inclusive!
Alala
Alala recently launched a size-inclusive fall activewear collection in sizes 1X-3X. They took fit very seriously with 16 months of research, more than 150 corrections and over 100 notes of feedback taken into consideration. (Slow clap!) While you really can't go wrong with any outfit, the Heroine Tights and Demi Bra with their black and bordeaux accents are really beautiful and unique pieces. This set is available in standard sizes as well.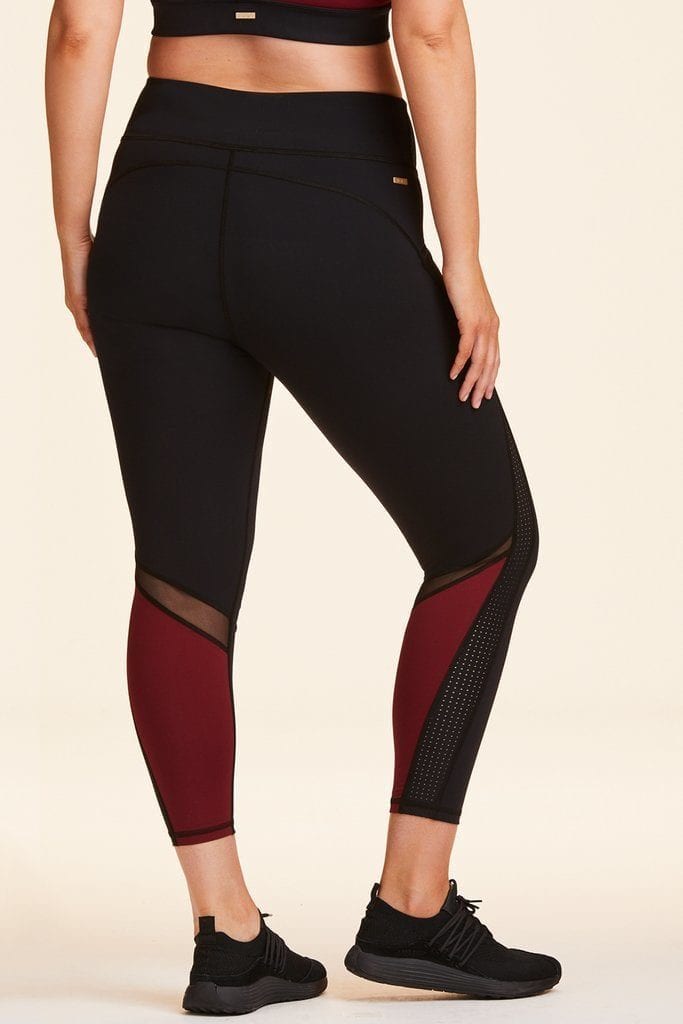 I'm also in love with Alala's velvet tights. These could be one of my favorite pair of leggings ever. They're just as functional as they are stylish. The high waist makes them really comfortable to move around in. As someone who is still working on her core, I also appreciate the cut because I can wear them with just a bra and still feel confident.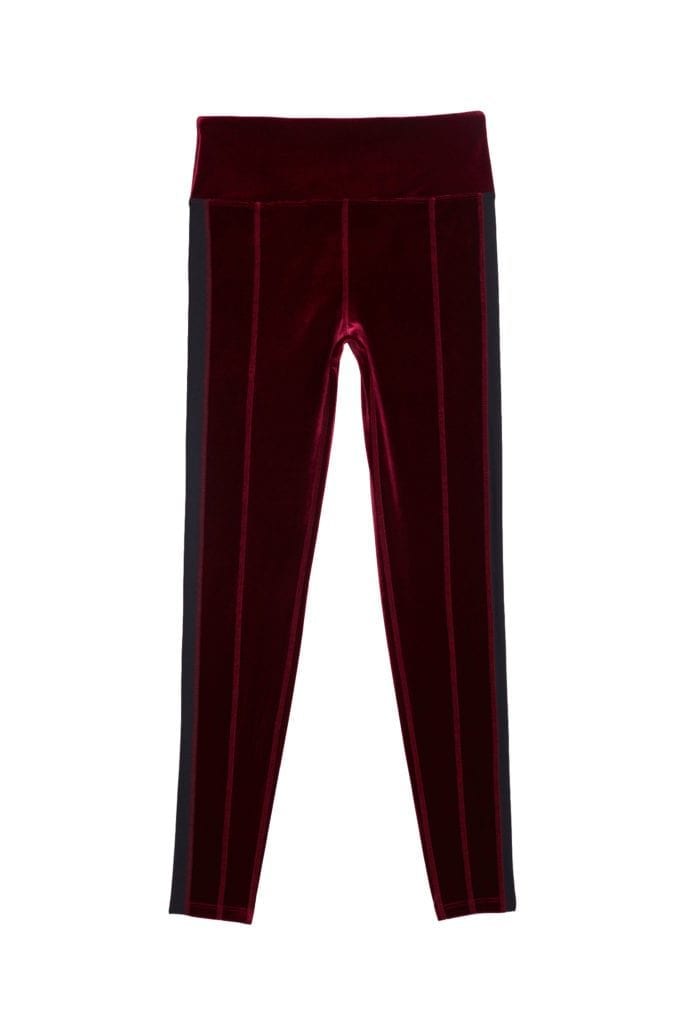 Pair these leggings with a matching bra or the Gwen Bra.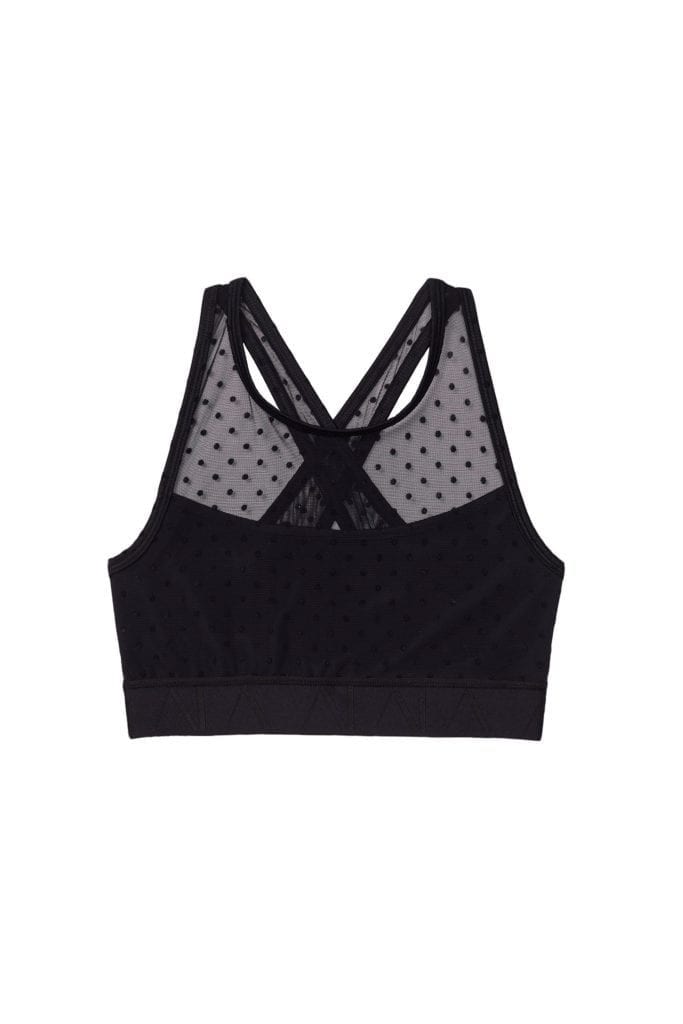 Athleta Boxing Kit
You don't have to box to appreciate this great collaboration between Athleta and Rumble. This line packs a great punch with a variety of outfits designed for boxing, but great for any activity, especially HIIT. Available in both black and burgundy, the Tenacity Mesh Plunge Bra provides full coverage with a mesh panel to vent out the sweat.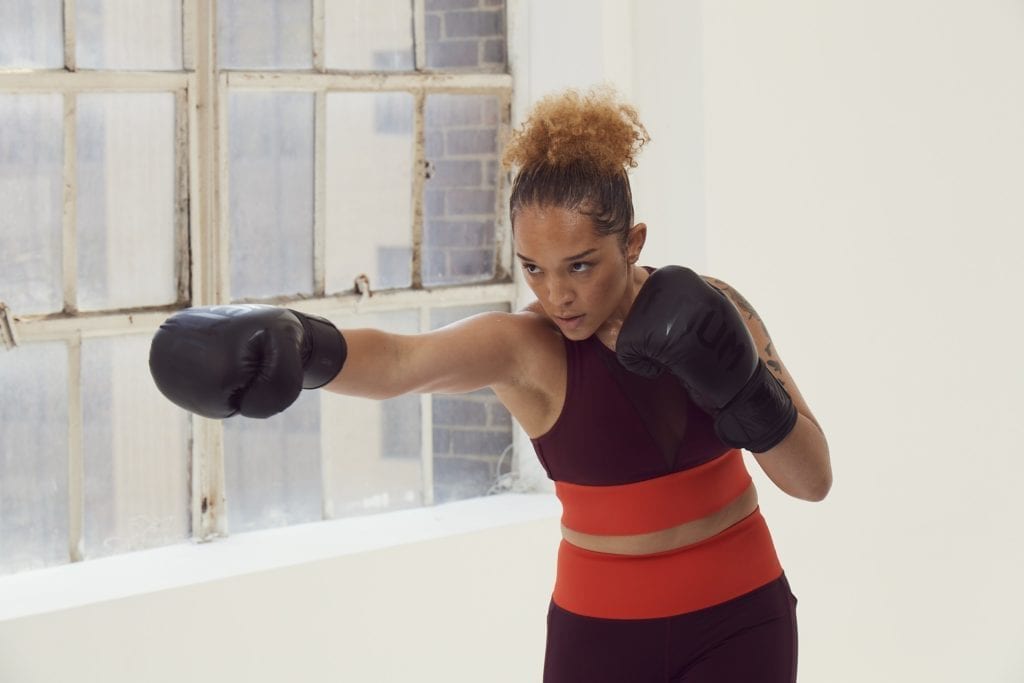 The Tenacity 7/8th Tights are cut nice and high up, with a thick waist band that really holds you in. They are available in a full range of sizes from regular and petite, to tall and plus (up to 3X). These leggings look good with everything and are a great activewear staple you can wear for seasons to come.
Don't forget the aptly-named Cloudlight Relaxed Muscle Tank. It's the softest tank I've ever worn.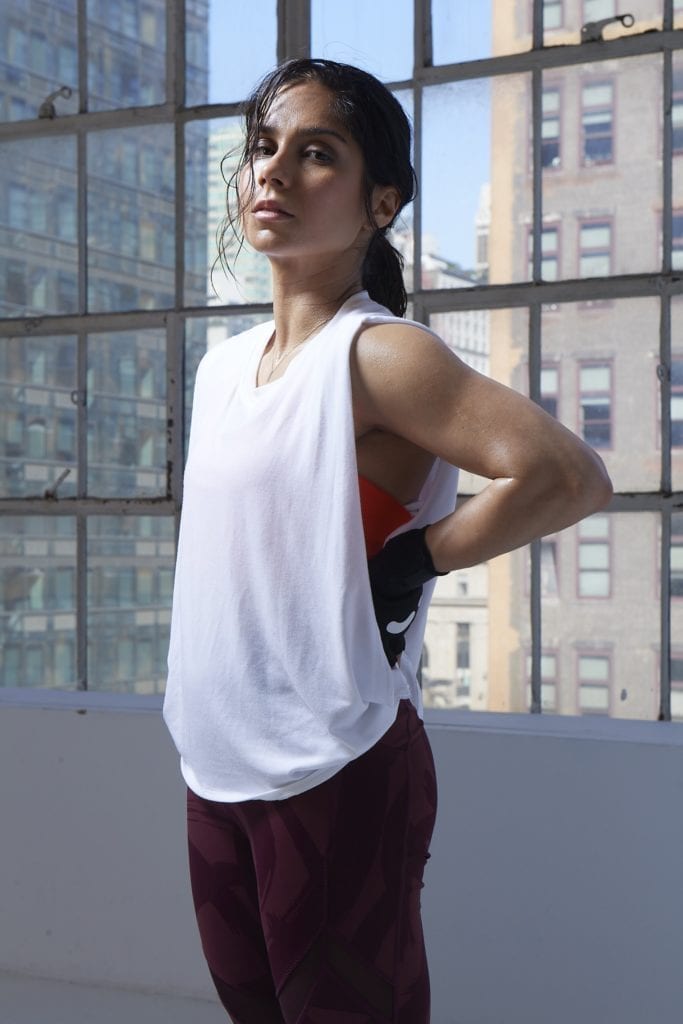 Splendid Suedes
Splendid's activewear is just as comfortable as their regular clothing is. If you like black leggings but find plain ones to be a bit boring, you will appreciate the suede panels that accent the Yoga Suede Panel Bra and Leggings. While they feel like suede, rest assured they are only faux. Can you imagine trying to do yoga while wearing real suede? I'm sweating just thinking about it.
This outfit is great to wear outside the gym with boots and a sweater all day long, then walk into the studio without needing to really change.
2(x)ist Performance Legging With Mesh and Sports Bra
If you want to stand out amongst the crowd, these silver leggings will do just that. The metallic fabric with mesh details is nothing like anything else available this season. They're also incredibly comfortable and at $54, don't break the bank. I literally get compliments on these wherever I go. When I wear them and walk my dog, people stop me about my leggings and not my pup, which is an incredibly rare occurrence. I like to call them my unicorn pants! While I was a little bit nervous about moving around in the fabric because metallic are often a little stiff, the sheen is very deceiving.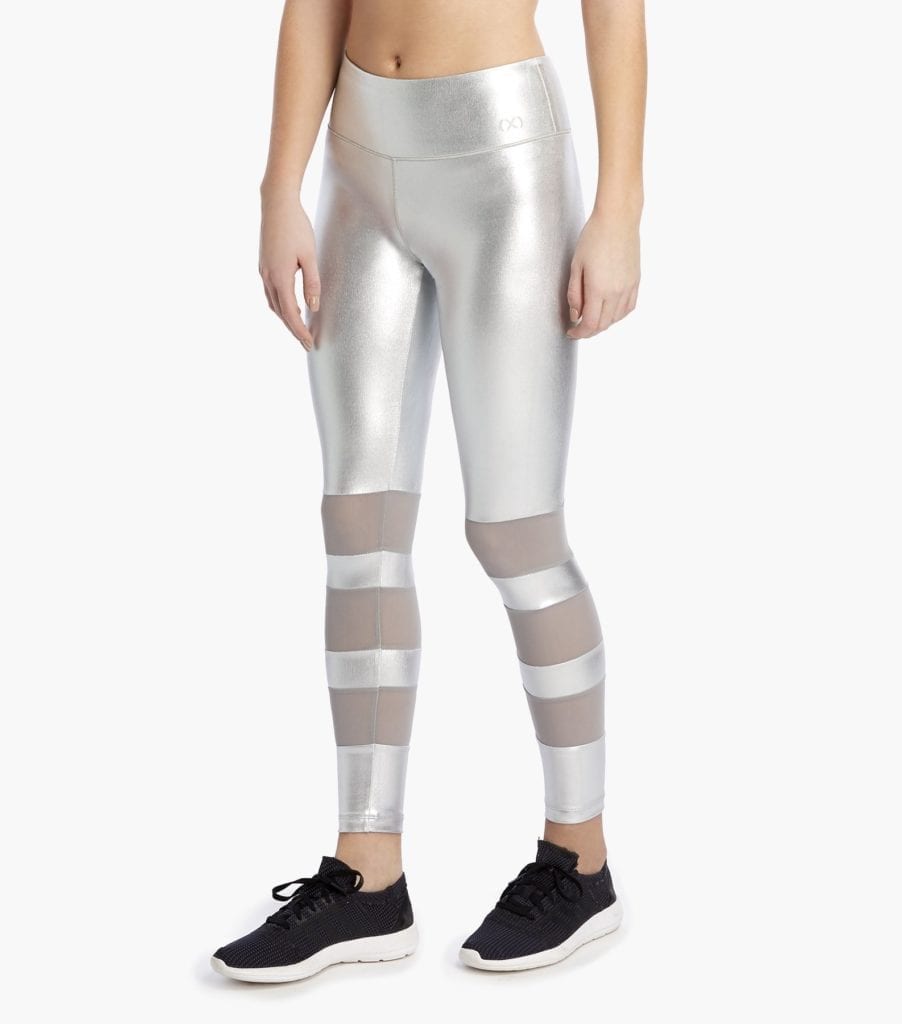 The matching sports bra is equally comfortable and supportive. It even features removable pads.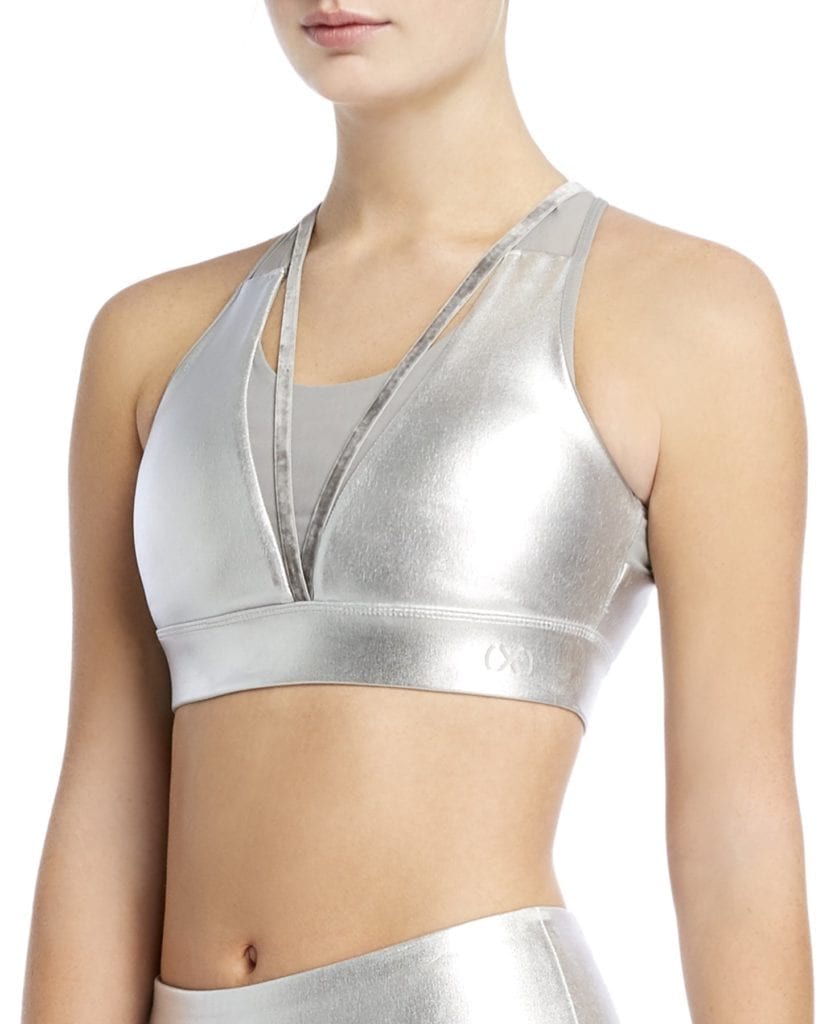 Manduka Anywhere Racerback Cami and Fold Back Cuff Leggings
Manduka's clothing is essentially the perfect uniform for yoga. (Also, they probably make the yoga mats used in your local studio.)  The Racerback Cami is comfortable, soft and won't ride up during down dog. The built-in shelf is supportive but feels almost seamless. It's the kind of cami you can take a nap in when you get home after class.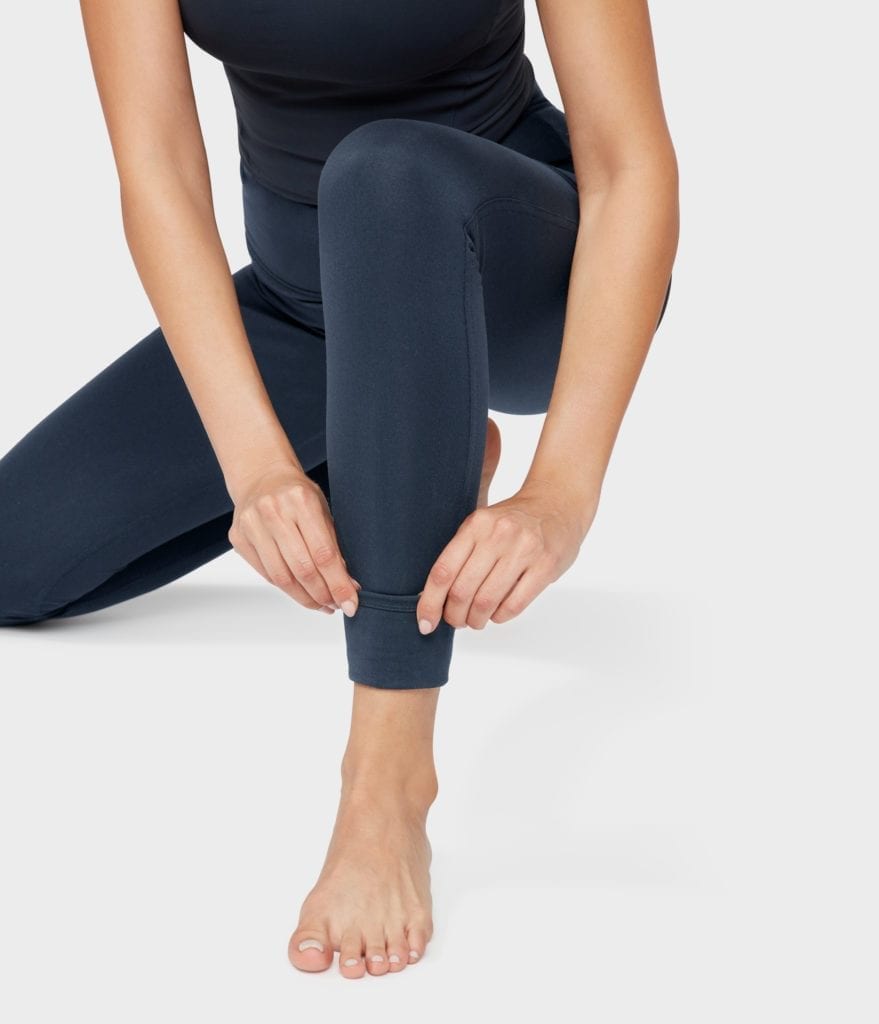 The Fold Back Cuff Leggings are also great activewear staples. Made of very soft cotton, they have a high waist and make it very easy to pigeon pose in.
Werkshop Eggplant Luster
Werkshop is an emerging Los Angeles activewear brand that's creating really unique, metallic pieces.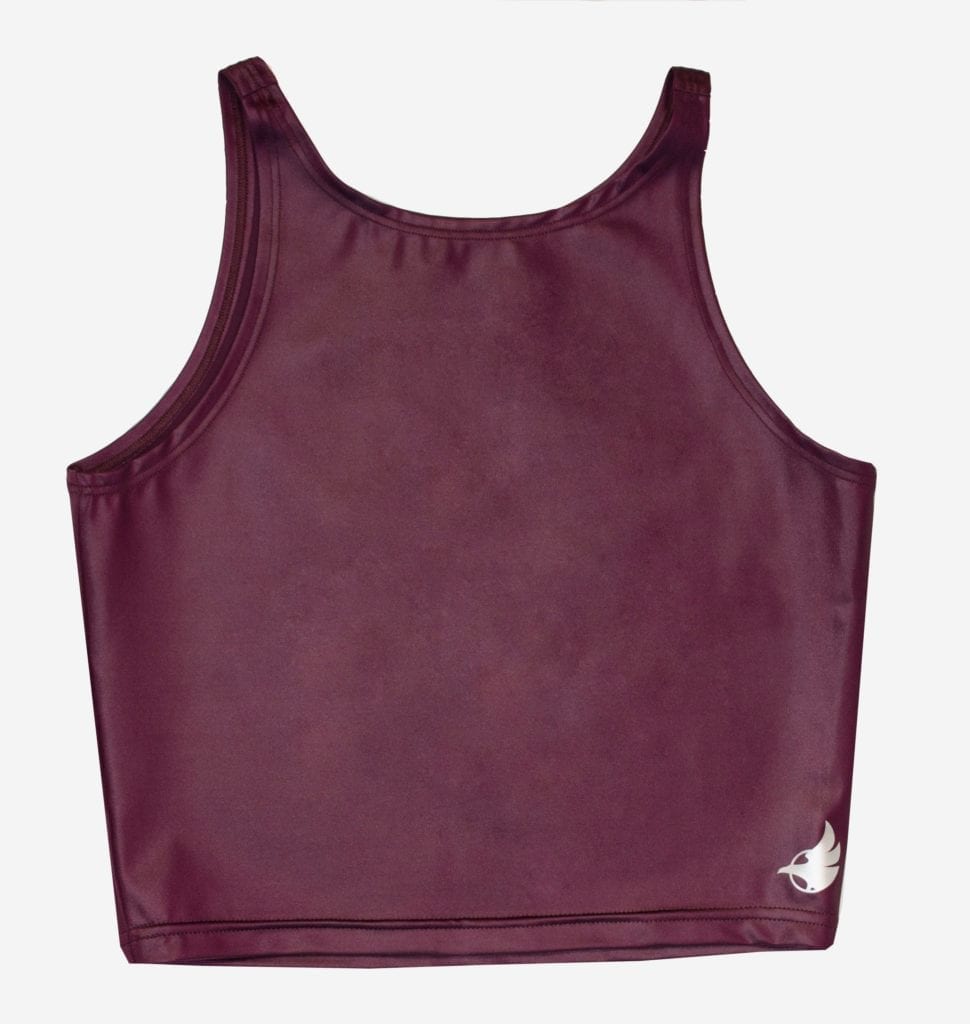 One that pops is the Eggplant Luster Leggings and Top. Both are available from sizes XS to 2XL. There is also a deep pocket designed to fit an iPhone, making these great for running outside.
Crane & Lion Racerback Tank
A tank with a very shelf bra is ideal for activities like yoga and Pilates. I love Crane & Lion's racerback tanks because the built-in shelf bras are extra supportive.  They also come in a range of sizes from 0-12, which is great if you don't fall into small, medium or large. Six different colors are available.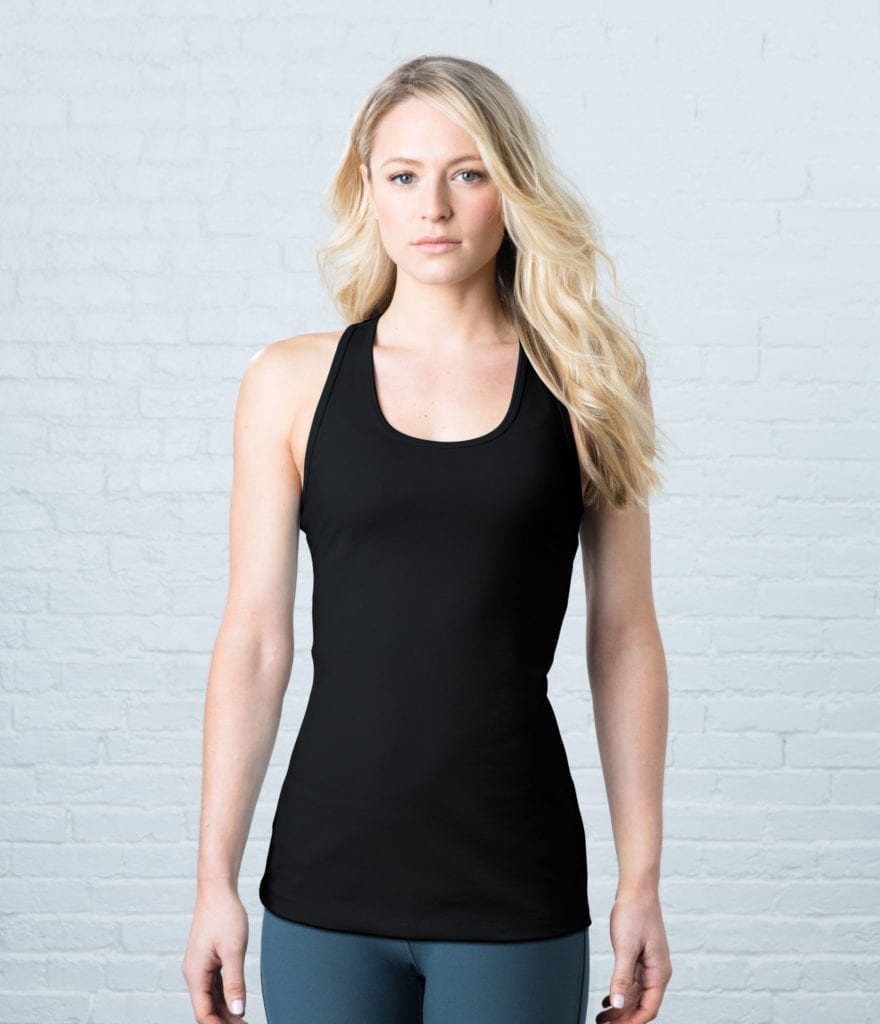 Chantelle Sports Bra
Chantelle's Impact sports bra is a dream if you have trouble finding a sports bra in your size because this one is available up to an H cup (hello inclusivity!). Unlike most sports bras, this one isn't a shelf and has cups and an underwire.
While I had never worn an underwire sports bra before, it was surprising to feel how comfortable this one was. I'm officially a convert. Choose from Ming Blue, Light Grey or Black.
Nautica Full Zip Nautex Fleece
If you run or hike outside in the fall, a good fleece jacket is a must. This one has large pockets with a zipper so you can carry everything you need from your phone to wallet comfortably. It also has a fleece-lined collar for those extra chilly and windy days. This jacket is available in XS-XXL in six different colors.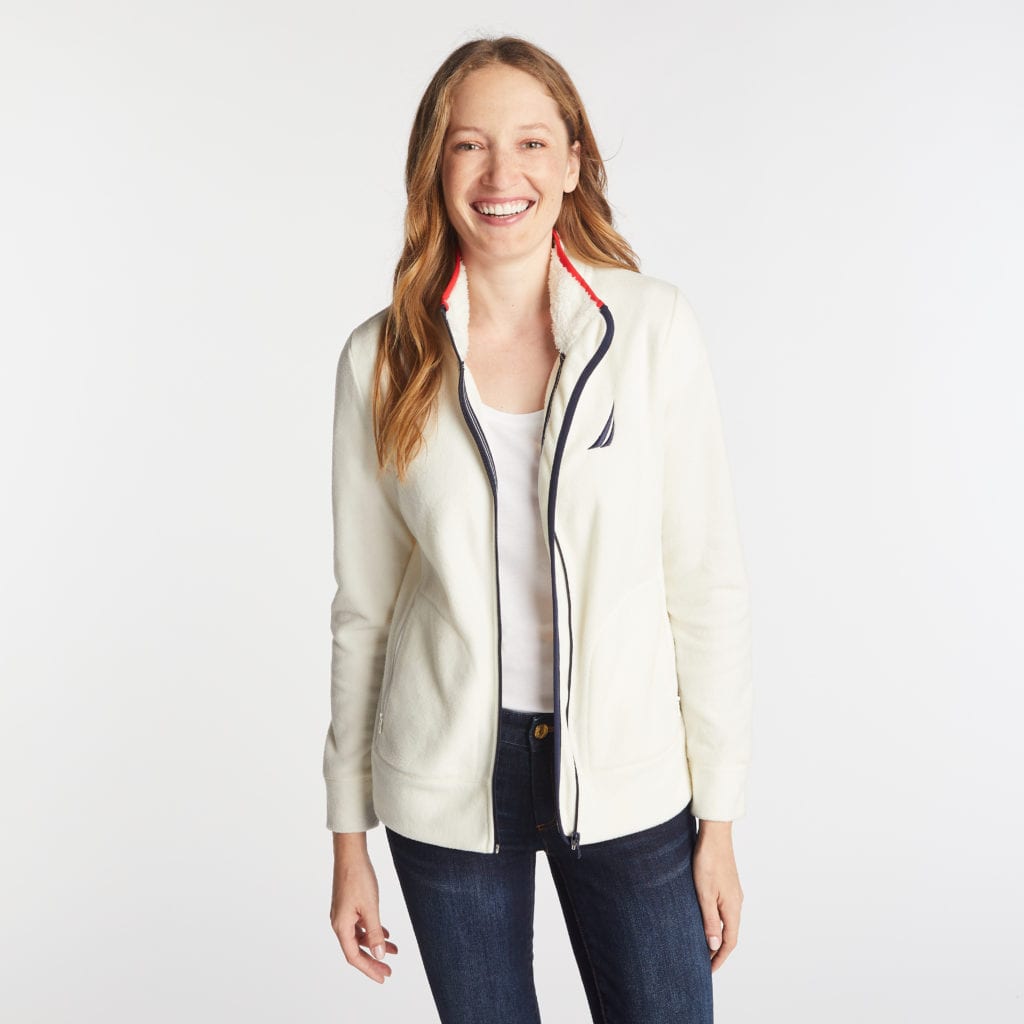 It's also a good layering piece between your activewear under your regular coat, so you don't get it all sweaty (and stinky) after working out.
Global Transfiguration Hoodies
If you prefer a hoodie to a jacket, at least make sure you get extra karma points with it. Available from size small to 2XL in a variety of color combinations, Global Transfiguration's hoodies are the perfect comfy fall hoodie. Made from eco-friendly fabrics, cotton and fleece, the brand gives back to the Climate Reality Project.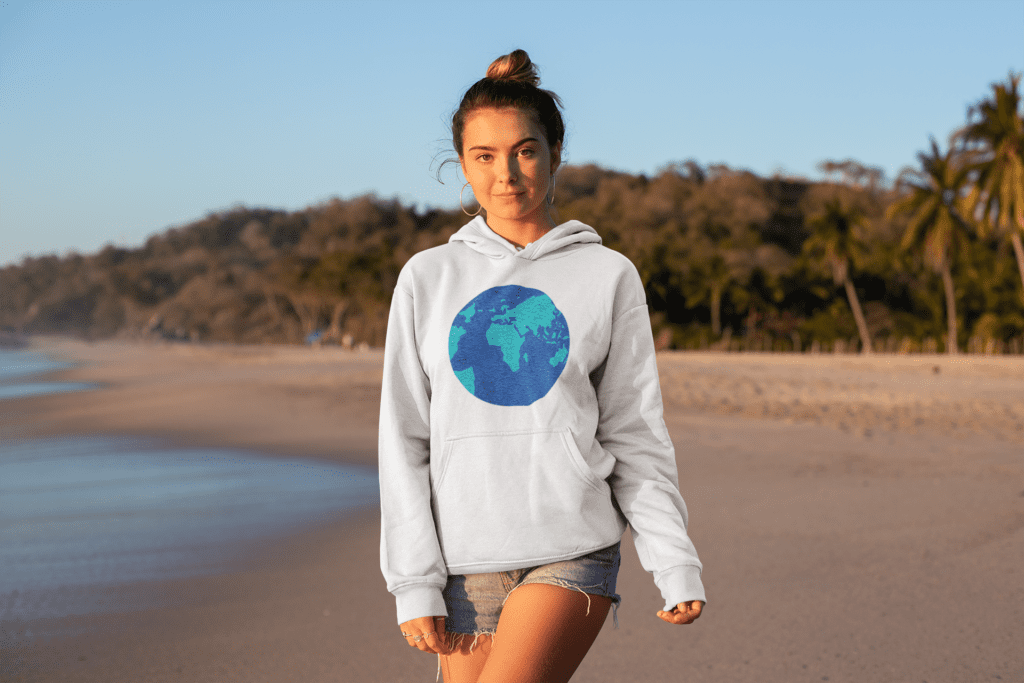 Tavi Noir Socks
Sure, comfortable sneakers are a must, but there's nothing worse than trying to do cardio or HIIT in an old pair of stretched out socks. (Am I the only one guilty of adjusting their socks mid-workout?) Tavi Noir, who is best known for their grip socks, has a great line of sport socks as well. They're the perfect height (low cut) and have a little tab, making them really easy to pull on and take off.
The Taylor Cushion Sport Socks feature extra cushioning on the sole as well as a compression arch band to support your foot.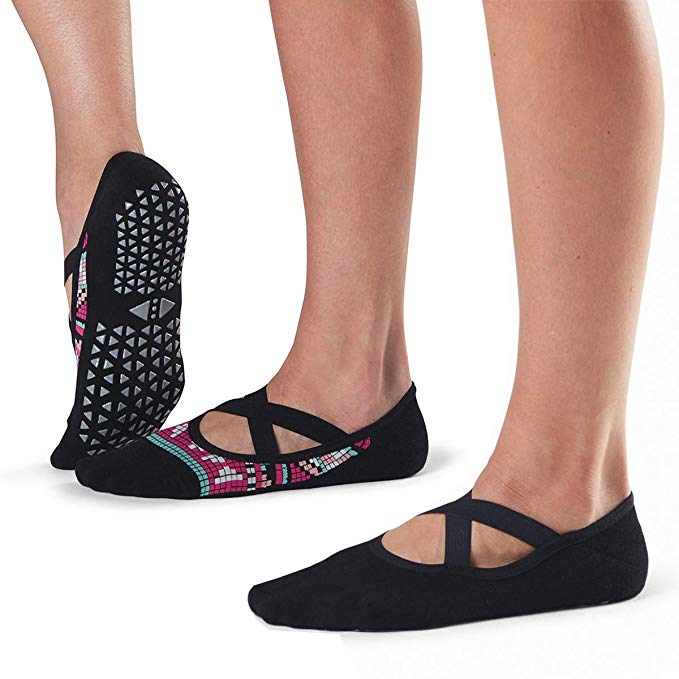 If you prefer a thinner sock, the Parker Sport Socks are designed for spinning, running, hiking and jogging.
Rec Room
Do you ever wish you everything you own could be as comfortable as what you wear to the gym? Rec Room is essentially an answer to your prayers. They make the most flattering dresses in activewear fabrics. They are machine washable, a dream for traveling or to change into on the go (especially when stuffed in a gym bag) and perfect for all year round (just layer in the colder months). There are seven different dresses available in several colors to fit every single shape in sizes XS-XL.