Gift Guide #7: For the Fun of it
This post contains affiliate links. As always, we only recommend products, brands, and experiences we truly love ourselves!
Sure, we support a practical gift, or a gift for a specific occasion (hi, fit-cations!) or New Year's resolution. But sometimes, we just want to give gifts for the pure and simple reason that they made us smile. That's where this guide comes in.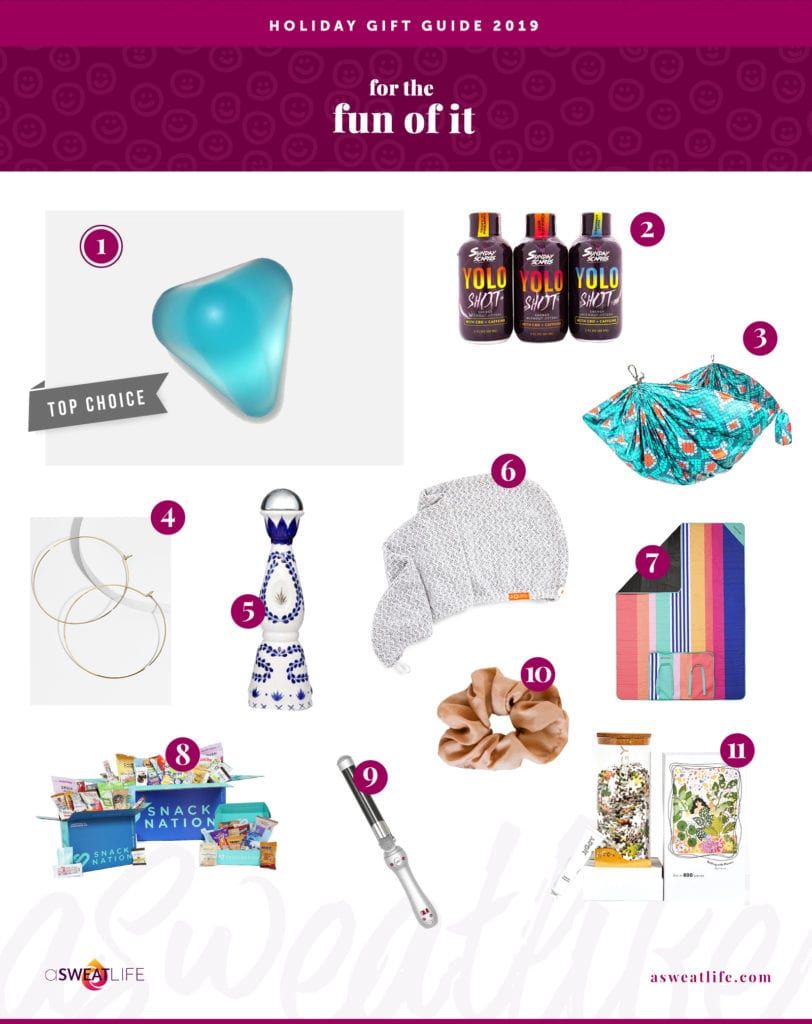 1. Massage tool, Gumdrop 2. YOLO Shots, Sunday Scaries 3. Hammock, Grand Trunk 4. Patrice Hoop Earrings, BaubleBar 5. Clase Azul Reposado Tequila, Cask Cartel 6. Hair turban, Aquis 7. Picnic blanket, Sunny Life 8. SnackNation subscription 9. BeachWaver automatic curling iron, BeachWaver 10. Scrunchie, Rose Marine Textiles 11. Bathing With Flowers puzzle, Jiggy
Gumdrops the candy are plenty fun on their own—but this year, we're stuffing stockers with THE Gumdrop, a tiny pyramid-shaped massage tool in an array of bright colors that are guaranteed to bring a smile to someone's face (until, of course, they find that ONE knot in their shoulder that hurts-so-good). We've never really thought of recovery or self-massage as fun, per se, but there's something about this little guy that makes us more inclined to ACTUALLY practice self-myofascial release every night, like we always say we will. Gift it to the friend who's training for a major race, or one of your co-workers who complains about shoulder pain from hunching over their keyboard every day. Plus, at just $26, this makes the perfect Secret Santa or White Elephant gift.
We also recently discovered Jiggy Puzzles, which launched from a former employee at theSkimm earlier this month. Realizing that most of the puzzles she was doing were super outdated in design, she had the genius idea to make puzzles that are actually worth framing afterwards. We can confidently say she reached that goal—and we love that Jiggy specifically sources female artists. We'd take anything from their inaugural collection, but "Bathing With Flowers" is an early favorite.
If fun for the people on your list involves lots of outdoors time hiking, camping, or day-drinking, a hammock built for two or a colorful picnic blanket spell out fun to us! Snacks, too, are key in our ideal day of fun; a SnackNation subscription will satisfy your friend who's the real-life version of Rusty from Ocean's 11 (or, if you're a boss, this is a great way to ensure your team's goodwill over the coming year).
For the friend who always lives it up on the weekend and is ready for an adventure no matter what, these YOLO shots from CBD company Sunday Scaries are a boost of energy at any pre-game—take one before you start to curl your hair for a big night out (we recommend the BeachWaver for the friend who claims to have two left hands and is unable to curl her own hair).
Pippi Longstockings we are not, but we're always down for a fun hairstyle that's slightly fancier than our sweaty gym braids. We love the thought of drying our wet hair with this fancy hair turban, ideally while lounging in a plush robe and wearing a sheet mask. When you're ready to leave the house, these scrunchies are neutral enough to go with a variety of clothes, but cute enough to stand out on your wrist as a fun accessory. Or, for a crowd-pleasing, budget friendly gift, these hoops are going out to several friends on our list—after all, the bigger the hoops, the closer to heaven (we're pretty sure that's how the saying goes).
Finally, if all else fails and you have no clue what to get the fun-lover on your list: tequila.
Today's giveaway: $100 Giveaway from Gumdrop and Jiggy!
Today's giveaway prize includes:
From Gumdrop: Two Gumdrop massage tools, valued at $25 each
From Jiggy: One 800-piece "Bathing with Flowers" puzzle, valued at $50
This giveaway is now closed. Congrats to Lorena!