How This Spikeball Player Turned Himself Into a Professional Athlete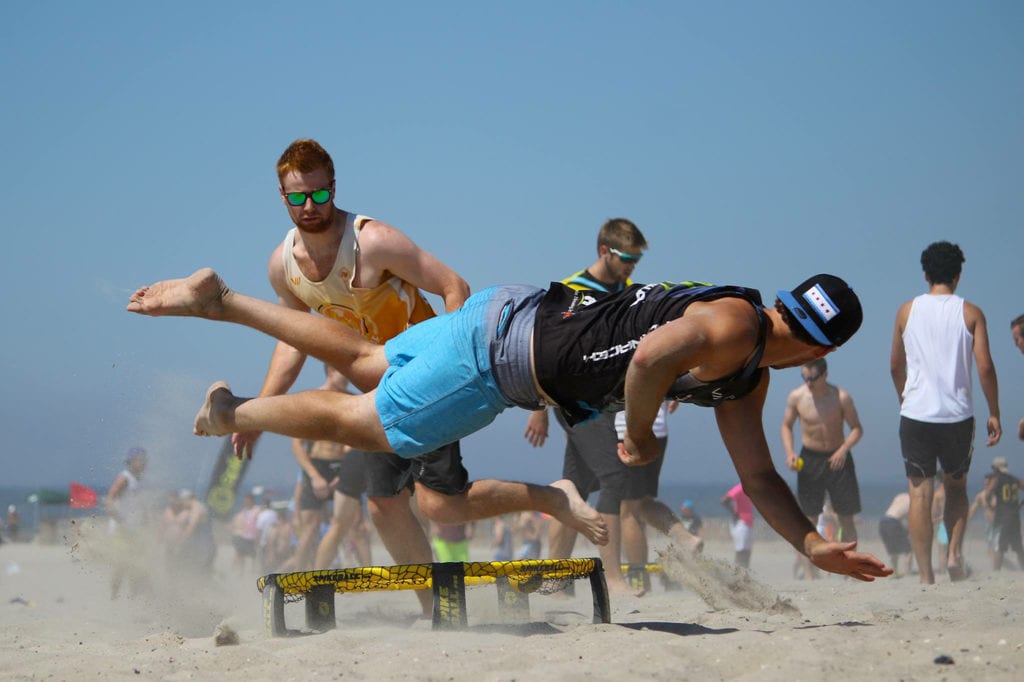 At #TrainersConnect this summer, I thought we would be getting a Spikeball 101 lesson from a brand representative at our outdoor event on North Avenue Beach. I didn't realize I was going to be striking up a conversation with the only professional Spikeball player in the country, Chris Hornacek. And I definitely didn't think I was going to take that conversation down the path of setting fear aside in order to fulfill your passions. But then again, this is aSweatLife where big goal conversations are what we live for; I guess I shouldn't have been surprised by what I discovered after all.
Not only does Hornacek work with the brand at events like ours, in mid-2017 he made the leap to establishing himself as the first full-time professional Spikeball player – the game that's commonly referred to as the lovechild of volleyball and four square. And when I asked him how he came to hold this position, his answer made me want to know everything and more about this journey.
"The truth of the matter is, I really just decided to make that a reality for myself," Hornacek said.
Prior to going full-time, Hornacek was enrolled in Indiana University and then Northern Illinois, pursuing degrees in finance and business.
"I was doing the quote-unquote correct thing, you know, staying in school, going for a degree, but that wasn't what I was passionate about."
And it wasn't until a friend told him, "You're wasting your time at school and you're choosing Spikeball over it all the time. What if you just chose Spikeball full-time?" he recalls her saying.
This idea clicked with Hornacek, and he stopped half-heartedly pursuing one thing in order to full-heartedly pursue the sport of Spikeball.
Hornacek started playing when it was more of a hobby sport. After the game was featured on Shark Tank in 2015, the name began to get more recognition and Hornacek witnessed a rise in the casual player. As a naturally competitive person himself, he sought out ways to get involved with the more competitive side of the sport any way he could.
"With our sport blowing up right now, I am organizing to get a little bit more serious about monetizing this. I've established myself as the face of competitive play… and I create my own content; live via Twitch; I stream tournaments; I do game analysis; I do tournament previews; anything that's catered towards that slightly more competitive player," Hornacek explained.
As I listened to him list all the ways he fills his days, the struggles he still faces (like on some days, a bank account with numbers a little less than what you'd hope for if you were a pro athlete), and what keeps him going, I couldn't help but admire his entrepreneurial drive.
Looking at the landscape, there is no one doing what he's doing. The game itself is only a few years old. The competition world, although growing rapidly (they have been covered on ESPN two years in a row and now around 20 tournaments around the country every year sell out at 300 members each), is even newer.
His take on the situation is applicable no matter what industry you're in, what sport you love, or where you are in your career.
In fitness and in life, here's what you do when you're faced with carving out your own path.
"For every person, the thought of forging your own path is scary," Hornacek began. "Literally everyone thinks it's scary. People think that your Elon Musks or your Steve Jobs of the world just weren't scared of doing it, they just had some grand design in their head, and then they followed it. Everyone that ever created something from nothing or forged their own path was scared and unsure about the direction they were going… It's never going to be easy, and there's not a specific person that's designed to do it more so than anybody else."
Now I've tried Spikeball myself and can say with some confidence it isn't my calling to go full-time with the sport, but I'll take Hornacek's words into the endeavors that do light me up inside. And if you think you might be into playing the sport, you can find more about it here, or follow along with Chris's pro journey right here.