How Anna Renderer, Host of POPSUGAR Fitness, Helps Others Live a High Performance Life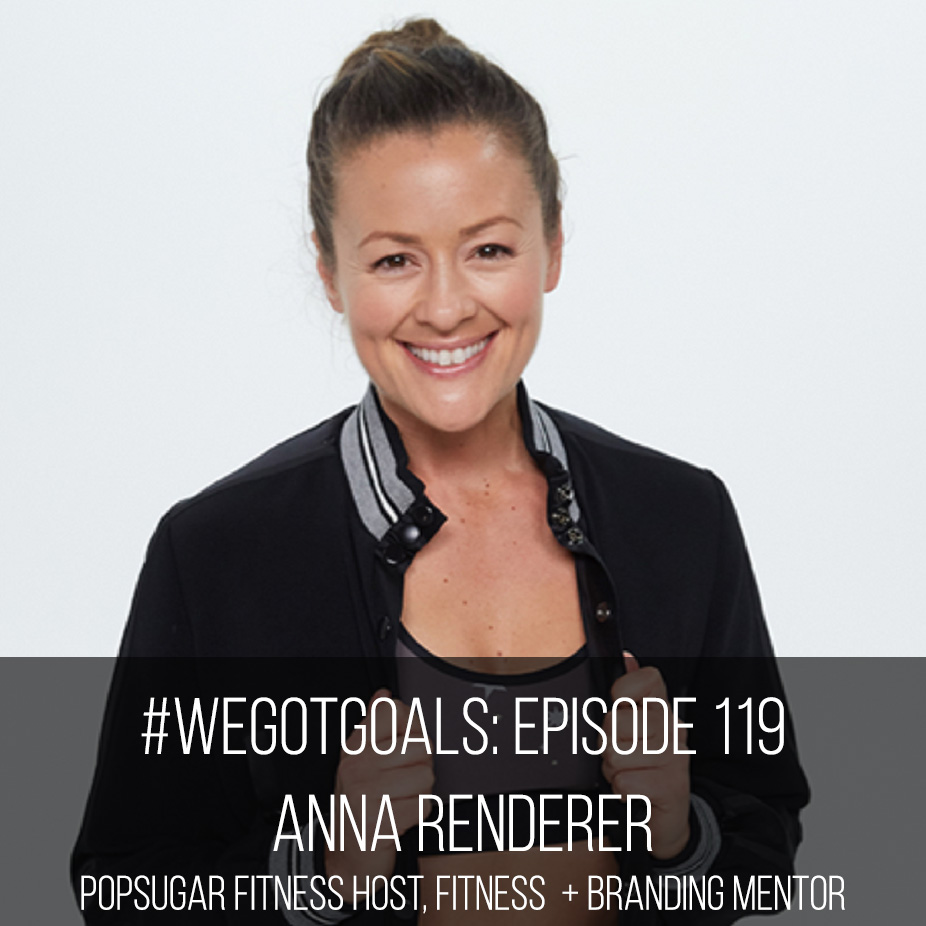 Talking to Anna Renderer, host of a milion POPSUGAR Fitness videos you've no doubt seen and sweated to on YouTube, is a weird cross between feeling like you're being hugged and feeling like you're getting a shot of adrenaline straight to the goal-getting part of your brain. She exclaims, she gushes, she lets you in on her secrets—and you're left with a completely different mindset on your goals on to-do list.
I met Renderer in August at the MINDBODY Bold Conference, where we sat for an interview before she took the stage as a presenter. After our conversation, I knew we needed to get her on the #WeGotGoals podcast, and Renderer was more than game, especially once she heard the theme was Better, Faster, Stronger.
"I'm ALL about that!" I distinctly remember her saying in a tone of voice that was equivalent to a fist pump.
And after hearing more about her background in high performance and the clarity with which she sets her goals, it's clear to me why Renderer is so successful. She told me herself: she's got the hoo-rah, but she's also got the do-rah.
What she means by that, she explains, is yes, she's got the strength of a thousand cheerleaders when it comes to enthusiasm for goal-setting and achieving. But she's also incredibly practical when it comes to her own strategies and productivity habits, which she shared with me on the podcast.
"If there's one thing you can do with your productivity," she tells me, "focus on the needle movers. Now that I can't do ALL this stuff, what do I NEED to do? Block time to solely focus on action steps that get you closer to those projects getting completed."
And like our team, Renderer is a big believer in the power of saying goals out loud—in fact, that's how she heard about the available role with POPSUGAR Fitness.
At a Venice Beach barbecue, Renderer was talking about her passion for serving others and how she was setting her sights on working in fitness to help others get more out of their lives. Another attendee overheard her big dreams, and reached out later saying he'd heard about this role as a part-time YouTube fitness host for POPSUGAR and thought she'd be perfect. Three million subscribers later, it's clear that Renderer was in fact the perfect fit for the job—but she never would have gotten her chance if she hadn't been vocal about her audacious dreams.
Finally, for those of you looking for those specific, actionable tips YOU can use to be better, faster, and stronger in all areas of your life, listen to the very end of this episode: Renderer lets me in on her STRONG method, where each letter stands for a healthy habit that keeps her at her peak. They're all easy enough that you can do them in just a few minutes, and trust me when I say they're habits I'm going to incorporate into my day, too.
You can find Anna Renderer on Instagram and learn more about her coaching services on her website. If you love this episode as much as we do, subscribe to the #WeGotGoals podcast wherever you like to listen to podcasts, on Apple, Spotify, and more (and hey, leave us a rating while you're at it!).