Putting the Fun Back into Fitness with Propel Co:Labs
Like many things in life, fitness goes through cycles. There was the Jazzercise and Jane Fonda craze of the eighties and nineties—big hair, big leg lifts and lethally high-cut leotards. Then the late nineties rolled around and some new names hit the fitnessphere: Richard Simmons, Billy Blanks, and Denise Austin, to name a few. Whether it was a high-energy, dance-inspired sweat sesh you were looking for, or something more low-impact and strength-focused, like Pilates, you could finally find a class geared towards your interests.
That was the best gift the nineties offered the two-thousands—variety. Suddenly, fitness didn't need to be a chore, or an obligatory daily prescription from your doctor. It could be, dare you admit it, fun?
We've hit some speed bumps since then—disconnecting from the "joy" aspect of fitness in search of maximum caloric burn/deficits. To be fair, CrossFit, high intensity interval training/bootcamps, and similar "burn it to the max" classes appeal to many, and I don't wish to diminish the value such a class might have in someone's life. However, research seems split on whether a "no pain, no gain" approach to exercise support a truly healthy life.
I was pleasantly surprised to see that fun has officially made its way back to our yoga mats when I attended the Propel Co:Labs Fitness Festival in Santa Monica, CA on July 20th. I'm sure the beautiful, eighty degree temperature outside only enhanced the positive vibes floating around me. That, and the sweetgreen food truck and endless bounty of Propel water didn't disappoint. Still, everyone around me seemed genuinely thrilled to be there.
Fun fashion
Fitness fashion has evolved in amazing ways over the last decade, and the Propel Fitness Festival was on an entirely different level. Everyone brought their A-game. There were animal print ensembles, every color of the rainbow represented—especially in the same outfit (oh, the colors!), neon athletic shoes, and figure-flattering high-waist bike shorts.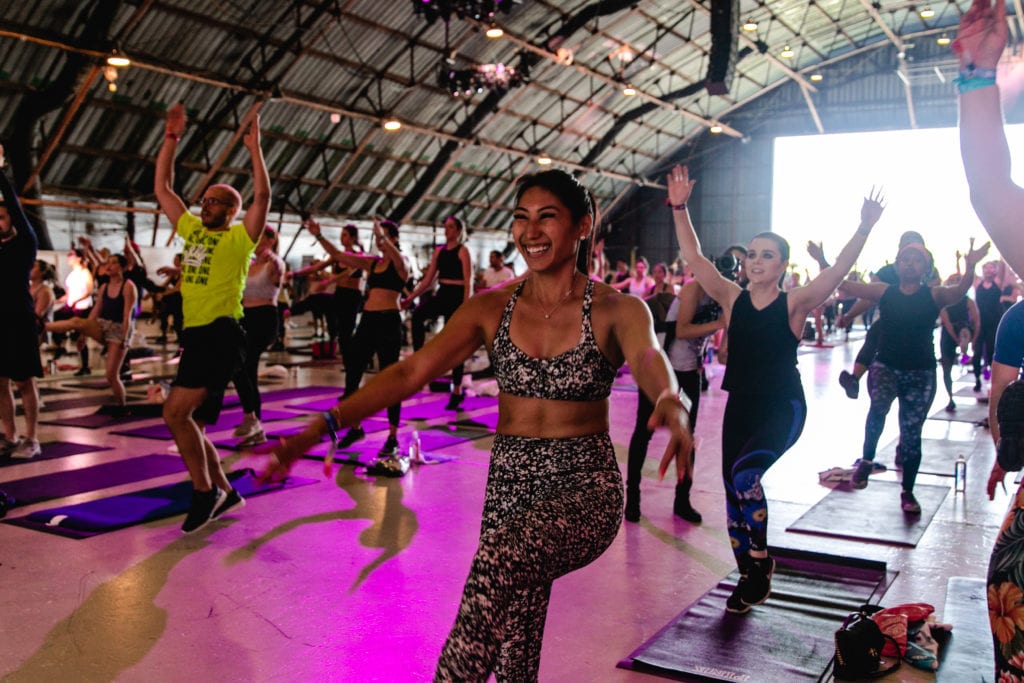 Athleisure wear outside of a workout setting has been a "thing" for few years now, but actually seeing fashion AND fitness coexist in a harmonious and functional way was pretty cool. You don't see quite so much variety inside a typical fitness class, nor so many smiling bodies looking fabulous mid-squat.
When the energy is electric
The first class I attended was Cassey Ho of Blogilates fame's "Abs of Envy" on the main Hangar stage which is part of her PIIT28 program. Cassey brings such a positive attitude (especially about body image) to fitness, but even she was surprised by the energy radiating throughout the room.
"I love your energy!" she kept repeating. As I looked around, I could see what she meant.
Her exercises are hard. Let me repeat that: HARD. Cassey's PIIT28 program is a Pilates-inspired HIIT workout, in which a circuit containing 5 or 6 exercises are repeated 4 times. The cardio circuits are balanced out by pilates circuits, focusing on every inch of the body. Sweat was flowing big time, but there was a lot of laughter, and not a single person taking themselves, or the experience, too seriously.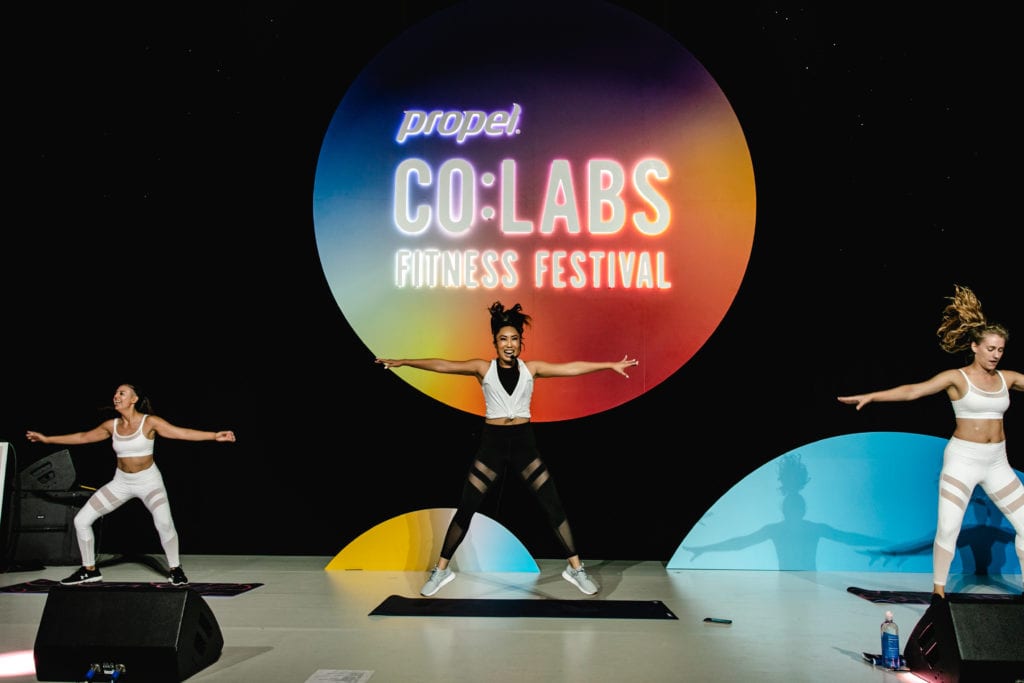 And that's ultimately what fitness should be, in my opinion. Somewhere along the way we developed this idea that working out needs to look a certain way—whether it be in a particular body size, or poses that are Instagram-worthy. While reclaiming fun, we began to embrace the concept of "every body is welcome," regardless of how that body looks or moves. To look around a packed hangar and not see a single person who looked the same was a sign of true success on body acceptance and the democratization of fitness fronts.
The second class I attended, also in the main Hangar, was "modelFIT Sculpt It Like It's '5 in the Morning'" featuring Charli XCX spinning records—a continuation of the overlap of music and fitness.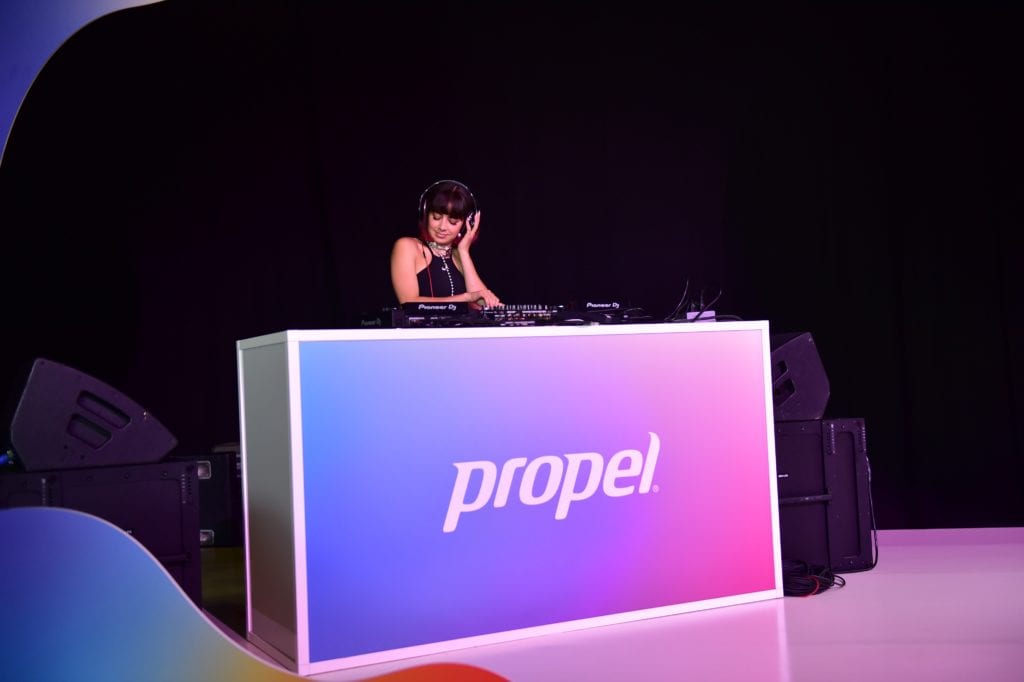 What I love about the modelFIT approach is that it is focused on moving with "strength and grace" throughout your daily life. Exercises are mostly low impact, putting less pressure on bones and jones. The entire modelFIT method is built around targeting small muscle groups—and target them, we did!
My butt was really sore after the hundredth leg lift (which my plus one kindly captured in a boomerang—definitely not Instagram "worthy" but went on the 'gram anyway), but I didn't mind it. The jovial vibe continued, this time with people just jumping in to join the class sans mats or a proper warmup. It was like one big glutes and hamstrings party that everyone had received an invite to.
A "feel the burn" aficionado no-more
I admit it. I drank the "fitness is chill" Kool-Aid and I liked it. It fits in nicely with the overarching wellness umbrella that all forms of health fall under now. If something doesn't feel good—don't do it.
This wasn't always the case for me. I come from a big athletic background, with a competitive figure skating career that spanned 10 years. I was the 7th grader waking up at 4 am every morning to train and make it to history class by 8 am. It was intense, but I loved every minute of it.
When I stopped skating in high school, I threw myself into dance at school with the same fervor and commitment. But smiling wasn't allowed. It was an unspoken requirement that you look super serious all the time. When I transitioned from dance into fitness classes in my twenties, I pursued fitness with the same attitude—for years. I didn't know how to just have fun. It wasn't a part of my wiring.
The last few years, I've worked on finding the joy in movement without needing to be the strongest or best in the class. I can show up, do what feels good for my body that day, without comparing myself to anyone else. And it feels pretty amazing.
Contrary to what I believed would happen– that I'd lose strength and athletic ability– I've actually improved in my overall fitness, because I'm not constantly recovering or pushing through pain. I take rest days, or alternate between yoga or walking days to get movement in without pushing my limits. I'm not alone in this endeavor.
I was so happy to see such a positive focus on enjoyment and mindfulness at the Propel Co:Labs fitness event, and hope that this trend cements itself as a keystone of whole body wellness in the future.