The Best Studio-to-Street Looks to Try This Summer, from Professional Stylists at Trunk Club
It's a positive correlation: temperatures start to rise, and social engagements start to fill your summer calendar. But if you're dedicated to making it to the gym after work or on weekend mornings, it's a tricky balancing act to pack a bag for work, gym, and post-sweat happy hour.
Luckily, activewear is becoming more and more commonplace in daily trends, according to the professional stylists at Trunk Club.
"We think athleisure is great and no longer just a trend,"  says Maggie Mee, Head of Merchandising at Trunk Club. "It's here to stay!"
While Trunk Club started as a personalized styling service with high end brands, they've evolved over time to include more activewear, with brands like Nike, adidas, Zella, and more available for their trunks and personal styling appointments.
"We're focused on meeting our customers' wardrobe needs for all occasions," explains Mee. "Of course, we all need clothing for work and socializing, but fitness and wellness continues to be a priority for our customers. We're thrilled to help our customers build the best wardrobe, which includes all their activewear."
And with the wellness industry flourishing, more and more people are looking for wardrobe options that combine activewear's functionality with Trunk Club's signature emphasis on personal style.
"When people work with a Trunk Club stylist they can get styling advice about versatile ways to wear their active pieces and mix with other pieces in their wardrobe," Mee points out. "With the trend toward casualization, athleisure is everywhere. People are prioritizing comfort but that doesn't mean you can't look polished and put together."
Ready to elevate your activewear look this summer? Try incorporating these three elements into your wardrobe or when packing your gym bag.
One thing to invest in this summer: white sneakers
"A great pair of white sneakers are a versatile piece that works across many outfit types. You can pair wear them with leggings or bike shorts and a denim jacket or a dress for a more dressed up look. says Mee. "This summer, you'll see interesting details on sneakers like stacked soles and embellishments."
Some of our favorites? The classic Stan Smith from adidas; a low platform version of the Air Force 1 from Nike; and of course, the iconic white Chuck Taylor low tops from Converse. If you're willing to spend a little bit more, Golden Goose sneakers have tons of eye-catching embellishments that elevate any pair of plain black leggings (and don't forget, you can request specific items from your Trunk Club stylist to try on at home or in the store!).
Summer '19 will be all about the light and bright
Move the blacks, grays, and navys to the back of your closet—winter is officially over. Instead, look for mood-boosting brights to take over shelf space in your favorite department stores.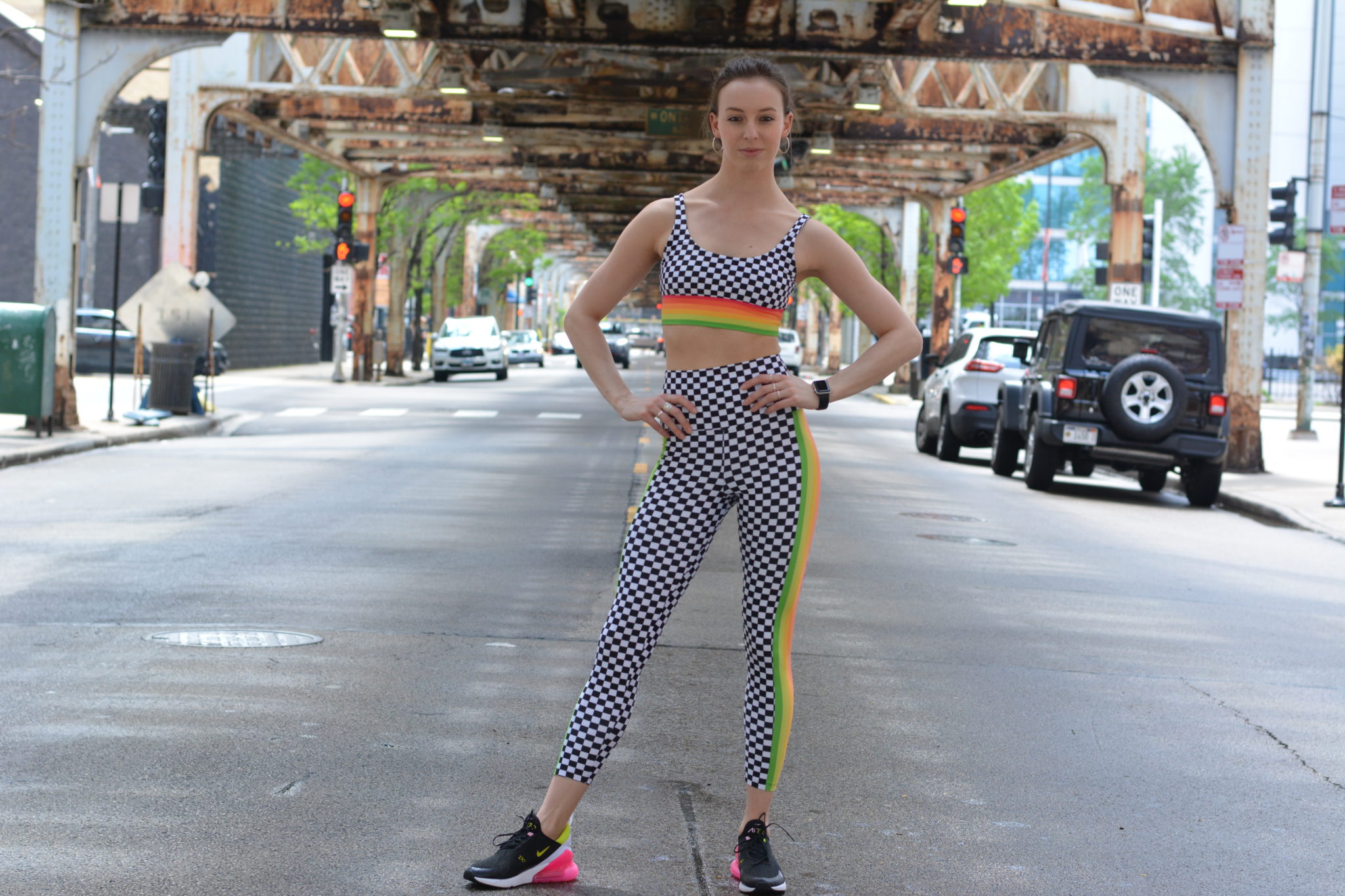 "This spring and summer, we're seeing a lot of bright pastels and neons," explains Mee. "This comes to life in activewear, too. Don't be afraid to express yourself using bold colors across your wardrobe this season! If you're not ready to max out this trend, think about incorporating color pops into your sneakers"
One way to incorporate athleisure into your wardrobe is by using the same color palette across an entire outfit that's a mix of activewear and casual wear.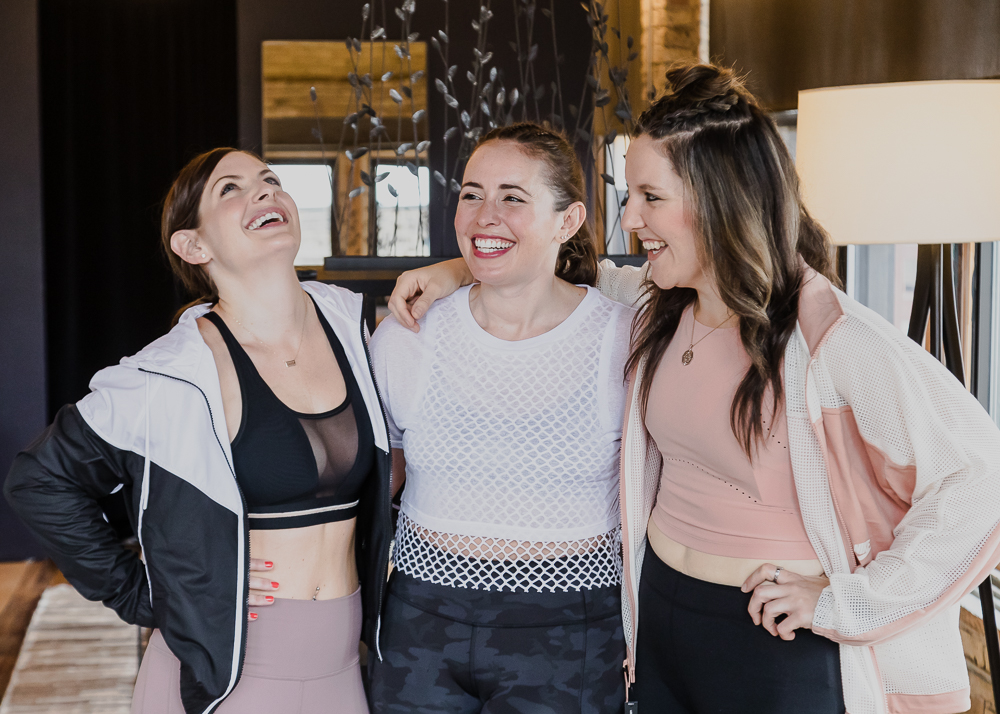 "If you like to mix athleisure with other casual pieces from your closet, look for a consistent color scheme. A warm, earthy, or cool monochromatic outfit will keep you looking fresh and on trend this season" suggests Mee. "Matching sets are hot; mixing that with other casual pieces can create a great athleisure outfit."
No time for a full change? Add that "third piece"
Class ends at 10:30, but your brunch reservation is at 11, leaving you just enough time for a quick freshen up, dry shampoo, and maybe swapping out your top. In those instances, what's the bare minimum you can do to go from sweaty gym-goer to pulled-together, stylish socialite?
"We love using accessories and a third piece to transition an active outfit," says Mee. "Throw on a denim or leather jacket to instantly elevate your outfit! Add your favorite sunnies and some delicate jewelry to complete the look." A leather jacket or bomber on top of anything will instantly make you look more put together.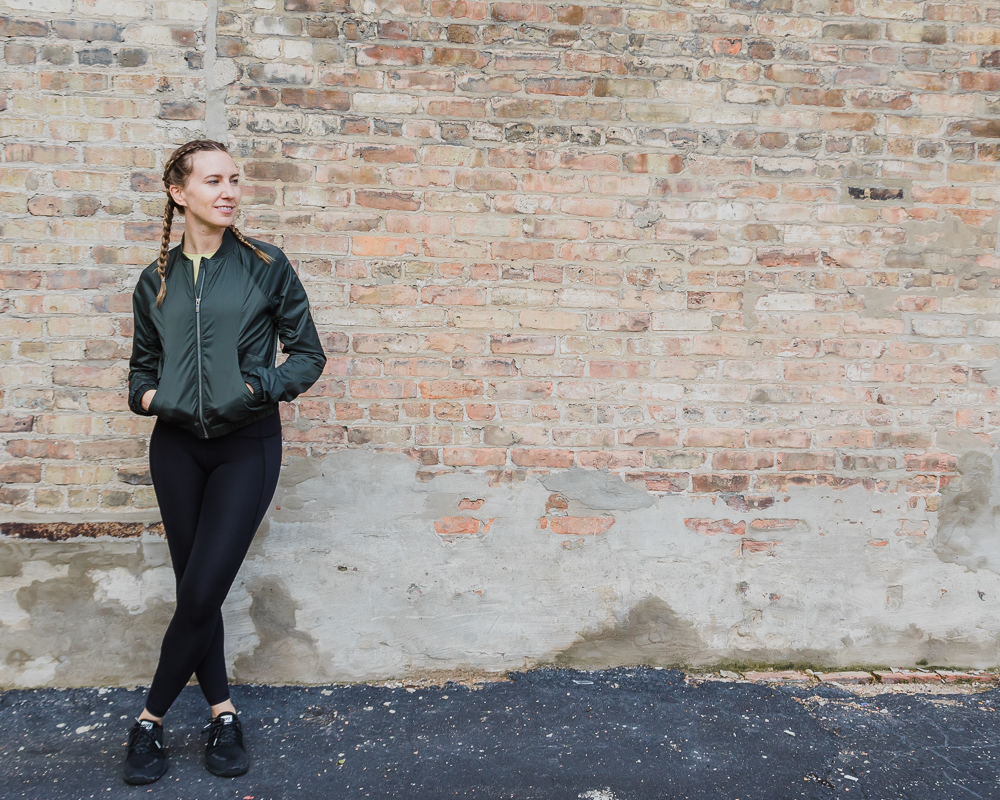 In general, layering pieces on is a quick, no-hassle way to alter your outfit for the appropriate setting. Different pieces that build on each other (like black leggings with the aforementioned "third piece") can be dressed up or down for yoga class; just throw on that jacket and you're ready to meet up with your friends!
Finally, if you have a little extra room in your bag, the third piece might take the form of a different pair of shoes. Sneakers are in for summer 2019, but let's be honest: you're probably not wearing your Stan Smiths to work out. Swapping out your functional gym shoes for a more stylish pair changes your look without taking up a ton of time.
Ready to revamp your athleisure wardrobe for summer? Sign up for Trunk Club here.