Join us for #TrainersConnect at the Beach with Chicago SUP and Bottlecode, August 6 at 1pm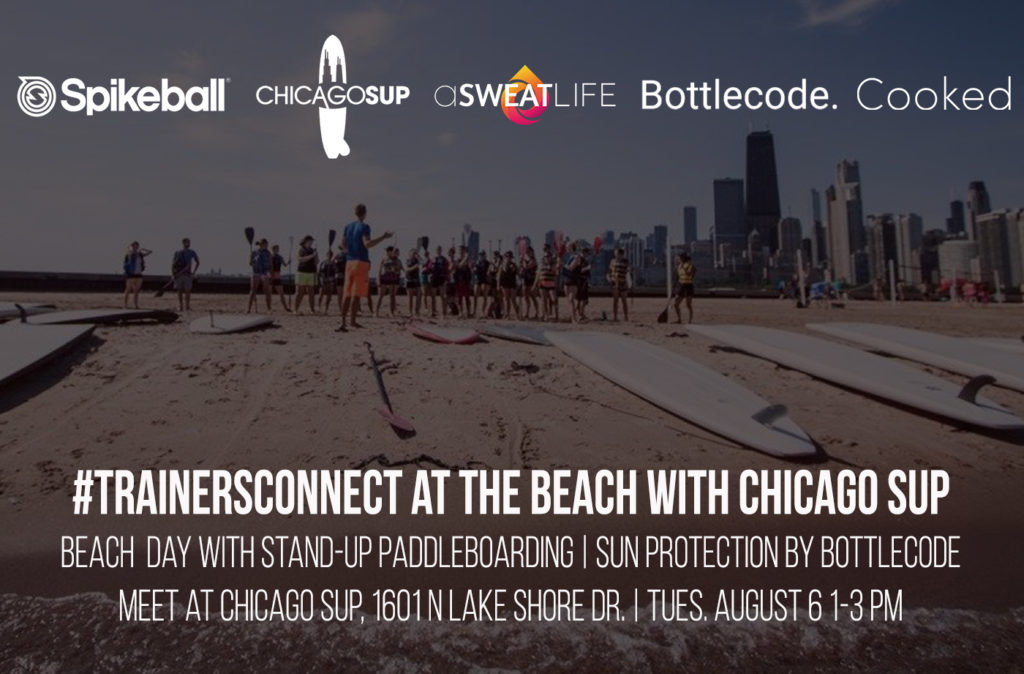 Get your tickets to #TrainersConnect with Chicago SUP, Bottlecode and Cooked Chicago right here.
Spend time with any Chicagoan and you'll hear one thing come out of their mouth's for certain: "Summer in Chicago is the absolute BEST."
I know I've said it time and time again, but I have to catch myself because even though I live here specifically for the summertime months, I spend very little time actually soaking up the summer sunshine when it's here. So this #TrainersConnect is a little bit of a selfish move, but it's also going to be the best afternoon ever, and I think you'll all agree with me on that when you hear what's in store.
Meet us right at North Avenue beach for a #TrainersConnect beach day with Chicago SUP on August 6 from 1-3 pm. It's going to be an afternoon filled with stand-up paddleboarding, Spikeball (yes, we're bringing six nets and team members from Spikeball HQ to teach us how to play), a barbecue-inspired lunch menu from Cooked Chicago, and all the sun care we'll need for an afternoon such as this from Bottlecode.
More about the #TrainersConnect beach party 8/6!
Our friends at Bottlecode, which helps men build personalized, easy-to-use, regimens for each unique customer, carries some of the best sunscreen brands on the market. They'll have products at the beach for all of us to try and fall in love with.
You'll grab a board from Chicago SUP and head out onto the water for playtime in the sun (extra points if you're the first one to pull this off).
And when you're not out on the water, there will be snacks, refreshments, and of course, Spikeball to enjoy. Never played before? It's the perfect time to learn, we'll have some team members from Spikeball's headquarters at the beach with us giving us pointers.
Phew – that was a lot to say. And that's because it's going to be a pretty jam-packed mid-day, mid-week beach party for fitness professionals only. We can't wait to see you there!
Get your ticket to #TrainersConnect right here.
Heres what you can expect from Chicago SUP:
In addition to an afternoon packed with fun on the water at #TrainersConnect, our friends at Chicago SUP want to make sure you continue to enjoy summer as long as the weather permits. For attending #TrainersConnect, you'll receive $10 off your next paddle (and you can share this with your friends and clients, too)! Chicago SUP is open through the end of September.
Give me all the details!
Where: Meet at Chicago SUP booth, 1601 N. Lakeshore Drive
When: Tuesday, August 6
What time: 1-3 pm
What do I need to bring? Wear something you don't mind getting a little wet (you don't have to go swimming if you paddleboard, but you might get splashed a bit)
Will there be food? Yes! Cooked Chicago will have lunch at the beach for us!
Where do I get tickets? Right here!