How to Meet People at the Gym
It can be hard to meet people anywhere, let alone in a place where everyone is sweaty, perhaps not looking their best, and in the zone. However, the gym actually is a great place to meet people—both platonic and romantic prospects.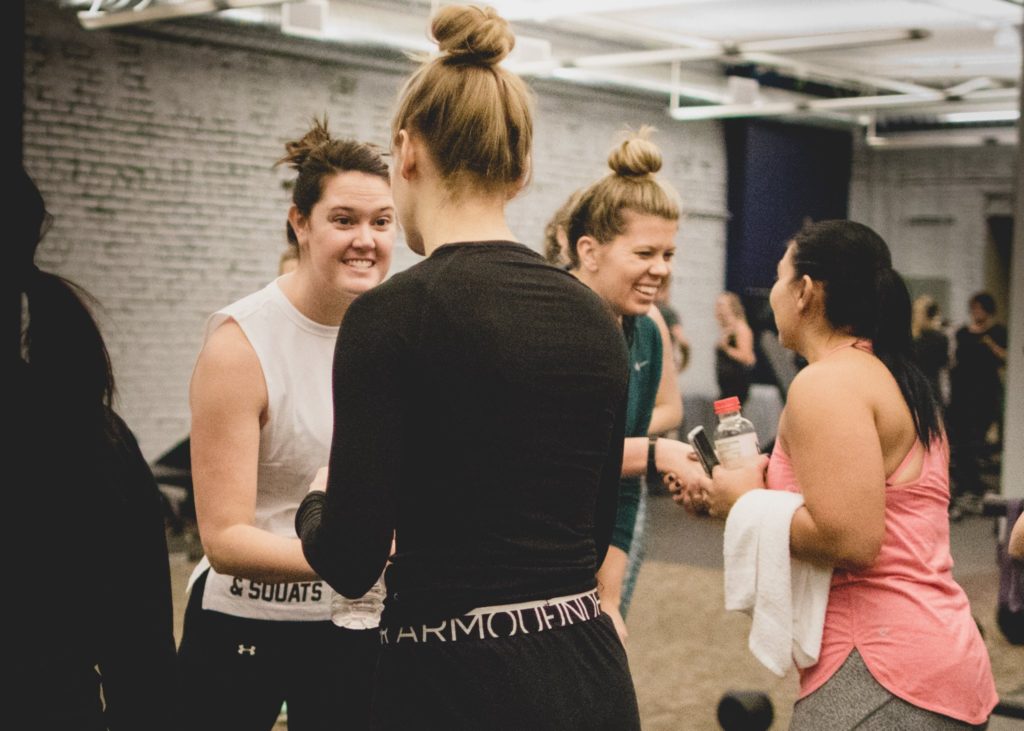 Why? Well, for starters, there's commonality, where you're all into fitness and health to some extent. 
Secondly, exercising actually boosts endorphins to make you feel happier, so you might be more likely to strike up a conversation and share the positive vibes. What's more, research even shows you're more attracted to people when working out, too, so if you're feeling someone's energy and you're not quite sure they are—here's a hint—they probably are, too!
Still, it might take some practice. Here are a few pointers to get you started. 
Ask a question
So simple, but so effective. "A good way to meet people is to ask a question, about how a machine works, which machine gives the best workout, etc. Just be aware that some people don't like being bothered at the gym, so respect their answer if it's brief," says David Bennett, a certified relationship counselor. 
How do you know if they're interested? They'll continue the conversation more or they will come grab you when you're heading out or before they leave to see if they can exchange numbers or chat over a juice or protein shake. 
Be a regular 
You may love ClassPass and bopping around different studios, but if you go at different times and days each week, you might not be able to make such a smooth introduction based on familiarity. Instead, become a regular at the gym or make a point to keep your class schedule consistent each week. 
"I have met people from my gym just by being there a lot, which creates some familiarity over time. Usually when I see people from my gym outside the gym, it's a great conversation starter because we recognize each other," Bennett says.
So, if you see someone from the gym out-and-about, bring up the common connection, exchange numbers, and try and set a date if they're into it!
Take classes
Classes have tons of people, and everyone feels as though they're sweating it out as a community, so it might be easier to chat after class by the locker room. What's more, many studios have activities, like happy hours, challenges, and other activities, he says, so you can always go to one of those and make some friends outside of the studio setting.
Compliment them
Don't walk up to someone and offer a physical compliment, like "Oh your abs are killer," or "You have such large muscles!" because it may come off as too aggressive with the wrong person (especially if it's someone of the opposite sex). Instead, give compliments on apparel, sneakers, form, really just kicking butt during the workout and having endurance, and other forms of flattery along those lines. 
"Tell them it looks like they are working really hard, or comment on a cool or funny shirt they are wearing. Keep it nice and non-creepy, and avoid physical compliments which could come across as creepy or harassing," Bennett advises. 
Start a conversation in non-workout areas
If someone is sprinting on a treadmill with their ear buds in, you probably don't want to go disturb them with a question or comment—they're running and in the zone! Instead, wait for them to finish their whole workout or catch them if they're waiting to use a machine to finish off a set and look bored or open to chat. 
"Many gyms have common areas, pool areas, etc, where conversation is easier and more expected, versus trying to start a conversation while someone is on a machine," Bennett points out. "In these non-workout areas, just be nice and friendly, and you'd be surprised how many people will welcome a conversation," he adds.