How a Panel with Gwyneth Changed My Mind About Goop
Gwyneth Paltrow's wellness and lifestyle brand Goop has grown from a newsletter to a major lifestyle brand with retail stores, collaborations, multiple podcasts and has essentially become a lexicon of wellness culture. As someone who considers herself into all things health, wellness and woo woo, I have to admit I've always felt like Goop was even a little bit over my head. Goop. It even sounds super intimidating. 
But after a breakfast panel with Paltrow and the hosts of the Goopfellas podcast (Will Cole, a functional medicine practitioner, and Seamus Mullen, a James Beard Award-nominated former Iron Chef contestant) to celebrate the launch of Paltrow's partnership with Flow Alkaline Water, I changed my opinion.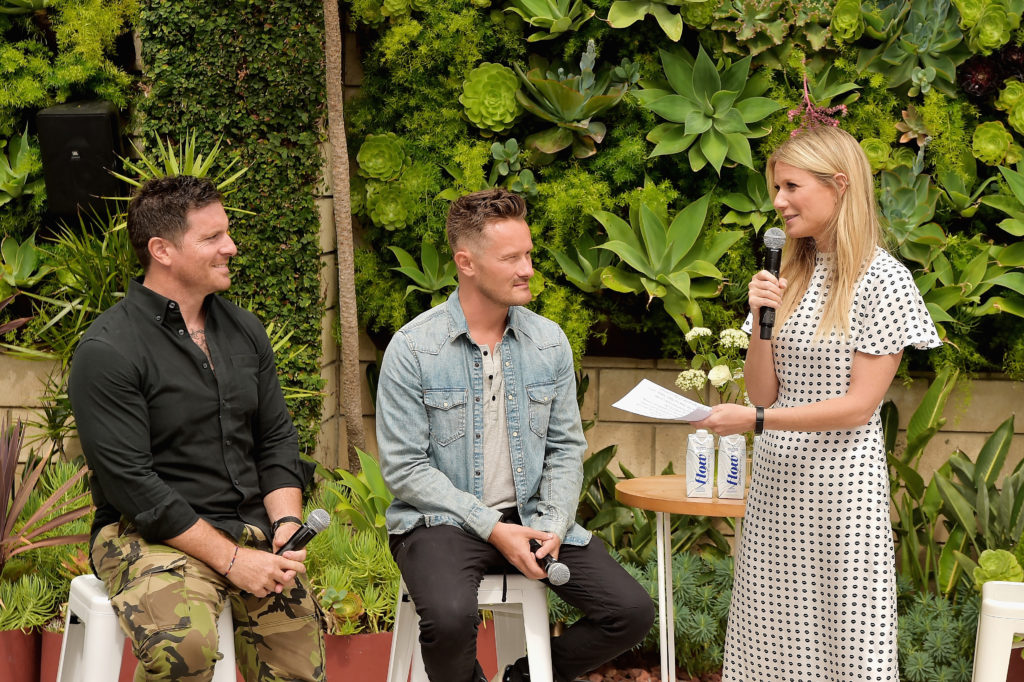 Gwyneth doesn't know what she's supposed to eat either…
I've always considered Gwyneth Paltrow to be the perfect woman, physically, professionally and likely spiritually. I mean no one is perfect, but I've always felt like she is as close as it gets. Except for the fact that the panel reveals she isn't. (Which I hate to say makes me love her even more.) 
For example, one thing that really struck a chord with me was that Paltrow shared her own frustrations with figuring out what to eat and how the media influences that.
"One day we're supposed to eat meat. The next day we're told meat is bad. So what the fuck are we supposed to eat?" I'm paraphrasing here, but she did use the expletive and so has anyone who has tried to eat healthy, ever. We are all just trying to figure it out! Even perfect people!
Paltrow even admitted getting her teenage son to eat healthfully is a challenge for her. "He only wants chicken nuggets and French fries and Gatorade. It's like a war every day," she said. The crowd laughed.
… but she knows what she likes to drink.
The reason for this event was to kick off Paltrow's partnership with Flow Alkaline Water. If you're wondering what Alkaline water is, it's essentially the Goopiest water ever. 
Alkaline water has a higher pH than regular or tap water. Alkaline water also contains minerals that neutralize acid and can reduce inflammation (so much talk about inflammation!). While the medical community doesn't have an official stamp of approval for alkaline water yet, studies have shown it can be beneficial for some people. 
One study showed that drinking alkaline ionized water can help people with high blood pressure, high cholesterol and diabetes. Another study demonstrated that drinking alkaline water after an intense workout can make blood flow better and thus increase oxygen delivery throughout the body. So if you're looking for the perfect drink during or after a workout, alkaline water is probably it.
Also, I highly recommend Flow's Watermelon + Lime flavor. And while it's important to do everything in moderation, this should be entirely guilt-free. 
Change is possible
If there was one major takeaway from the conversation between Paltrow, Mullen and Cole, it's that no one is born knowing how to take charge of their health. Furthermore, healing isn't as cut and dry as seeing a doctor or taking a pill. It really takes a holistic approach that requires many changes.
Mullen for example, suffers from rheumatoid arthritis, and he discussed how changing his mind changed his body. 
"It's funny, because for a long time, I was I thought I was doing the right thing," he said. "You know, I was having a green juice, and I was having a ginger shot, trying to go gluten free or not each other. And I still felt like shit all the time. And I didn't get it, I get really angry with myself to this. This isn't work, this is stupid. There's no real, there's nothing that I can do to change the way I'm sick. This is the card that I've been dealt. And for me, it was really a mind shift for me to stop thinking of myself as a sick person."
Mullen's story really made me rethink Goop. While I wasn't surprised Paltrow had a chef on the panel or hosting the brand's podcast, what surprised me is that he isn't a skinny, raw foods chef. In fact, he used to be very overweight and the anti-inflammatory diet that helps him control his condition also lead to a 70 pound weight loss. While wellness is very Goop, losing the equivalent of a teenage YouTube star isn't.
To Goop or not to Goop
We all have pivotal moments in our lives where we realize we need to make changes and maybe we've been doing things wrong. While many people who are familiar with Paltrow and Goop think the answer to most problems is a crystal, spending a lot of money on a supplement or some kind of therapy they're never heard of, that actually isn't what Goop is about at all. The brand and in a sense, Paltrow's approach isn't as out there as you would believe.
Sure, Goop has an untraditional approach to wellness, but at the heart of this is finding solutions and balance. And whether you Goop or don't Goop, doesn't everyone want a more balanced life?