What Male Trainers Need to Know About Pre- and Post-Workout Skincare
Disclaimer: This post was written in partnership with Bottlecode. As always, we only write about products, services, and brands we love! Want to try Bottlecode for yourself? Use promo code "asweatlife" here to get 25% off your order!
For years, guys have had a laughably simple skincare routine (laughable, that is, to any of us who have tried and subsequently become obsessed with a nine-step K-skincare regime). It tends to go a little something like this: wash face when remember to do so, using whatever hand soap or even (gasp) bar soap is around.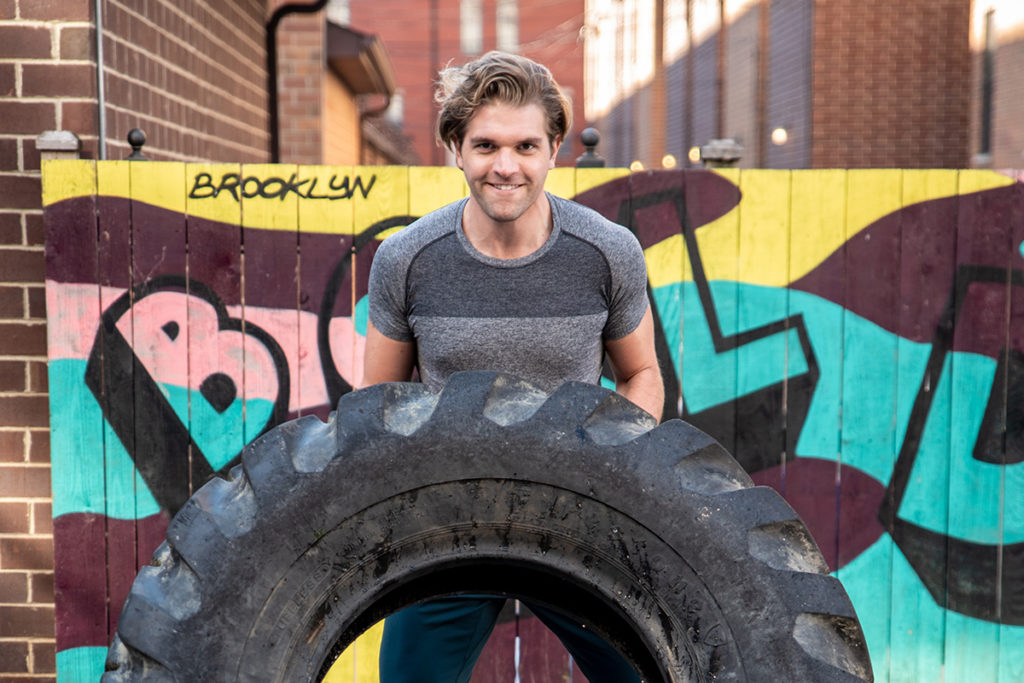 Not anymore, dudes. Male skincare products are coming into the market, and they're not leaving anytime soon, says Rob McIntosh, Bottlecode co-founder and head of brand, noting that the global men's skincare market is expected to garner $166 billion by 2022.
He goes on to use Trunk Club as an example (an especially relevant one, too, considering that the Bottlecode founding team were all early employees of Trunk Club, helping to shape that shopping experience): "Ten or fifteen year ago, the idea of dressing well wasn't on a lot of guy's radars. But now it's a lot more common for guys to take interest in how they dress. We think skincare is on the verge of becoming a new area of interest for men, much like fashion has become."
McIntosh says they're seeing a spike in smaller, niche skincare brands and larger companies speaking to men, and companies like Bottlecode are stepping in to educate men about the right products for their skin type and lifestyle. Bottlecode, if you're not yet familiar, helps men build personalized, easy to use, regimens for each unique customer, offering expert guidance, and helping to shift the skincare conversation to one that men are more comfortable engaging in.
"Historically—generally speaking—men have been reluctant or downright opposed to skincare because the industry has marketed it as a beauty product, but it's actually a health and wellness product." says McIntosh. "That's the conversation we're trying to change, and we're doing it by simplifying the [skincare] process."
Of course, women have known for ages that skincare is important; after all, your skin is the largest organ in your body. So it follows that someone who's into fitness and taking care of themselves might prioritize their skincare routine, regardless of whether they're a man or a woman.
"After all," says McIntosh, "if they're not taking proper care of their skin, they're not taking care of themselves as much as they possibly can."
And more than most men, male trainers (or men who work out a lot in general) are most in need of a skincare routine. Remember, explains McIntosh, "a trainer is going to be sweating, and he'll have big issues if he's sweating a lot and not washing his face properly."
The biggest skin issues male trainers face? Breakouts.
Sweating on its own is a great way to clear out the pores, says McIntosh, but the breakout-causing issues come when the sweat then sits on your face for hours after your workout (because let's face it, most of us go straight from a workout to the next coffee, school pick-up, or grocery run without washing our face).
And trainers specifically often work back-to-back sessions, working out alongside their trainees or sneaking their own workout in between sessions. All that sweat, stagnant on your face, causes breakouts.
Aside from breakouts, trainers who shave might have an increased risk of ingrown hairs. Regular cleansing will help address that too, says McIntosh. That's because when dirt and sweat get trapped in your pores, it may lead to a blockage that causes the hair to grow improperly—leading to ingrown hairs or razor burn.
What should a male trainer's skincare routine include?
The biggest step, according to McIntosh, will be cleansing. Here's the surprise: he wants guys to cleanse before AND after their workouts.
"It sounds counterintuitive," acknowledges McIntosh, "but you really want to make sure that you're clearing your pores of that daily grime before you start sweating. If you don't, you'll increase the chances the nasty stuff stays on your face and spreads, leading to breakouts and irritation. Because this can be a tedious process for some, we often recommend facial cleansing wipes as a time-saving hack."
If your workout is outside, sunscreen with SPF of at least 30 is non-negotiable. Picture the sun's UV rays acting as little darts that puncture your skin and break up your collagen, McIntosh shares. You'll get wrinkles (which men tend to care about more than they're willing to admit, he notes), but you'll also put yourself at risk for legitimate medical issues, like skin cancer.
"Guys may be reluctant to use SPF because they think they'll have to slather on Banana Boat everyday, but a good moisturizer has SPF AND is lightweight and fragrance-free" McIntosh continues. An SPF that's water resistant is a good option here.
After the workout, you'll wash your face to rinse away the sweat and everything you didn't get the first time. McIntosh also recommends applying a light moisturizer (that includes SPF, if you're putting it on in the daytime).
Want to take your skincare routine up a notch, dudes? Add in an eye cream, especially if you're prone to baggy eyes or dark circles. You might not realize that when you're dehydrated, your body tries to hang onto water wherever it can—even if that place is, say, the thin skin under your eyes.
"If you're dehydrated from a workout, you might see an increase in baggy eyes and dark circles, because the under-eye skin is so thin," explains McIntosh.
The two essential skincare products for a guy's gym bag
Men, take note: you really only need two products in your gym bag to complete your pre/post-sweat skincare routine (and yes, it still counts as a routine if only two steps are involved).
First, says McIntosh, is face wash. Bottlecode pairs men with face wash (and other products) that are specific to the customer's skin type and needs. Since male trainers would be washing their face more often than the average customer, McIntosh would recommend a face wash that's a little gentler and includes glycolic acid or lactic acid. If you know you can't always make time to wash your face right after a workout, you can add facial wipes to your gym bag for those on-the-go moments.
The second gym bag must-have is a lightweight moisturizer with SPF.
"You'll probably get a little dehydrated from working out a lot, so rehydrating the skin is very important," says McIntosh. "And since you're probably going from the gym to outside, you want to make sure you're protected from the sun. We're big advocates of wearing sunscreen, and we'd say it's the most important step in a skincare regimen."
Guys, if you're using the right products, you'll see results—and fast
Once guys are educated and have found the right products for their skin type, McIntosh says they'll be surprised at how quickly they'll notice the benefits to their skin.
"If you're using what's right for you, you're going to see results very quickly," he emphasizes. And if you're still confused about skincare, Rob invites you to email him directly with any questions you might have at [email protected]