10 Body Positive Swimwear Options To Get You Excited For Summer
It's not quite summer yet, but after a long winter, it's safe to say we are all getting excited to hit the beach, pool or lake. No matter how you feel about your body, or where you are in your fitness goals, we all deserve to feel good in swimwear. Buying a new bikini or one-piece is also a great way to motivate yourself to eat more veggies, sign up for that bootcamp class or push yourself a little harder when you get there.
Don't know where to get started? Here is some great body positive swimwear.
Body Glove Five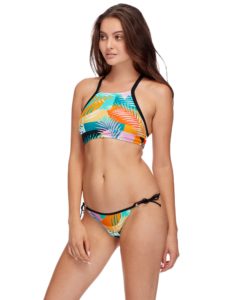 Body Glove is best known for their wetsuits, but did you know they also make super cute bikinis? Five is a bright, fun leaf pattern and is available in a variety of tops and bottoms. If you have an hourglass shape and bikinis give you that dreaded hip dip, I cannot recommend the Nuevo Contempo bottom enough. The Luna top is as comfortable as a sports bra, which is great if you want do laps or would feel better covering up your chest, especially if you are sunburned.
Bahimi Bellamy Rose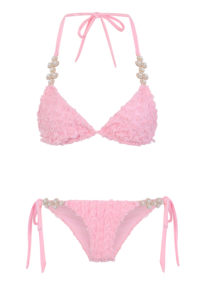 Bahimi's Bellamy Rose bikini looks very expensive, but it's not ($61 for both top and bottom). This sweet set is very high on style, perfect for pool parties. The halter style top and tie bottoms are very comfortable and adjustable for a perfectly flattering fit.
SOAH Victoria White Floral One Piece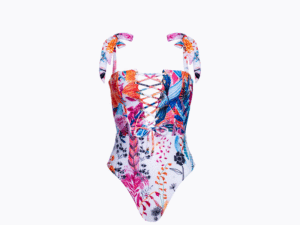 Warning: This one piece will stop traffic! It is cut in a truly magical way that puts everything in the right place. Put on this one-piece and you will automatically feel confident. It a great bikini alternative! You can also tie the straps several ways and tighten the inner string for a more custom fit.
Galamaar Swimwear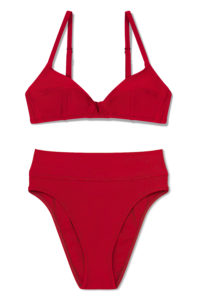 If you are looking for sustainably made swimwear, then check out this line. The hardware is made from recycled materials and the fabric is made from discarded fishnets (but don't worry, it's engineered to last for a long time and retain its shape).  This line features solid colored separates and one-pieces to make every body type look fabulous.
Tempt Me Floral Off-Shoulder Bandeau High Waisted Bikini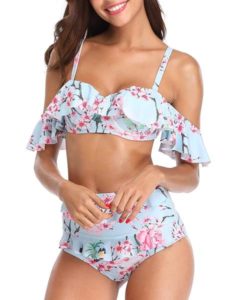 I don't how this bikini is only $24, but I've paid five times as much for swimwear of inferior quality. It's so well made, it's almost confusing! The high waistline of the bottoms is figure-flattering and holds you in like shapewear. The top is very supportive and modern, with a lifting underwire.  All of Tempt Me's swimwear is incredibly affordable.
Shoe Dazzle Bikini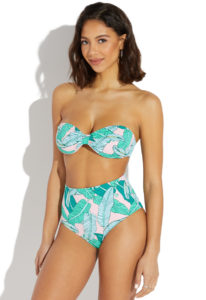 Don't let the name fool you. Shoe Dazzle has killer swimwear. The leaf print bandeau bikini top is the perfect way to avoid tan lines. The high waist bottoms are retro and cute. Wear it with these shoes for an extra dose of confidence (heels make your legs look longer!).
Aerie Cutout One Shoulder One Piece Swimsuit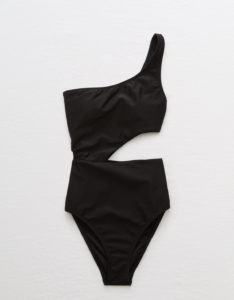 A black one piece is always flattering, but this cutout suit from Aerie is equally sophisticated and stylish. The cutout and one shoulder are super on trend right now and incredibly comfortable. I also can't think of a better option if you want to eat, drink or it's that time of the month again. It's also available in a range of sizes from XXS to XXL.
Lilly Pulitzer Noa Bikini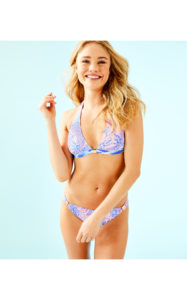 Nothing looks better with a tan than a Lilly Pulitzer print. The triangle top is super flattering because it lifts. The hipster bottom still provides just enough coverage. This bikini is great for the beach club, county club or even a backyard party.
Helen Jon x Draper James Scalloped Convertible Tankini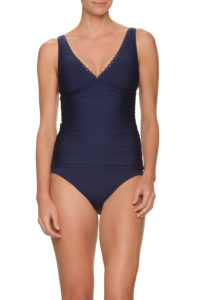 Tankinis are universally flattering, but what makes this one from Reese Witherspoon's brand so amazing is that the straps are convertible, so you can change it up. The navy color is a great alternative to black.
Old Navy Tie-Front Long-Sleeve Swimsuit for Women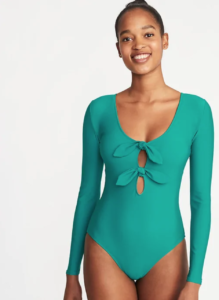 Sometimes you want to wear long sleeves, but not a typical rash guard. This long sleeve suit comes in a fresh, green and is cut in a way that's covers your arms and pretty much nothing else.
Jypsea Local Venus Luna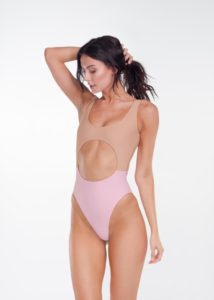 This suit is pretty much as close to a two-piece as a one-piece can get. The cut of shows what you want and doesn't what you don't. The color block look is also super stylish.