The Benefits of Mushrooms (Plus, How to Choose the Right Shroom for You)
Mushrooms have taken center stage lately, and not just on the dinner plate. These "fun-guys" are now extremely popular in their powder forms, becoming the new must-add ingredient for coffee, smoothies, and even protein bars.
Mushrooms are adaptogens, which is why you likely have seen these powders marketed as beneficial. Adaptogens enter our bodies and work to eliminate imbalance and restore optimal functionality.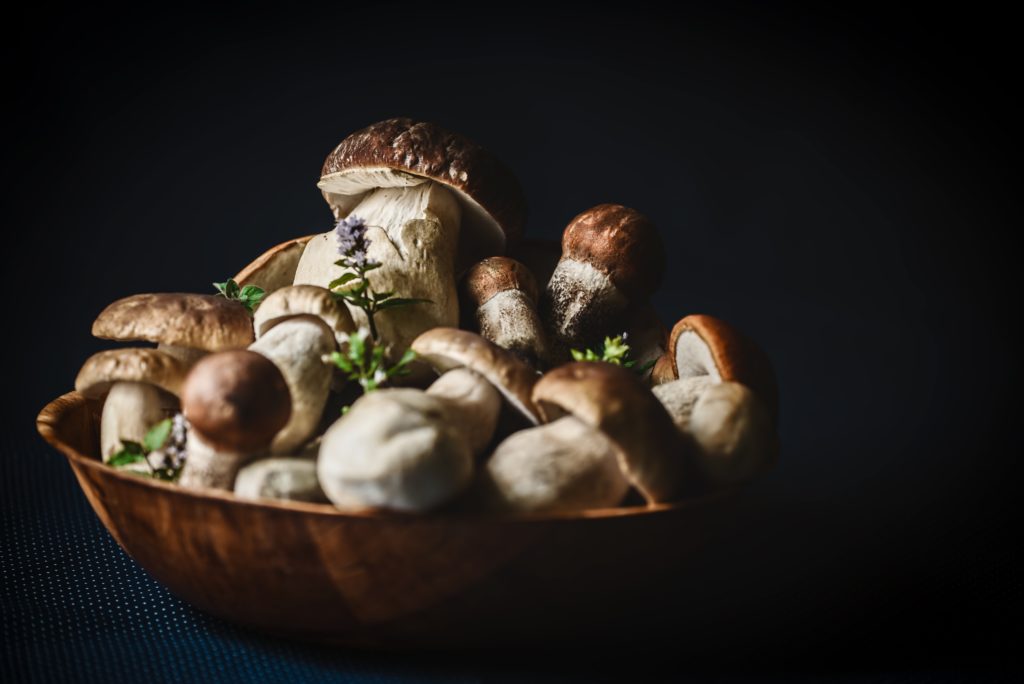 At the cellular level, adaptogens help stimulate ATP production, which can lessen symptoms of chronic fatigue and exhaustion by boosting energy production.
But it doesn't stop there! Mushrooms are naturally filled with bacteria-killing antibodies, which we inherit through consumption. What exactly does this mean? A boosted immune system, alleviated inflammation, and lessened stress, which benefit almost every system in our bodies.
My personal favorite benefit of mushrooms is the kick they give to my endocrine system; they help balance out your hormones, which in turn lowers stress levels and boosts energy. With perks like these, it's no wonder everyone wants to be on 'shrooms!
With all of these benefits, it makes sense that we'd naturally be drawn to grab a 10-blend or adaptogen blend and add as many mushrooms as we possibly can. Sometimes, however, it makes more sense to choose just one mushroom, and receive a higher concentration to target a specific goal.  So here are the whys behind some of the popular mushroom powders available.
'Shroom by 'Shroom
Chaga
Chaga is the king of medicinal mushrooms. It's usually consumed in a powdered form, brewed as a tea, or taken as a supplement. The benefits of chaga are numerous, and stem from chaga's ORAC score. The ORAC score identifies the number of antioxidants an ingredient pours into our system. As a result, chaga has been shown to stimulate the immune system and send a domino effect of healing benefits throughout the entire body.
Lion's Mane
Lion's Mane targets your brain. It's been shown to promote mental clarity and focus by stimulating brain cells, making it one of the most natural nootropics you'll find. A nootropic is a substance taken to increase your mental performance. When you need something to power your brain and help eliminate brain fog, all while increasing focus, Lion's Mane is your best option.
Cordyceps
When you think of cordyceps, think energy.  Cordyceps provides the body with a boost of ATP, jumpstarting your energy production, circulation, and blood flow. It's a great substitute for a pre-workout because of the way it increases stamina and energizes the body, and it's also a caffeine free energy boost. Cordyceps are also shown to have anti-aging benefits, so feel free to throw a little extra in your morning coffee or tea.
Reishi
Reishi, the queen of medicinal mushrooms, is a calming mushroom and targets our neurological system. It's been shown to help lower blood pressure, reduce inflammation, and help balance hormones. Adding reishi when you feel stressed or anxious, can help bring on a sense of relaxation while also boosting your immune system.  
Is the 'shroom hype for real?
I personally have felt the power of shrooms and add them into my daily coffee and smoothies. I swear by not only the powdered versions, but the teas as well.
You don't have to invest a fortune to see if it makes a difference for you. Whole Foods offers single size servings of Four Sigmatic, and many coffee shops have them as add-ins on their menu. You can also try it out in a tea form, which tends to be cheaper, and see if that works for you. Just make sure you're clear about what you're ingesting when you tell your friends and family that you're on shrooms!