How to Stay Healthy During Business Travel
While the myth of glamorous work travel has long been debunked, business trips can still be a manageable – and maybe even enjoyable – experience. Let's take the worry out of your next work trip by tackling one of the biggest hurdles: maintaining healthy habits on the road and learning how to eat healthy while staying in a hotel.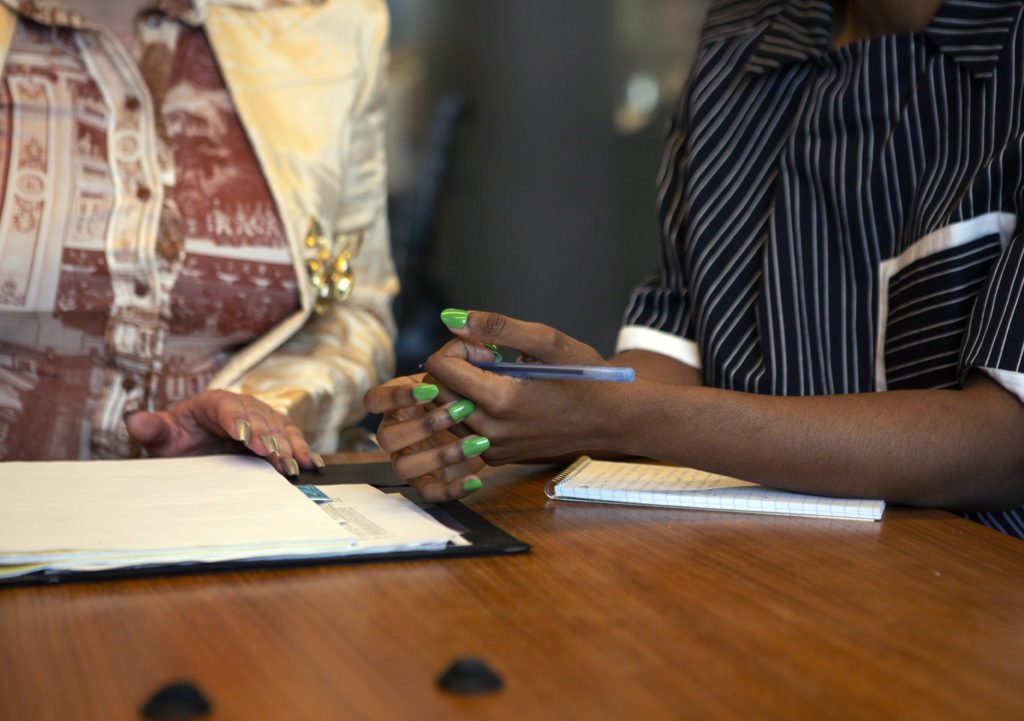 We spoke to four women who travel for work to learn their top tips for keeping their health in check when they're collecting those frequent flier miles.
Navigating the in-flight experience
The reality of air travel is that you're in close proximity with strangers, and that can lead to the spread of germs.
"The first month I started traveling for work on a weekly basis, I got sick twice, and learned my lesson," says Alison Scharman, who is in consulting and travels weekly Monday through Thursday. "Now I use Clorox wipes to wipe plane armrests, headrests, tray tables, and the window covering." Scharman also travels with supplements like Emergen-C or Airborne for when she feels a cold coming on, as well as a lumbar pillow.

Autumn Anderson, a senior marketing manager at a global organization, deals with traveler's anxiety at the airport and on the plane. Among other coping methods, she soothes herself with meditation apps, like the Calm app, which is offered with some in-flight entertainment.
Another way to relax? Use the time to take care of your skin. Air travel can be tough on skin, which makes it the perfect time to give it some extra care. Scharman says she loves using facial mist and moisturizer before her in-flight snooze.
Getting a workout in
Before your trip, research local fitness, including the hotel gym, studios, and running paths, and make a plan. The best opportunity to work out is likely in the morning, before the hectic day begins.
"Whether traveling alone or with a team, I've found that if I don't work out in the morning, something always comes up in the evenings such as going to dinner with a team, working late, or just being tired at the end of a long day," says consultant Sarah Stanley.
In fact, many business travelers can even work with their travel departments (or book their own hotels) to stay in hotels with premium fitness facilities or AirBNBs near studios they know they'll visit.
Justin Mayer, senior product manager at Life Fitness, notes that on the hospitality side, "we are starting to see more progressive brands experiment with equipment in the room itself.  That could be as little as a yoga mat, or as expensive as a Peloton bike, but different tiers of hotels are definitely investing different amounts of cash into their gym."
Exercising during business travel requires flexibility. Nada Shawish Dutka is a marketing manager at a Fortune 100 company and also provides marketing consulting services to nonprofits. At home, Dutka follows a routine that she can't stick to during business travel. On the road, she chooses to look at the exciting side of a change.
Dutka explains, "Embracing, and enjoying, a slightly different routine when you travel reframes say, waking up at 6:00AM for a new and different type of class, as something fun, different, and new!"
Don't be afraid to try something out of the ordinary, either.
"I have discovered I love trying new classes at new facilities when I'm on the road. It's a great way to meet new people, in a new place," Dutka continues. "I sign up for a drop-in that I have to pay for ahead of time so I'm committed to going."
Or, you can always BYO equipment (provided it fits easily in your carry-on, of course).
Mayer notes that many gyms might have outdated equipment, or their equipment might not even work properly, making it all too easy to skip that workout.
With that in mind, "heading outside for a workout or using an app such as SweatWorking may be best. I know some people even bring their own TRX bands on the road."
Learn how to eat healthy while staying in a hotel
Anderson, who is also an ACE certified health coach, recommends calling the hotel to confirm if a fridge or microwave will be available. "If I have a choice, I will always get a hotel or Airbnb that gives me the option to cook or at least heat things up myself so I'm not relying on conference food or restaurants," she says.
Researching local food options helps you to know what to expect and plan ahead when learning how to eat healthy while staying in a hotel. Stanley recommends grabbing food at Whole Foods if there is one nearby. She fell in love with the store through work travel because it allows her to eat how she would at home.
When you do go out for meals, Stanley encourages travelers not to be afraid to ask for modifications, but keep it kind and considerate.
"If an ingredient is on the menu, they have it in the kitchen," says Stanley.
Recharging away from home
Traveling for work, whether alone or with a team, can be draining (especially if you identify as an introvert). If you're with a team, but you need alone time to recharge, that's okay. Stanley commits to one team dinner per trip, which helps her team bond while experiencing the local culture.
"Staying balanced while traveling is key. You need to do what's best for you, but should also have a little fun and make the most of the travel situation," she says.
It's all about listening to your body when it comes to fitness too.
"Allow yourself low-intensity activities when you're really feeling burned out," says Dutka. "Take a long walk, go for a light jog, do yoga – whatever light activity you can get in."