How Dan Meer Prepped for a Mexican Summit from the Cold Streets of Chicago
When we read about professional runners training at altitude, or climbers traveling to remote destinations to put in the time in perfect weather, it's easy to say that we could never train that way with our normal day job and geographic limitations. Even training for a hilly race can be insurmountable when you live in a city where the biggest hill is a highway overpass.
Which is why, when I heard about Chicago-based athlete Dan Meer summiting Timewave Zero, a climb frequently attempted by professional climbers training around the world, I had to learn about how he leveraged a flat, cold-weather city to train for an epic climb in the Mexican heat.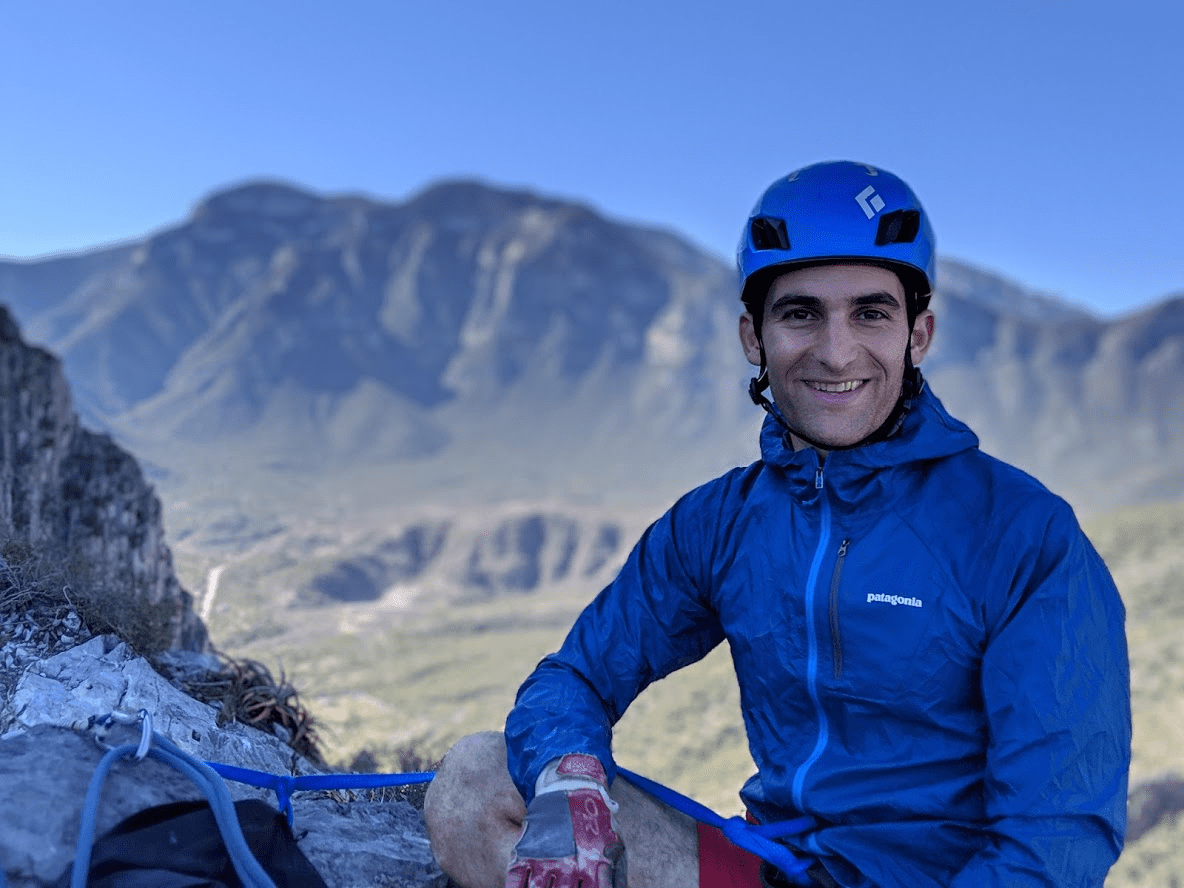 Adapt to Your Schedule
Despite his many accomplishments, Meer isn't a professional athlete with paying sponsors and unlimited time. He's a product design engineer at Google, working a busy desk job and traveling frequently to China to oversee manufacturing. "My approach is to build in frequent, short vacations," Meer explained. "When we traveled to El Potrero Chico to climb, many people were there for a few weeks or months; they were surprised to hear [my climbing partner, Ilya Zlotnik and I] were there for only four days."
By separating what climbers usually do to accomplish their climbing goals from what they must practice and prepare to be safe, Meer was able to develop a plan that he could train for in Chicago while maintaining his day job.
Train Outside the Box
Chicago, located in one of the flattest part of the country, is hardly home to world-class outdoor climbing with large, multi-pitch climbs. Instead, Meer and Zlotnik had to train primarily indoors at Brooklyn Boulders. Their goals, to climb either La Sombra Luminosa or Timewave Zero, both required the endurance to climb for nearly an entire day, with some of the most technically challenging climbs in the middle of the route.
"The climbs are comparable to running an ultra-marathon with an Olympic lift in the middle, while 2,000 feet off of the ground," Meer explained. "Now imagine training for that when all you have access to is a 100-meter track. You need a certain 'yes, I can' optimism to make it work."
Meer used a training plan he found online through UpHill Athlete, and adapted it to meet his needs. His own training allowed him to become an efficient climber in areas he knew were already his strengths, whereas the program expanded his knowledge and built on the experience of professional athletes.
The plan included doing repeated laps on 5.12-rated climbs, some of the hardest offered at Brooklyn Boulders, to simultaneously practice endurance and some of the more difficult moves they'd encounter in Mexico. For his 29th birthday, Meer relied on friends to belay him as he climbed a 5.11 an impressive 29 times. Deep into his training, this feat gave Meer the confidence that his stamina was ready for Mexico.
Meer prepared for the heat by wearing heavy layers while climbing indoors to understand how he felt differently when he was climbing warm. "People would give me a funny look when I was wearing a jacket, gloves and two hats on the Auto Belay, but it took visualizing what it would feel like in that moment – what might feel different, surprising, or out of the ordinary."
Though, training this way in the gym was not without its funny moments, "Towards the end, I was practicing climbing with everything I'd wear for climbing, including 25 pounds of water and food. I looked next to me, and there was a Bachelorette party climbing for the first time. It was a strange juxtaposition to be wearing everything you'd wear for a multi-pitch climb next to a group of beginners."
Understand Your Body's Limits
Meer wanted to understand his body to understand when he was pushing past his limits while climbing in Mexico. While training, he pushed his body to its limits to understand what it would feel like if he was dehydrated or hadn't eaten enough. "I used a methodological approach to figuring out my limits," Meer shared. "A few months before the trip, I tried completing a series of workouts without eating in the morning to see how my energy dropped over time and how fatigued I'd feel without the proper nutrition. I felt wrecked after a hard run and climbing. I used that as a baseline. I did the same with hydration, and felt a lot more sore the next day than usual.
"Once I figured out how much food and water it took me to feel good, I began to figure out the best things to eat. I learned that a mix of Clif Nut Butter Filled Bars and BLOKS could sustain me while climbing, while the Builder Bars were helpful for sustained energy when I was done climbing for the day."  
Meer, who isn't a regular coffee or caffeine drinker, also experimented with how caffeine could impact him, with very successful results. "There was a moment on the climb where [my partner and I] were about three-quarters of the way up and both exhausted. We had a moment of doubt if we had it in us. I had been saving Clif BLOKS with caffeine until [this moment when] I really needed them. I took a couple and felt on top of the world. That energy pushed me, and Ilya responded, and it was a major turning point in the climb."
Everything is Better with Friends
Accomplishing a huge task in a challenging training environment becomes much easier when done in partnership with someone you trust and who supports you. For Meer, that partnership with Zlotnik was important throughout his training and in the execution of his goals.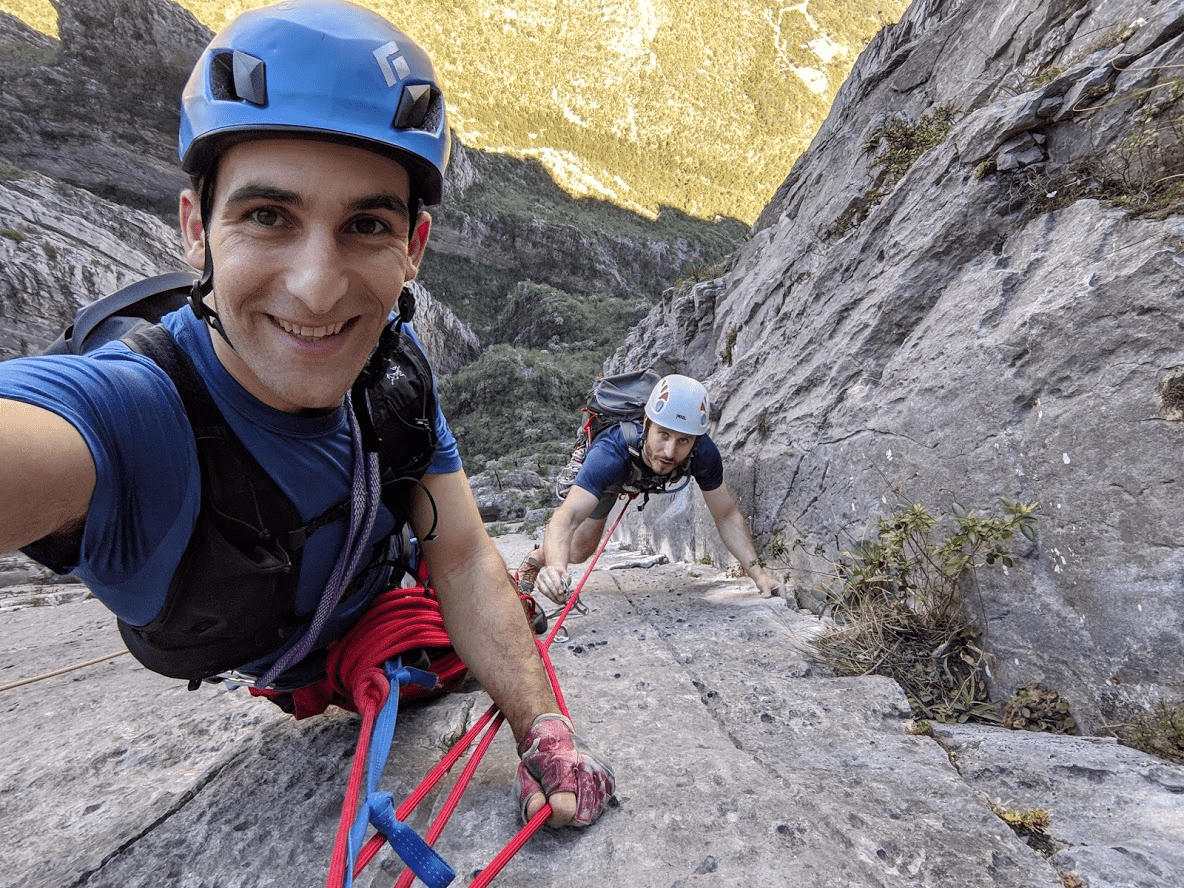 "Going up a pitch together is one of the things I really like about climbing," said Meer. "You create this intense partnership where you have to know exactly what the other person is doing and you're working together super closely. When you get a good climbing partner, it's a beautiful feeling of being in the flow. We practiced transitions on our own and together in the gym so frequently, that we didn't even need to say what we were doing by the time we were doing multipitch transitions."
In addition to providing efficiency in the climb, Meer and Zlotnik's partnership made decisions about how they'd approach the climb easier as well. "We have a really similar approach to things. We agreed easily about things like a 2:30 am wake-up time," which prevented a lot of stress once they were in Mexico.
Do Your Homework
Meer's preparation for the climb was inspired by an interview he'd heard with professional climber Alex Honnold. In preparing for his recording-breaking free solo of El Cap, Honnold discussed having an intense stretching routine, and intentionally climbing the route wrong so he'd know how he felt in every possible situation.
Meer adapted this methodological approach to derisking as many sections of the climb as possible to his climb in Mexico. He used multiple mapping websites, photos and videos posted by other climbers, and advice he found online to maximize his understanding of the route before arriving.
"I'd remember features of the route that stood out so that I could break the climb into sections between each feature." Meer planned his rest points around familiar points in the climb so that he could visualize what he was looking for. Intense preparation also helped him know exactly where the route began, so that time wasn't wasted hiking in the dark prior to the climb.
Be Willing to Adapt
Meer and Zlotnik originally hoped to scale La Sombra Luminosa, a new climb that, at the time, had never been completed without a fall. On the first day of the trip, Meer and Zlotnik attempted the climb and about halfway up, decided to back out. The elements of loose rock on the climb, which were uncommon on other climbs in that region and more frequent than they'd expected, flipped the risk profile for them. When they first started to turn around, there was an intense feeling of disappointment. By the time they completed the three-hour repel down the mountain, they were met with a feeling of weightlessness.
"I felt liberated from the feeling of failure and felt victorious, because the climb was objectively risky and neither of us particularly wanted to be in that risk environment with loose rock," explained Meer.
The pair revised their plan and chose to climb Timewave Zero instead, knowing that they could reduce their risk and still complete a very physically challenging climb. In the end, they were met with a near perfect day of climbing,
"It was beautiful, incredible climbing," remembers Meer. "Every pitch is a full length of rope and it feels like you're going forever in the most beautiful scenery. You start in the dark, so you're able to watch the sun rise over the mountains and valley. We climbed fast and effectively. It was the thing we had put our training and energy towards and let us feel really good about the trip."
What out-of-the-box adventures have you trained for in Chicago? Do you have any tips that helped you succeed?