How IV Infusions Represent a Shift in Healthcare Perspective
Need an instant cure for a hangover, dehydration, or lack of energy? Get an IV infusion and start to feel better minutes later. What used to be (and essentially is still) an unpleasant part of any standard hospital stay is now one of the hottest trends in wellness.
IV infusions: the new green juice?
In Los Angeles, walk-in clinics that are essentially next generation med spas (offering IV therapy and treatments like vitamin injections) feel as if they are popping up faster than places that sell cold-pressed juice.
But, the same services are also becoming a popular at-home treatment, administered from concierge medical professionals that are available on call, from companies such as Drip Hydration. Co-founded by Dr. Abe Malkin, an addiction specialist and concierge physician, Drip Hydration is pioneering the trend of getting cutting-edge medical treatments at home.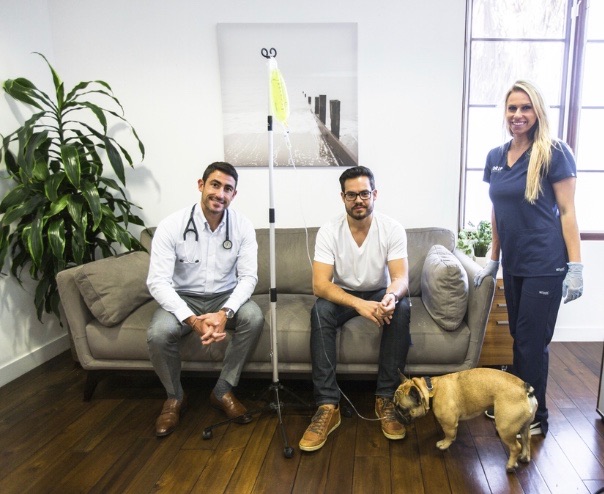 A new approach to healthcare
But the rise in popularity of on-demand medical services isn't just due to the fact that it's simply more convenient. Rather, it's about a different perspective on wellness, explains Dr. Malkin.
"I think people are tired of the traditional medical model which is very inefficient and rushed. People tend to drive to the doctors office, sit in traffic, wait in a waiting room, get to the doctor and spend 5-7 minutes with the doctor. [It's] a rushed experience," he points out.
Innovative (and preventative) treatments
Part of this proactive approach to health is nipping minor issues in the bud before they start to become real problems. There is a reason why Drip Hydration's most popular infusion is the immune boost. People tend to get it when they are feeling under the weather or jetlagged, so they don't lose time off work or become less productive.
One of the most interesting cocktails that Drip Hydration offers is their Stem Cell IV Treatment. Yes, you can actually order up stem cell treatments at home. While there are multiple places to harvest stem cells, Drip Hydration uses embryonic stem cells which are taken from the umbilical cord.
While more research needs to be done on the topic, Dr. Malkin says stem cell treatment is "really powerful for regenerating tissue and helping conditions like degenerative arthritis or rheumatological, inflammatory problems or even neurological issues—helping to regrow tissue when it's been damaged."
Drip Hydration also has an innovative NAD infusion. NAD is an enzyme that allows your body to produce chemical reactions. Dr. Malkin explains, "NAD gives your body a 'blank check' to produce chemical reactions and replenish whatever is missing. For people who have mood problems and they have low serotonin or dopamine, it allows them to generate chemical reactions to replace that." NAD even produces an anti-aging affect by helping to repair DNA.
Blame it on insurance
Whether you use Drip Hydration or go to a clinic for an IV, you may wonder why you just can't do this at your regular physician's office. It's essentially because doctors who accept insurance are only set up to only perform services that insurance covers.
So, why doesn't insurance cover infusions? According to Dr. Malkin, it's because, "insurance typically covers things that have been well studied in randomized controlled trials. For prescription drugs, for example, there have been billion dollar studies to show the efficacy."
But drug companies have no incentive to fund research that would lead to IV infusions getting covered by insurance.
"No one is going to spend a billion dollars to show that NAD, for example, helps your body, because it's a naturally occurring enzyme," points out Dr. Malkin. "There's no drug company to produce it. There's no big pharmaceutical company behind Vitamin c, Vitamin B-12, etc."
A shift from treating symptoms to preventing them
This has been a boon for a new generation of health and wellness businesses because many people want more than what typical health-care providers can offer. However, the uptick isn't only about getting different treatments; it also reflects a larger societal change.
"There is also a push in general towards preventative medicine. People don't just want to wait until they get sick and then be treated. They actually want to be more proactive," says Dr. Malkin.