How to #DelosYourself During Holiday Travel
[
Disclosure: This post is a part of a sponsorship with Delos Therapy. As always, we only talk about the places, people, things and experiences we truly love.
]
We're racing towards the end of the year, and one thing's for sure: we have not yet conquered the convenient travel that Santa and his reindeer have mastered. From now until January, Team aSweatLife is spending a lot of their waking hours on and in planes, trains, and automobiles. Whether you're heading home for the holidays or off to a tropical destination to escape winter, we're guessing you are too.
But holiday travel (especially as you get older) often results in stiff necks, wrenched backs, and tightened muscles from sitting in cramped spaces for so long, warns Eric Owens, co-founder of Delos Therapy.
"Hips, low back, and posterior shoulders between the shoulder blades — those are the most common complaints I get post travel," Owens explains. "I definitely think it's being in one position for long periods of time; that'll stiffen pretty much anyone up."
The surprising way to fight muscle tightness during travel
Of course, getting up and moving around on the plane or taking occasional stops on the road will help, acknowledges Owens, but you might be surprised by his number-one tip for maintaining muscle pliability while traveling.
"The first thing that comes to mind is hydration, especially on a plane," reveals Owens. Sure, staying hydrated at altitude has major benefits for your skin, but drinking water also keeps your muscle fascia nice and loose.
Here's how it works: in your muscle fascia, you have two layers of collagen with a layer of water in between. That layer of water allows your fascia to slide and move around. If you're dehydrated, that layer of water dries up, and your collagen molecules stick together, which causes that stiff feeling.
And heads up: once that collagen binds together, there's no amount of water you can drink that would penetrate that layer because your body won't absorb it. The most effective way of hydrating the fascia, surprisingly? By squeezing it, similar to wringing out a damp sponge.
"It's another layer of understanding what we're doing," Owens continues. "We're pushing directly into collagen and we're forcing a separation so that if you have water in your system, it'll push the water layer back into position. If you're dehydrated, I can loosen up your muscles, but they'll go right back to being tight." (That's why, Owens adds, your Delos therapist or a regular masseuse might offer you water right after your appointment.)
On a plane, you're at major risk for dehydration, thanks to the low humidity levels; that dehydration can ladder up to pain, stiffness, and several other problems. Drinking water and applying pressure to tight areas can help fight off any stiffness before it occurs by forcing the separation of collagen.
Avoiding salty foods, fast foods, and alcohol during travel can also help decrease the risk of dehydration. Our solution? Bring your own airplane snacks — those little peanut bags are never satisfying, anyway.
As far as how much to drink during a flight, the Aerospace Medical Association recommends drinking 8 ounces of water per hour (this would be a good guideline for road trips as well). And boom — if you're drinking a cup of water per hour, you'll likely have to go to the bathroom every so often, which is the perfect excuse to get up, move around, and loosen up your limbs.
How to apply pressure to tight areas during travel
For any areas that are feeling particularly stiff on your day of travel or that you know to be a problem area (even if they feel okay at the moment), Owens advises you to bring something to apply pressure to that area. 
A lacrosse ball or Knobble are incredibly easy to throw into your carry-on; a Thera Cane is great too, but be mindful of your neighbors in tiny plane seats.
The lacrosse ball or Knobble are particularly great, Owens notes, because you can use the back of your seat or your armrest to apply extra pressure.
"The good thing about being in a small, confined space is that you have plenty of spaces to lean up against… you've got a corner right there you can press up against," whether you're in a middle, window, or aisle seat, says Owens.
What if I fall asleep in weird positions on a flight?
As someone who tends to fall asleep before take-off on every flight I've ever been on, I asked Owens if he had any thoughts specifically about sleeping in weird positions while on a plane or in a car.
"Well, the more muscle pliability you have, the less likely it is that an awkward sleeping position will cause a kink in your back," he informed me. He continued by using children as an example: "Think about all the awkward positions kids fall asleep in. Do they wake up with muscle pain? No, because they have tons of muscle pliability."
Why you should schedule a Delos appointment before and after a long flight
Owens recommends coming to Delos for a 50-minute "full-body tune-up" before and after especially long flights. Think of it as the greatest hits of everything Delos has to offer your body, and settle in.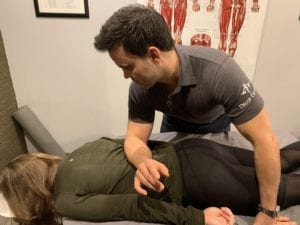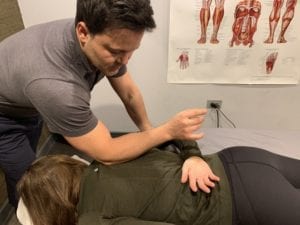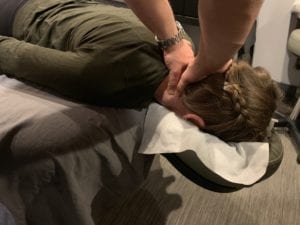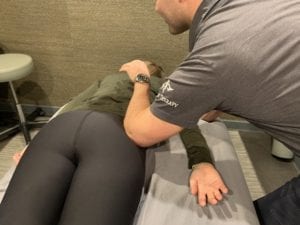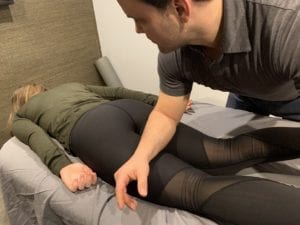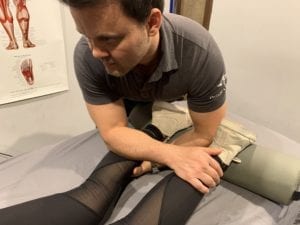 Next, you'll flip onto your back for the same head-to-toe routine on your anterior side.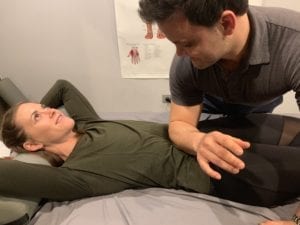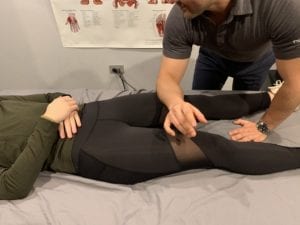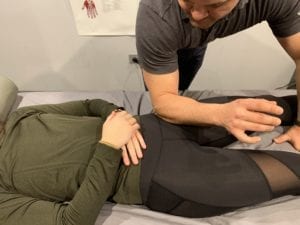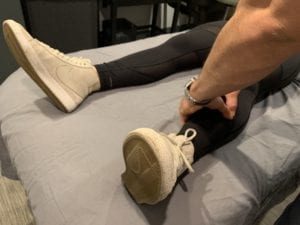 How to #DelosYourself on a plane or in a car
All of these #DelosYourself positions can be done in cramped quarters and seated, so there's really no excuse for NOT doing them during your next trip.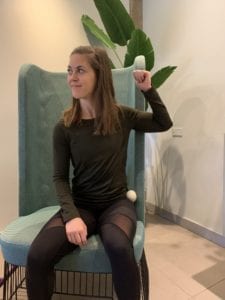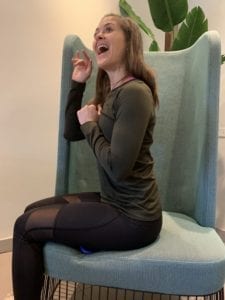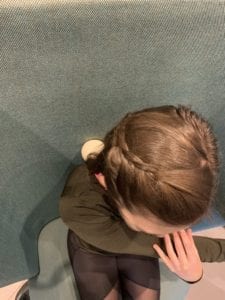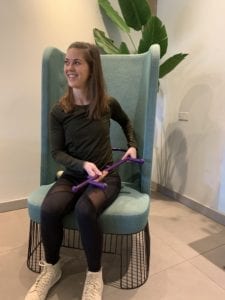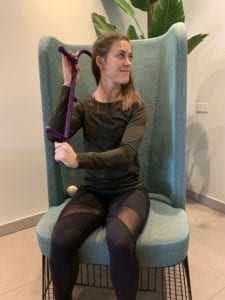 Want to get your pre- and post-travel Delos in? Questions on how to #DelosYourself or more targeted therapy can be directed to [email protected] Or, call them directly to make your first appointment: 312-600-7716.