The Best Fall Produce to Grab This Season
The fall season is upon us, and it's a time for transition as the temps start to cool and the days get shorter. We turn to cozy nights in, savory slow cooker recipes, oversized scarves, football Sundays and of course pumpkin spice everything – candles, lattes, cookies, pies … and more.
As summer turns to fall, eating habits also change. I often find myself floundering for what to eat because as the season changes so does my palette. My usual summer go-to's of juicy watermelon and citrus, avocados, green smoothies, iced coffees and fresh salads no longer sound appealing. And let me tell you, being an efficient, type A, very routine healthy eater – I've been feeling thrown off by what to fuel up with that's simple, healthy and in season, yet also warm and satisfying with the cooler weather.
The good news is fall brings a crop of nutrient-packed produce you can find at the local farmers market that make for more savory dishes while still being simple to prepare. To understand just what seasonal produce I should be eating and how I can easily prepare it, I tapped A Sweat Life's very own registered dietitian nutritionist, Catherine Borkowski, RDN, LDN to point me in the right direction.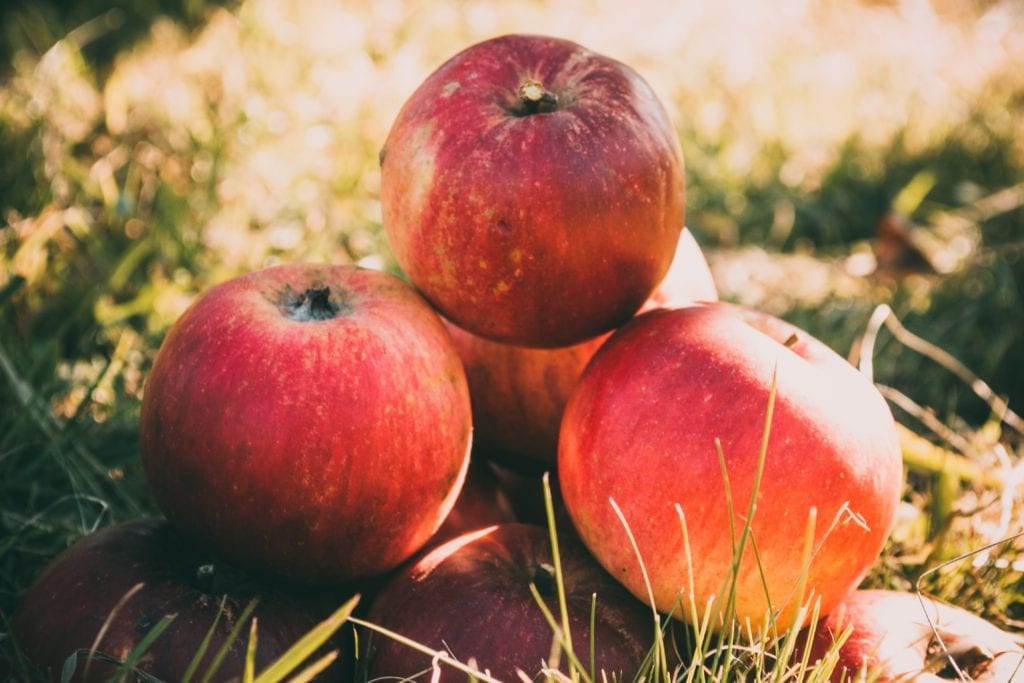 Below is a list of Catherine's favorite fall farmer's market picks and a few simple recipes I'll be following for healthy meal prep:
Apples
It's no wonder apple picking is a favorite fall activity for many, because they're in season. Apples are full of fiber to aid in digestion and keep you feeling full longer; they're packed with antioxidants and vitamin C, and they make for a quick, healthy snack. I love eating apples with a serving of nut butter and cinnamon for an afternoon pick me up. If you're looking for a healthy dessert, try this three ingredient baked apple recipe from Happy Healthy Mama.
Pumpkin
We're not talking the artificial flavoring found in your favorite latte, but eating real pumpkin is good for you. It's full of fiber, vitamin A (for healthy skin and eyes), and potassium to support blood pressure. My favorite way to incorporate pumpkin is in a creamy smoothie, like this one from OhSheGlows.
Squash
There are many varieties to choose from, but butternut squash and spaghetti squash are two of my favorites to cook with. Squash provides a healthy dose of vitamin A and fiber, and it's a nice complement to greens and protein to round out a meal. I love this five ingredient cinnamon roasted butternut squash recipe from Well Plated.
Cranberries
Cranberries are pretty in color and packed with vitamin C (to support iron absorption), vitamin E, and antioxidants, which are great for glowing skin. If you're not into the tart cranberry sauce like your grandmother makes at Thanksgiving, try this orange cranberry smoothie from Green Blender.
Brussel Sprouts
Brussel sprouts are a member of the cruciferous veggie family and are high in iron, folate and vitamin K, which supports calcium absorption. Bonus: making your own Brussel sprouts can save you calories and unhealthy ingredients that can sometimes sneak into those prepared at restaurants. The Real Food Dietitians whip up a simple Brussel sprout salad that works great for lunch throughout the week, particularly because Brussel sprouts don't get soggy as quickly as other leafy greens (so you can make the salad ahead of time).
While the first few weeks of the season I've been feeling intimidated by a new grocery shopping list and meal prep routine, thanks to Catherine I've reassessed my daily eating and snacking habits to find produce that's satisfying, easy to prepare, and fuels me up with nutrients.