Restauranteur Stephanie Izard Talks Top-Chef Sized Goals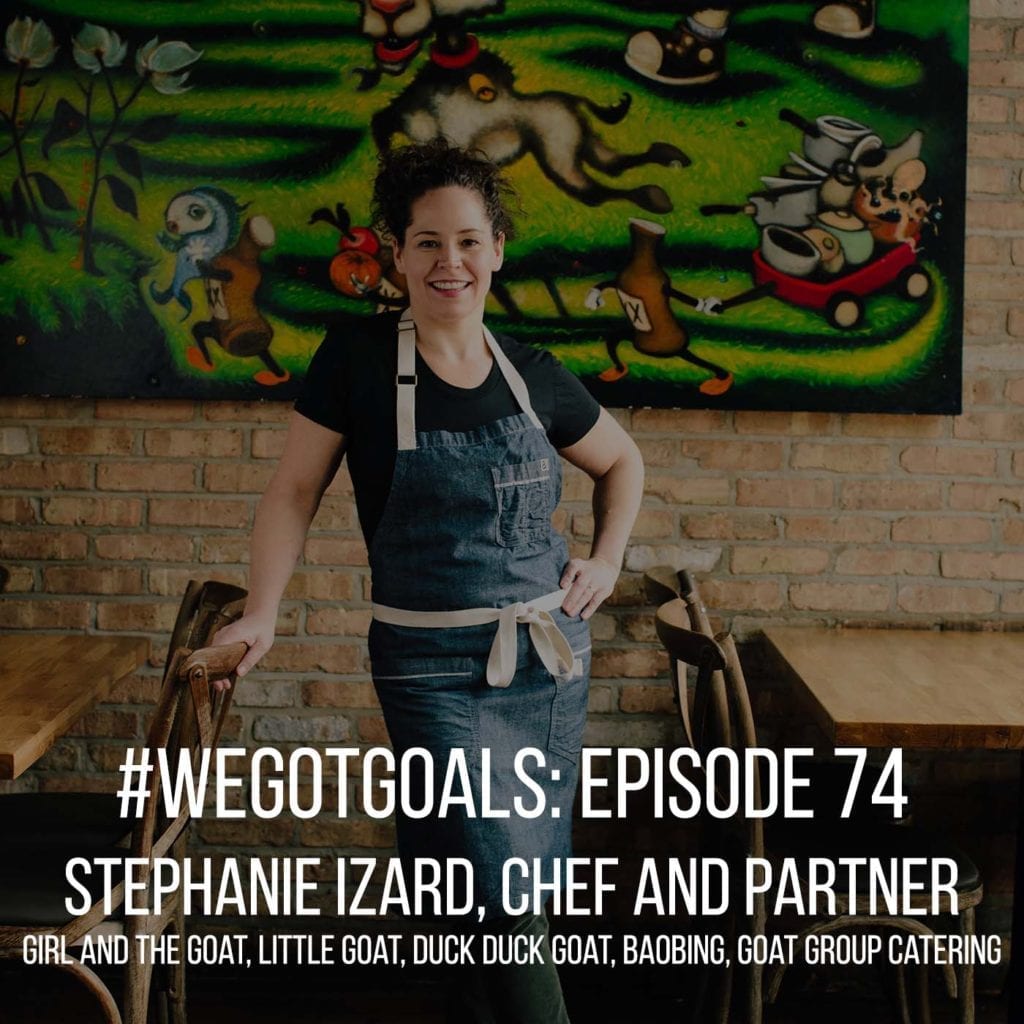 (Photo courtesy of Stephanie Izard, Inc.)
Chef Stephanie Izard invited me into the in the basement of her restaurant Girl and the Goat while the staff prepared for parties, evening service and nationwide expansion. And while we talked about goals, business, family and what it takes to be a boss, we were just steps away from where the the story of an empire sprawling all took place.
She's planted her adorable goat logo all around Chicago's West Loop at Little Goat Diner, Duck Duck Goat, Goat Group Catering, and Baobing.
Titles for someone as accomplished as Izard are almost better suited for a Wikipedia entry. Chef and Partner at all of the hot spots in Chicago's West Loop as well as the author of two books – Girl in the Kitchen and Gather and Graze. And if you've ever turned on Bravo or the Food Network, you know her face from her victories on Top Chef and Iron Chef.
But what you don't know about Chef Izard is that she's sort of my idol – she's a lot of people's idol. She's brimming with the kind of humility you only find in the Midwest, packed with the work ethic that carried her from restaurant opening to restaurant opening. Her nose is to the grindstone, she lets creativity guide her, and she makes delicious food – and that's why she's so lovable. The Top Chef audience agreed, voting her The People's Choice during her season -making her to first to ever win the People's Choice and the title of Top Chef.
"It always catches me off guard, like 'Oh yeah, I'm supposed to be inspiring.'" Izard told me as I inquired about the young chefs who reach out to her for advice.
And all of the things she's accomplished, you'll hear on this week's episode of #WeGotGoals, were the result of letting creativity and inspiration guide her. That's why people look up to her. She's not in the habit of writing down goals, but instead listening to the voice that won't let her get comfortable. Leaning into challenge is the stuff that builds legacies.
And all of this is why every interaction I've had with Izard has been memorable – I make reference to a few of them throughout the interview. But none was more crystalized than the time she answered my desperate tweet more than eight years ago to get my mom (a gigantic Top Chef and Izard fan) into the newly opened Girl and the Goat, putting us at the Chef's table and stopping by to hug my mom.
I walked away from that dinner knowing that I wanted to care about something as much as Izard did.
After you listen to Chef Stephanie Izard on #WeGotGoals, you're sure to walk away hungry. Stop by any of her restaurants (you'll have to wait just a little bit longer for Girl and The Goat in LA). And if you can't wait for a Goat restaurant to experience her food, buy her spices and sauces wherever you live.
If you like what you hear, please subscribe to #WeGotGoals on Spotify, Apple Podcasts, or any other podcasting app, and while you're at it, leave us a rating or a review.