Three Ways to Put Your Sweat Equity into Eco-Friendly Fitness
I am home on this Monday sitting in my parents' suburban kitchen, listening to the whistle-song of a chatty bird, the swooping whistle replies of her companions, and the squawky caw of a cranky aging bird. I am feeling refreshed today, having returned from a weekend spent exploring Itasca State Park in Northern Minnesota. The 11-mile hike to the Mississippi headwaters, a trail lined by lush green trees, brought moments of reflection on the bounty and beauty of our earth.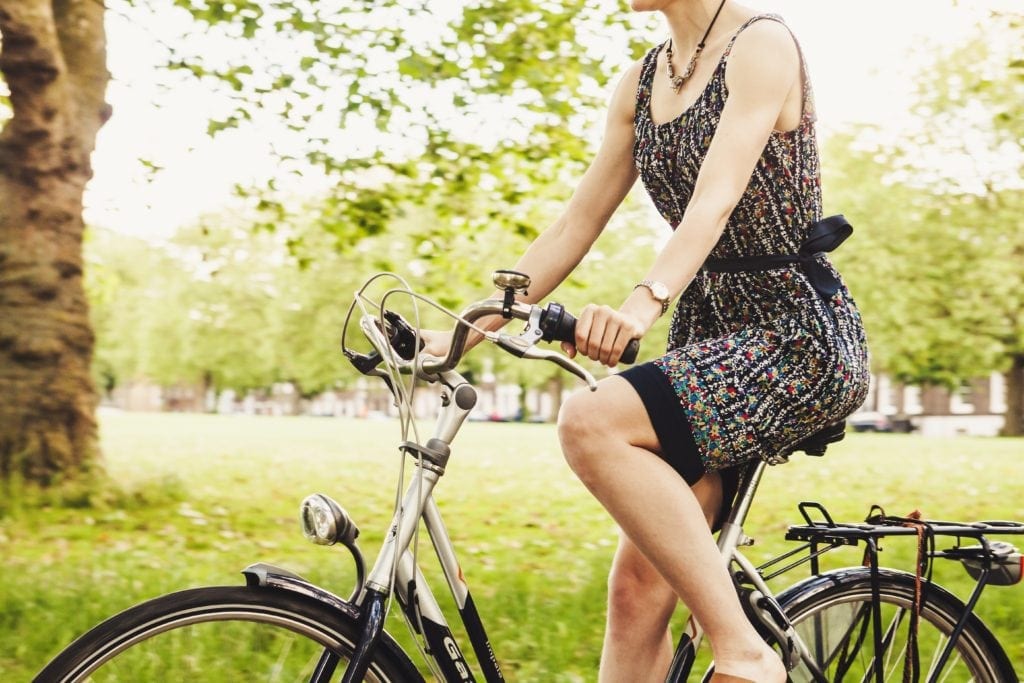 As much of my fitness time is spent in a gym, the time spent amidst nature prompted me to consider the impact of my workout routine on the health of our planet. Upon further research, I found a number of eco-friendly considerations to take to help sustain the beauty of our planet.
Sweat equity with eco-friendly equipment
Gym equipment such as treadmills and ellipticals can lead our carbon footprint to grow in size as they use so much electricity to run. Working on keeping that carbon boot the size of one of the seven dwarves rather than Bigfoot? Consider joining gyms that are investing in eco-friendly equipment such as SportsArt. SportsArt's mission is to be "committed to leading the fitness industry in eco-friendly action through research, design and education on sustainable business solutions and practices." One of the most sweat-inspiring features of the equipment is its software that allows users to see the positive impact on decreasing carbon emissions.
Smart purchasing choices for sustainability
In addition to casting a vote for sustainability by joining eco-friendly gyms, we can also consider our own purchases. The truth is, I love a new yoga outfit or pair of tennis shoes as much as the next woman. Looking good in our fitness duds is a motivator, isn't it?
Not all clothing and gear is created equal, though. I am working to research companies with mindful manufacturing practices and durability before I make purchases. My Manduka yoga mat — "made for good" — was crafted to be "simple, enduring, natural, and whenever possible, [made with] renewable materials and a fine attention to detail."
If you'd like to take a look at other companies who are making ethical and eco-friendly choices related to your fitness experiences, from the protein bars that fuel your sweat sessions to the water bottles you drink from to quench your thirst, check out these Good Companies that make a positive environmental impact.
Raise a voice for your health and the health of our earth
Today, brand name gyms are competing with small boutique gyms and the boutique gyms are competing with each other. Your membership and commitment matters to any one of these gyms if they are going to continue to run successfully. Consider how you might raise awareness to the owners of your gym.
Perhaps it is by making inquiries into the owner's decisions. In an article entitled, "Going Green at the Gym," Lifetime Fitness, originally a Minnesota-based gym, is being transparent with their eco-friendly practices, and offers ideas — such as eco-conscious lighting, and solar and thermal energy use — that may be a starting point for conversations with your local gyms.
Talking with our fitness friends is another way to raise awareness about practices that can both affect the health of our planet, and our own as well. I know there are a number of sustainable water bottles on the market; when I have offer my gym pals a sip from my S'well bottle, they are always impressed with the way that the water is still cold hours after I fill it.
When I first stepped into the water where the Mississippi starts its mighty winding towards the Gulf of Mexico, I noted the cool freshness on my tired feet as I ran my toes over the algae on a rock under the water. Stephen Hawking was once quoted saying, "Our population and our use of the finite resources of planet Earth are growing exponentially, along with our technical ability to change the environment for good or ill." Hawking reminds us that the power for good is in our hands. Join us at aSweatLife in striving to sweat and save the planet.
We would love to know what other sustainable fitness practices you have! Please share in the comments below.