How to Pick the Right Yoga Practice for You
Fact: Yoga isn't one size fits all. There are lots of different practices, and finding the one you like best might take some trial and error. Maybe you want to take a yoga class that's a little more fast-paced, or one that will chill you out at the end of a long week. Here, we're breaking down the most popular types of yoga so you can book your next class with confidence.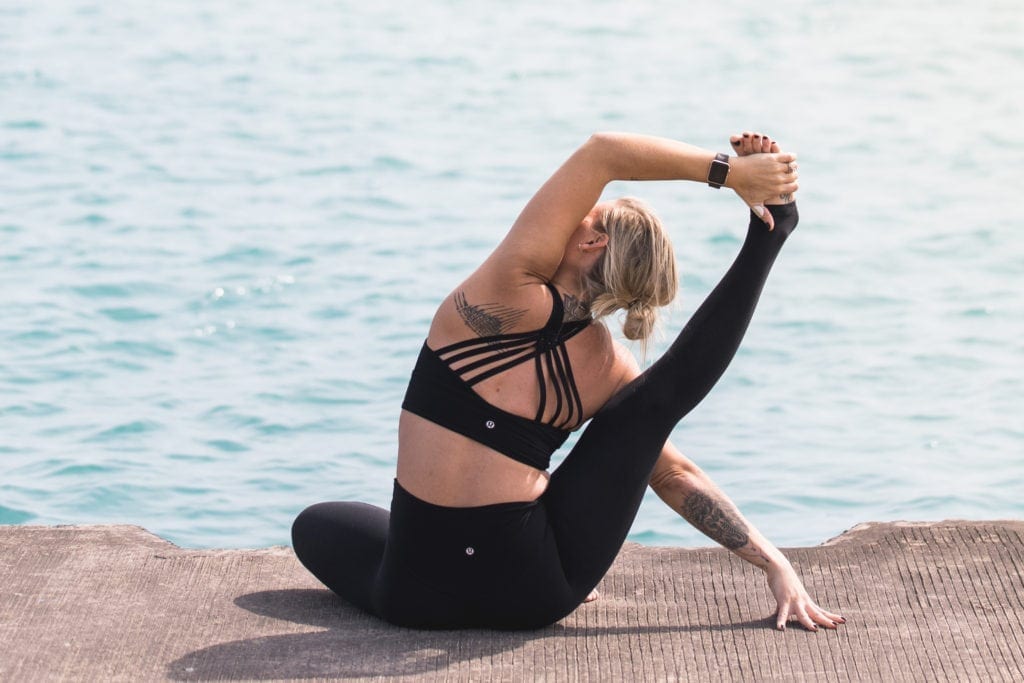 Hatha
If you've never done yoga before, Sophie George, founder of Firefly Yoga Studio suggests starting with Hatha. "This is a typical western style of yoga," she says. "Although it'll differ from teacher to teacher, it's still a middle of the road class—not too fast or too slow." Ashtanga, vinyasa, and Iyengar (all of which we'll outline below!) are all forms of Hatha yoga.
Vinyasa Flow
"If you want to move fluidly—almost in a dance—a dynamic Vinyasa flow might suit you," says yoga instructor Diana Paschal. She notes that Vinyasa means "to place in a special way." A Vinyasa is a class that moves with purpose and specificity. "In a typical Vinyasa class, you might do a number of sun salutations and hold downward dog as a central pose, which requires a lot of energy and shoulder strength," says Paschal. "It can sometimes move fast, with less time in poses, and might feel very heating in the body."
Avoid Vinyasa if you're pregnant or recovering from an injury, advises Paschal. George says she describes Vinyasa Flow as the most energetic type of yoga. "It's great for people who think yoga is too slow for them," says George.
Ashtanga
This type of yoga is very vigorous, says Beth Shaw, founder and CEO of YogaFit. It's similar to Vinyasa in that it features a series of poses—it's the same poses each class, so if you like structure, Ashtanga is a good option for you. Ashtanga yoga also incorporates ujayi breathing, which helps create heat in the body, says Shaw. "People who are athletic really enjoy Ashtanga," adds Shaw.
Iyengar
Hit the mat for an Iyengar class if you like using props. B.K.S Iyengar developed this method and incorporated the use of props (like blocks and straps) so that yoga students of all ages and health could practice, says Paschal. "Props can enable you to find more precision, length, and thus easier breathing," says Paschal.
Iyengar yoga focuses on precise alignment, sequencing of postures, length of each pose, and props. Poses are usually held 5-10 breaths or a few minutes, says Paschal. Many classes include inversions, she adds.
Katonah
"This practice uses maps, frameworks, and metaphors—i.e., viewing the body as a house, to reveal our embodied first nature and to potentiate a second nature," says Paschal. Katonah yoga includes sun salutations, standing poses, breath work, and restorative poses with props, says Paschal, who adds that it has a repetitive format.
Kundalini
This is a very spiritual yoga practice, says Shaw. "It really focuses on bringing energy up through chakras," she says (chakras, for the uninitiated, are centers of energy inside you). Kundalini yoga features dynamic breathing, meditation, and chanting mantras.
Yin
"Yin yoga is very slow and relaxing," says George. In her yin classes, George teaches only sitting or lying poses. "Therefore I recommend it to clients with mobility issues who may struggle with lots of moving around, particularly up and down." George says yin yoga is a good option for runners to stretch out after training.
Restorative
"Everyone needs to relax," says Shaw, and restorative yoga is a great way to get your chill on. Restorative yoga utilizes props like blankets, bolsters, and straps, says Shaw, and in a restorative yoga class you'll stay in each pose for a few minutes.
Adds Paschal, "it's deeply meditative, relaxing, and rejuvenating for the nervous system and can help soften tension in your muscles." That's why it's particularly beneficial to athletes, people who work out a ton, or those with injuries, says Shaw.
Prenatal
You don't have to give up yoga if you're pregnant—a prenatal class offers variations that are safe for expectant mamas. Shaw says in a prenatal yoga class, there won't be any ab work or lower spinal twists. Your instructor will err on the side of caution and focus on breathing and gentle stretching, possibly with the use of props.
Hot Yoga
Performed in a heated room anywhere from 80-105 degrees, hot yoga offers a more intense workout and allows your muscles to open up more. You can find heated versions of everything from Yin to Vinyasa flows—but keep in mind that the heat can seriously wear you out. Here's how to practice hot yoga safely.