Six Insanely Good Ice Cream Alternatives for Your Freezer
(Disclaimer: Snow Monkey provided samples for this writer to taste.  As always, we only talk about the things, brands and experiences we are passionate about and all opinions are our own.)
Are you like me and wish you could eat ice cream every day? Do you spend a little too much time staring lovingly at the freezer doors of the ice cream aisle, dreaming of an evening with a pint of Chunky Monkey? Picking it up and glancing at the nutrition facts, that little voice in your head pipes up to remind you of your health goals. The internal struggle begins – will my love for delicious frozen sweet treats ever align with my healthy habits?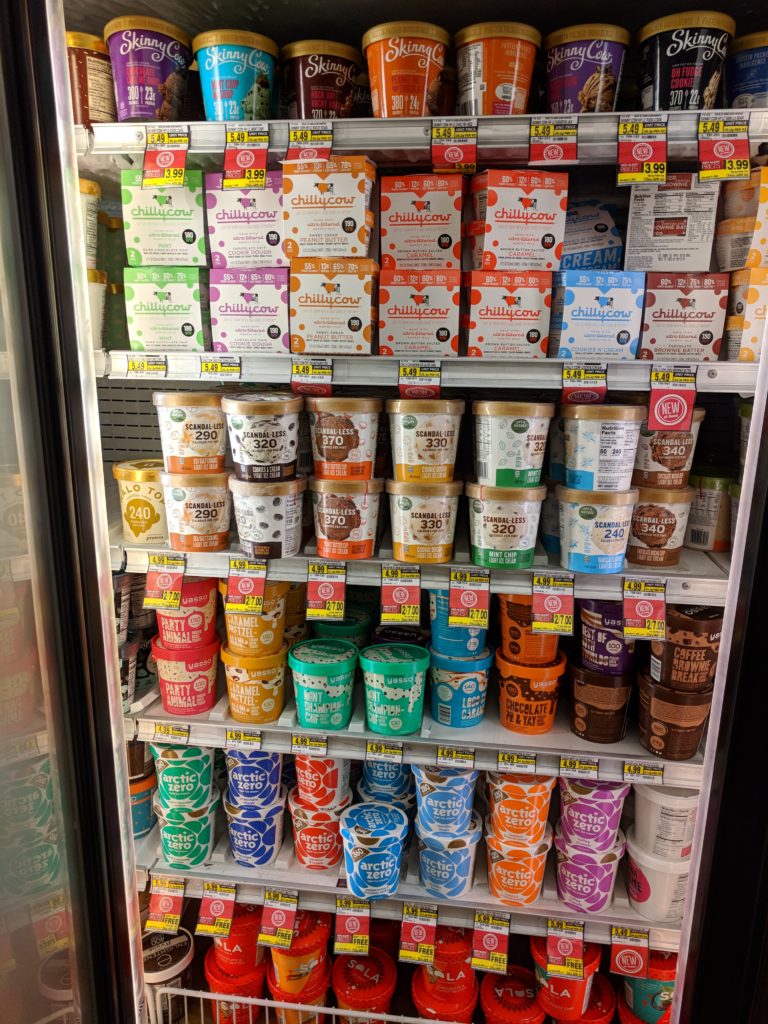 Luckily for this situation, the alternative ice cream industry has exploded and is growing into a billion dollar business. There are more free-from, low-calorie, low-sugar, non-dairy frozen dessert options out there than ever before, and in more flavors than you can ever dream of. Mochi green tea, French toast, and birthday cake? Yes please!
It's easy to get swept up in the excitement – the once high-fat, high-sugar calorie bomb has all of a sudden become "healthy"! The packaging claims and advertisements can make it pretty confusing. Are these treats really that much better for you? I set out with the task (ok, it was pretty much a dream come true) to review some ice cream alternatives to find out more.
Here are a few reviews on some ice cream alternatives out there, from yours truly – the aSweatLife dietitian.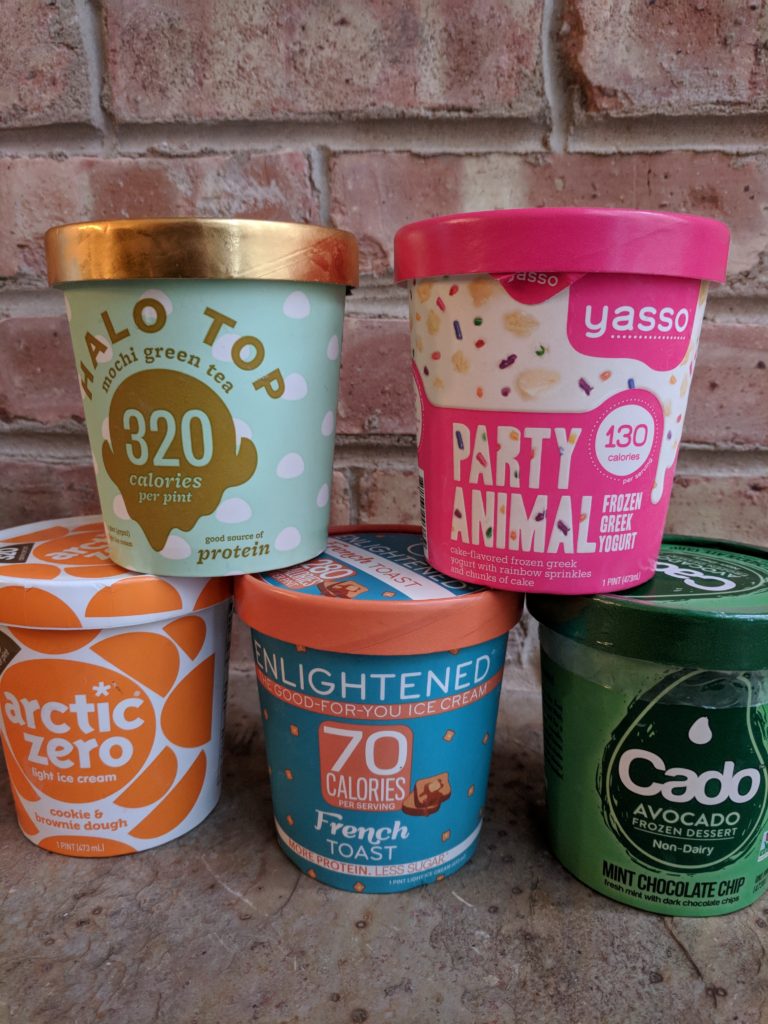 Halo Top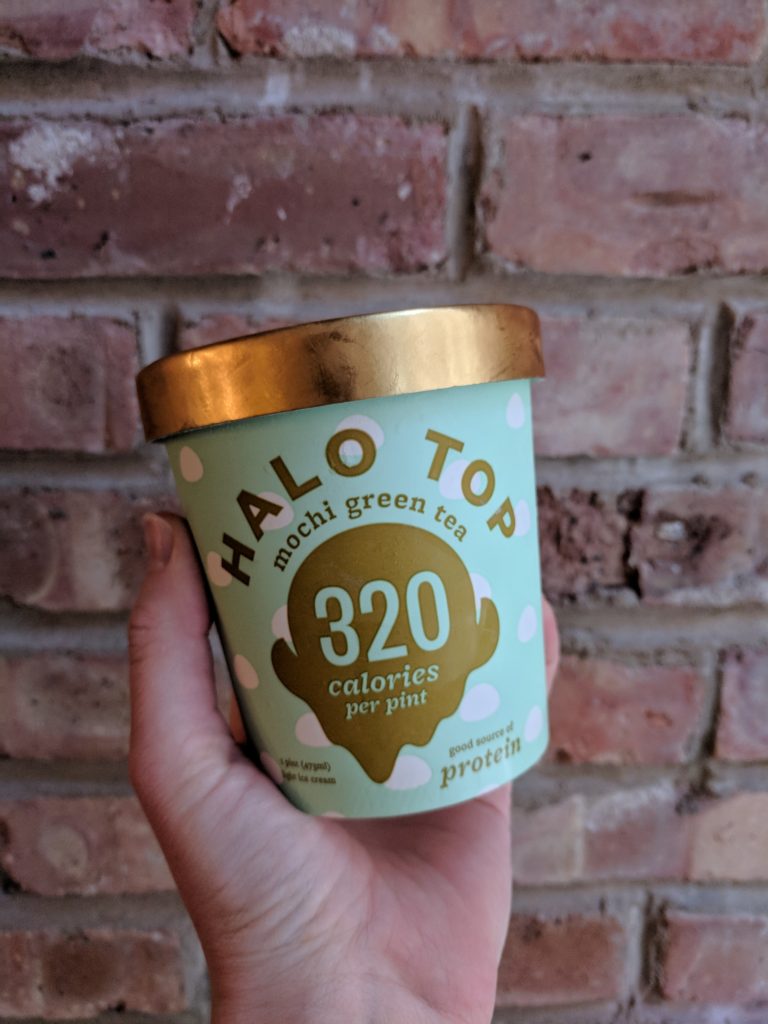 Claims: Low-calorie, low-sugar, gluten-free, and a good source of protein
Nutrition at a glance: Halo Top's main product line is dairy-based, using milk, cream, and eggs.  It contains the sugar alcohol erythritol, plant-based sweetener stevia, and cane sugar. The total pints are 360 calories or less, or about 70-90 calories per ½ cup serving. There are 6 grams of sugar and 6 grams of protein per serving. Each serving also contains about 2-3 grams of fiber.
Taste test: Very sweet. Texture is a little light and airy, not as creamy as others, so it's not quite as satisfying as ice cream.  There is a slight sugar alcohol aftertaste.
Love it or leave it? Overall it has a pretty good balance being low-calorie, low-sugar, and a good source of protein and fiber. For satisfying an ice cream craving, this would be a better option. Some people may experience IBS type issues (gas, bloating, diarrhea) with sugar alcohols, though erythritol has been shown to cause fewer IBS problems than other sugar alcohols. Halo Top has recently come out with a line of dairy-free flavors for those who are lactose intolerant or have dairy allergies.
Cado
Claims: Non-dairy, gluten free, vegan, soy free
Nutrition at a glance: Cado is avocado-based, with avocado puree and avocado oil. It contains cane sugar as its sweetener, with 12-13 grams of sugar per ½ cup serving. Each serving has 170 calories, 1 gram of protein and 1 gram of fiber. Cado provides some healthy fats from the avocado.
Taste test: Satisfying silky texture with a nice flavor and sweetness. I couldn't taste any avocado "flavor" from the puree or oil.
Love it or leave it? Cado uses cane sugar as its sweetener and is a little high in sugar when compared to other alternatives. It's also lower in protein and fiber than others. It does contain some healthy fats from the avocado. Overall this is a good dairy-free or vegan alternative, but still should be seen as pretty equal to ice cream, especially with the higher calorie content.
Snow Monkey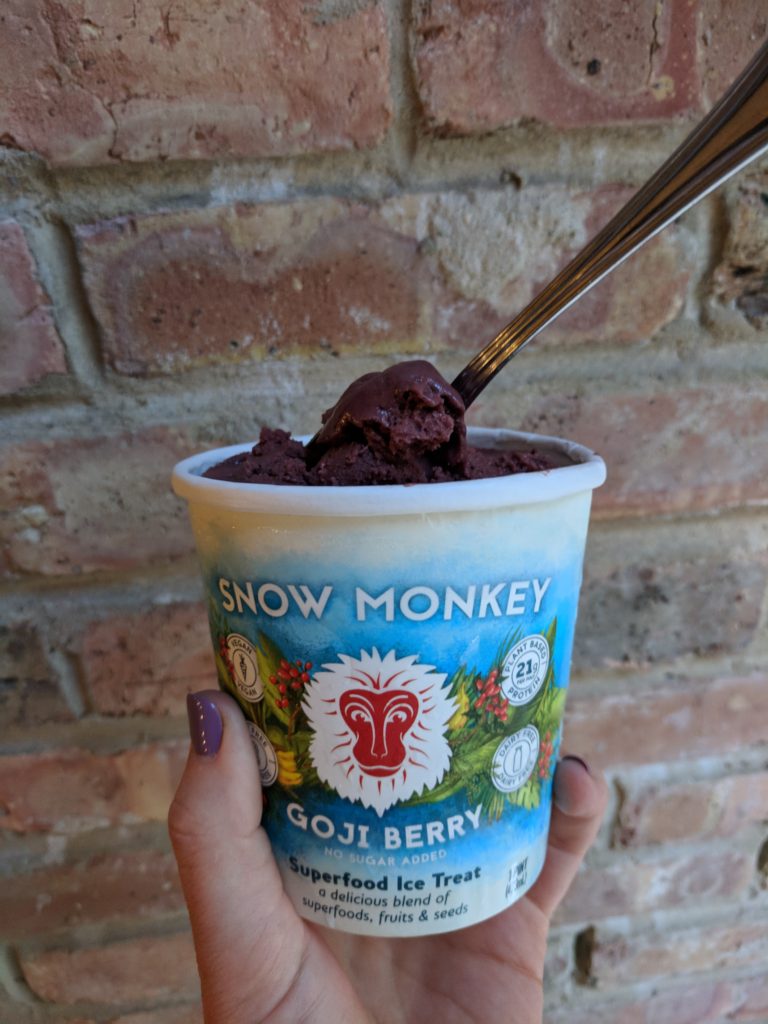 Claims: Non-dairy, vegan, nut free, plant based, paleo-friendly
Nutrition at a glance: Snow Monkey's base is banana puree, with other fruit purees and juices. It uses maple syrup, fruit purees, and juices for sweetener. It contains hemp seeds and sunflower seeds, supplying 5 grams of protein per ½ cup serving. Each flavor contains superfoods like goji berry, matcha or turmeric.
Taste test: Texture is light, and it's not too sweet but full of flavor. There is a definite banana taste, and the presence of hemp and other seeds is noticeable.
Love it or leave it? It's a pretty healthy option with no added sugar,good sources of plant-based proteins, and the added bonus of antioxidants from superfoods. It has a bright flavor and is very tasty, but doesn't quite satisfy like ice cream or feel like a great alternative. It tasted more like I was eating a delicious frozen smoothie or acai bowl. This would be a good option for a summer breakfast or snack.
*disclaimer: Snow Monkey provided aSweatLife with samples of the product
Arctic Zero
Claims: light, low-calorie and low-fat ice cream with no sugar alcohols
Nutrition at a glance: Arctic Zero is dairy-based, using skim milk, cream and whey protein concentrate, and it is sweetened with cane sugar. It is a good source of fiber with 3 grams per ½ cup serving. There are about 2-3 grams of protein and 10-11 grams sugar per serving.
Taste test: It has a lighter and more watery taste and is not as creamy as ice cream or other ice cream alternatives. It tasted a little too sweet.
Love it or leave it? I personally didn't feel like it was a very satisfying alternative when it came to texture and taste. It does contain a good source of fiber, and is low in calories and fat compared to regular ice cream, so it could good alternative for some when the sweets craving hits.
Yasso
Claims: Frozen Greek yogurt that is free from sugar alcohols and is a good source of protein. Some flavors are low-calorie or gluten-free.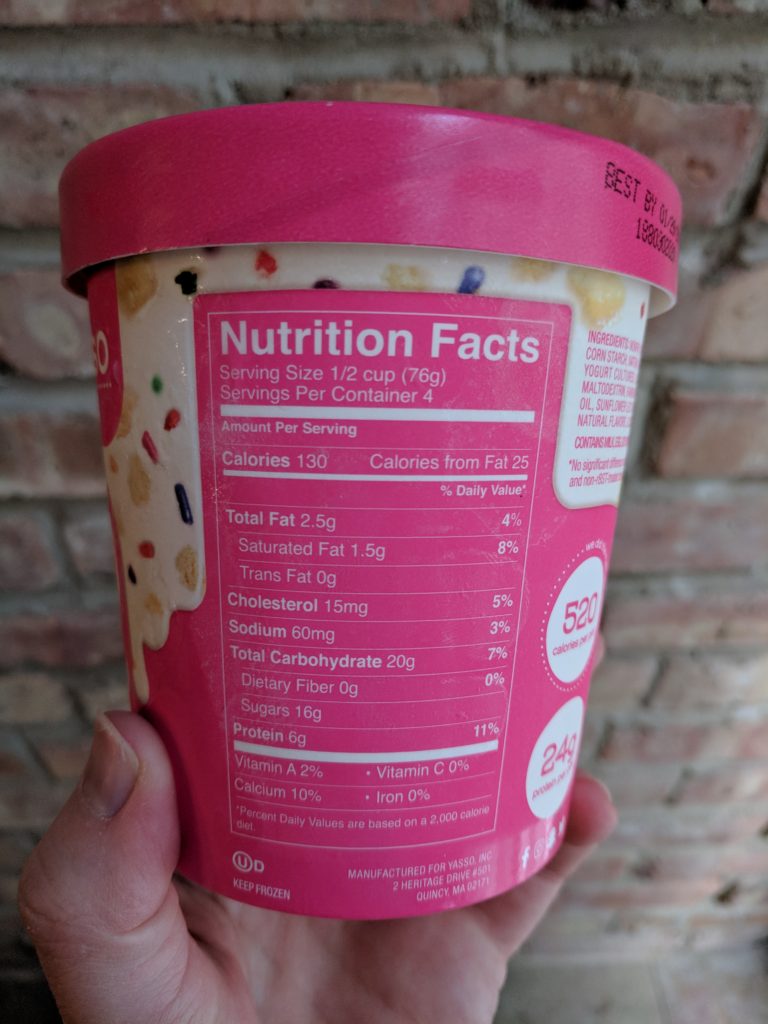 Nutrition at a glance: Yasso is dairy-based, using Greek yogurt and skim milk as the base. Each ½ cup serving contains between 5-7 grams of protein. There are 14-21 grams of sugar per serving, and zero grams fiber.
Taste test: It has a lighter "froyo" taste, with not a very satisfying texture. I liked the flavors – there was a nice balance and no after taste.
Love it or leave it: The Yasso pints can be pretty high in sugar per serving, containing similar amounts of what is in ice cream. It is a good source of protein with about 6 grams per serving. Due to the sugar content, I would treat this like ice cream and eat in moderation.
Enlightened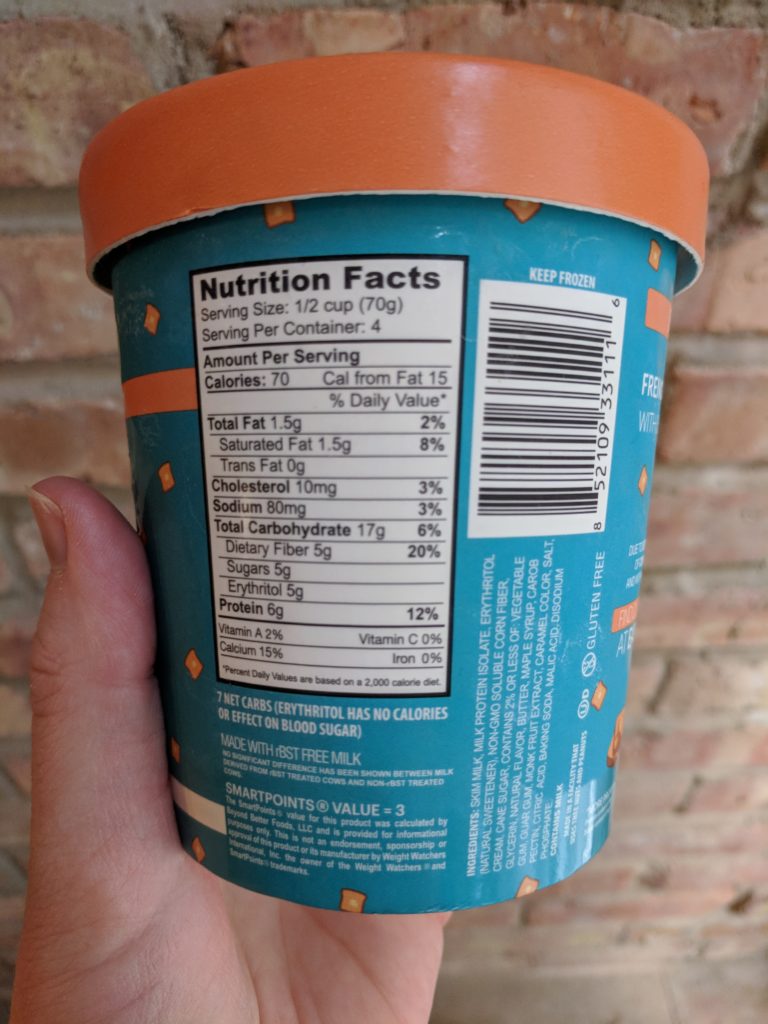 Claims: high protein, high fiber, low in sugar and fat
Nutrition at a glance: Enlightened is between 60-100 calories per ½ cup serving. It is dairy-based, using skim milk and milk protein isolate. It is sweetened with erythritol, monk fruit extract (a zero calorie plant-based sweetener) and cane sugar. Each serving contains 6-7 grams protein, 5 grams of fiber, 3-6 grams sugar.
Taste test: I was not a big fan of the flavors. There was a definite aftertaste from the monk fruit extract and erythritol, and it was very sweet. It did have a satisfying creamy texture that resembled ice cream.
Love it or leave it: It is a good option for a low-calorie, low-sugar treat, and it's a good source of protein and fiber. Overall it is a better choice than ice cream. The zero calorie sweeteners did seem to impact the flavor. With 5 grams of erythritol in each serving, this product could be tough for people who experience IBS issues from sugar alcohols, as mentioned above in Halo Top's review.
Sacred Serve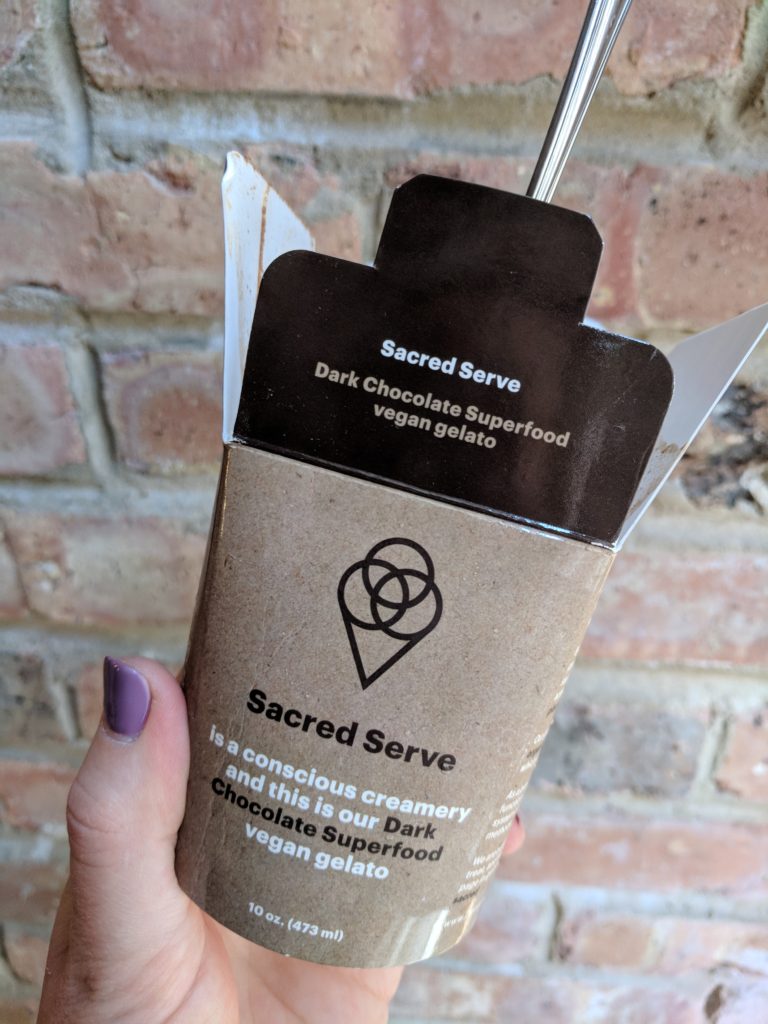 Claims: gelato that is raw, vegan, gluten-free, soy-free, egg-free
Nutrition at a glance: Sacred Serve is non-dairy, coconut based (raw coconut meat, coconut oil, coconut sugar) and is between 80-150 calories per 94 g serving (about ½ cup). They are sweetened with coconut sugar. Each serving has 3 gram of protein and 2-5 grams of fiber. I tried the chocolate flavor, which had 5 grams of fiber and contained superfoods maca powder and mushroom powder.
Taste test: The treat has a super creamy gelato texture, which was very satisfying. The chocolate flavor had a full and potent dark chocolate taste. I could taste coconut from the coconut meat and oil, but personally I like that flavor. Coconut provides a buttery mouthfeel that resembles regular ice cream well.
Love it or leave it? I found Sacred Serve to be a satiating treat with a rich texture and flavor. It is a good source of fiber and has some added bonus superfoods on top. It's a great alternative for people with allergies or individual diets. It is a little higher in fat and calories than other ice cream alternatives, so should be eaten in moderation.
Want to make your own healthier ice cream alternative? Try banana "soft serve"!
Banana soft serve recipe:
A few days in advance, buy a bunch of bananas at the store. Let them ripen on the counter and when they get nice and spotted brown, peel the bananas and store them in a plastic freezer storage bag.
For 1 serving:
Place 1 ½ to 2 peeled and frozen ripe bananas into a food processor and blend until smooth. When blended, frozen bananas have a delicious soft-serve like consistency. Due to the sweetness from the ripe bananas usually no extra sweetener is needed. If you feel like sprucing up the banana soft serve, try some of these toppings or mix-in ideas:
½ Tablespoon peanut butter and a teaspoon of jelly

1 Tablespoon cocoa powder

Mini chocolate chips or cacao nibs

Strawberries

¼ teaspoon vanilla extract and a sprinkle of cinnamon
You can also blend a couple servings at one time and freeze individual servings to eat later. Just note that the texture will change slightly, and it will need to thaw for a few minutes before eating.
The Bottom Line
While it's great to have better-for-you treats and allergy-friendly options out there, it's important to recognize the health behaviors around treats. Just because it looks like a healthy option, doesn't mean it's a free pass to overindulge. A carton splashed with claims like "you can eat the whole pint!" doesn't help build sustainable healthy behaviors. Treat these alternatives like ice cream, but smile knowing that you are making good choices every day that bring you one step closer to your goals.
Let us know!
Did this post help you get closer to achieving one of your goals?