Eat More Veggies by Thinking Out of the Salad Bowl
I get it. Plain, raw veggies can get boring… and chopping those same raw veggies up and calling them lunch doesn't make them any more interesting.
Unfortunately, the average American is still not eating enough fruits and vegetables every day. It is recommended that people intake 1.5-2 cups of fruit each day, and 2-3 cups of vegetables. A recent study showed that only 12.2% of adults are meeting fruit recommendations while 9.3% are meeting vegetable recommendations.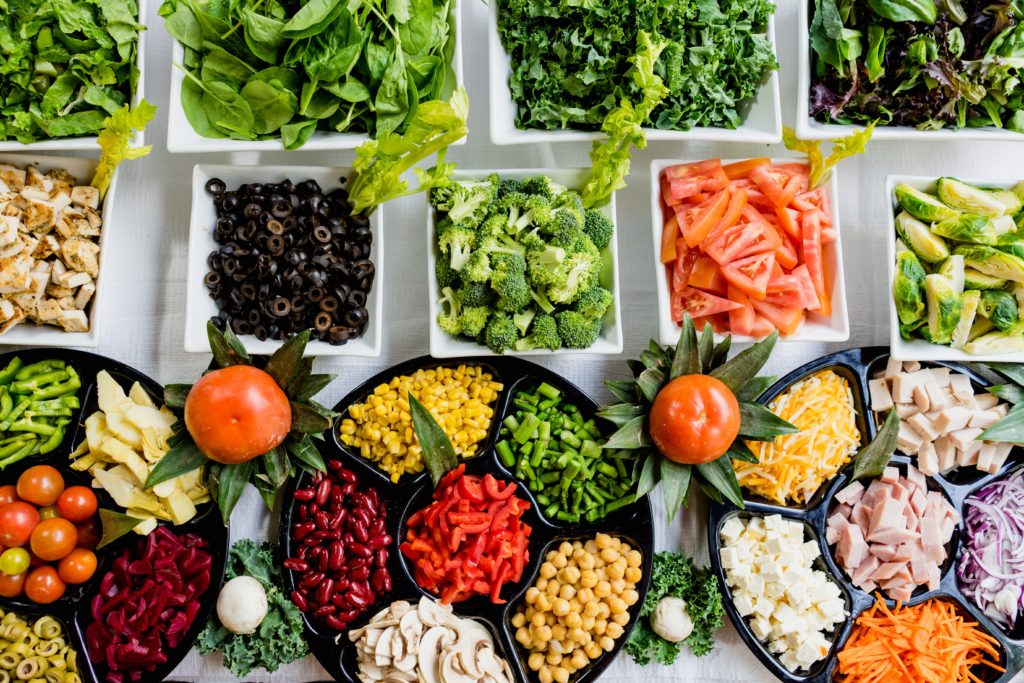 Neglecting to fill your day and your belly with veggies means you're also neglecting your body of a lot of important nutrients. Let's take kale, spinach, and zucchini for example.
Kale is high in fiber, iron, vitamin A, C and K, antioxidants, and is a great anti-inflammatory. It is also high in calcium and naturally keeps your cholesterol low. Kale is a nutritional powerhouse, indeed.
Spinach boasts countless nutritional benefits like kale. The most unique can be learned from Popeye: spinach builds muscle and boosts metabolism. It can also be known to treat and prevent cancer, protect your eyesight, maintain blood pressure… the list goes on.
Another veggie (or a fruit, depending on where your loyalty lies in that debate) that could and should be a regular staple in your diet is zucchini. It's high in antioxidants, vitamin B, vitamin C, and potassium. Zucchini can also play a role in preventing diabetes.
Luckily, it's very easy to sneak these three vegetables into things you're probably already eating. Extra emphasis is on sneak. When these veggies are chopped, shredded, blended, etc., and then added to food you're already eating, their taste is negligible — but their nutritional impact is not! So, I'm proposing that the solution to eating more veggies day in and day out is to think outside of the salad bowl.
The addition of veggies to foods you already eat has been explored by cookbook authors like Jessica Seinfeld and Missy Chase Lapine. Seinfeld, for example, authored cookbooks that help make it easier to get kids to eat veggies. Seinfeld's cookbook Deceptively Delicious: Simple Secrets to Get Your Kids Eating Good Food was inspired by her "personal war against sugars, packaged foods, and other nutritional saboteurs." The cookbook is meant to combat both childhood obesity and the daily war at the dinner table.
Lapine was also grew tired of her daily war at the dinner table as she tried to get her children to eat their veggies. She authored The Sneaky Chef: Simple Strategies for Hiding Healthy Foods in Kids' Favorite Meals to make dinnertime easier for families. Both cookbooks offer ways to sneak veggies into kids' favorites, such as mac 'n cheese, grilled cheese, and quesadillas.
Still, adults could use a little delicious sneaking, amiright? Read on for some ways you can sneak veggies into things you eat regularly.
Add greens into your baked goods
Greens snuck into baked good probably offer the most tasteless option out there. Haters might say the green coloring is fake, but you'll know it's so real.
You can kick off your day with these kale banana muffins…
…or these spinach pancakes.
Craving dessert? Impress the children and adults in your life alike with this apple kale cake.
Add greens into your sauces and dips
This is the best way to get the biggest bang for your buck. Instead of reaching for breadsticks or fried cheese to accompany your sauces and dips, try pairing veggies with these veggie-made sauces and dips instead to reach your recommended nutritional intake every day.
This recipe is gold for my fellow pesto lovers. Sauces are often attributed to being a source for nothing more than added sugar fat, but with the addition of kale, it'll be your source for much more.
Same goes for the kale blended into this recipe, for the guacamole fans out there.
You could also consider dipping your raw veggies into this delicious spinach hummus.
Italian food lovers, rejoice
Italian food can often be considered as an indulgence, a comfort food, a direct ticket to food coma. However, replacing those heavy starches with veggies gives you a similar delicious flavor without needing that post-meal nap.
Zucchini can replace pasta or crust to make practically any Italian dish you want, like chicken and zucchini noodle caprese, zucchini lasagna rolls, or zucchini pizza boats.
Or, simply make "zoodles", and top with tomato sauce and turkey, spinach and cheese meatballs, and knock out your whole veggie intake in one meal!
For Mexican food fans
Tacos and burritos already offer chances to stuff as many veggies as possible into one shell. Give yourself a bonus serving of veggies with these alternatives to traditional flour and corn tortillas.
You can wrap your tacos or burritos with love in soft zucchini taco shells, crispy carrot taco shells, or fluffy spinach tortilla wraps. Top your tacos with protein and veggies, and you're winning at life.
Of course, these tips are really just tips of all the recipe icebergs out there. What is your favorite way to get in your five-a-day?
Let us know!
Did this post help you get closer to achieving one of your goals?