5 Things I Learned from This Year's Boston Marathon—and a Past Champion
The wind gusted straight east—in runners' faces—for nearly all 26.2 miles. Every time it seemed the rain might break, the skies released another deluge. The risk of hypothermia loomed large, as did the danger of slipping and falling on a poncho or shower cap discarded down the final stretch of Boylston Street, as runners shed their protective layers for better finish-line photos.
Sure, it's now been more than a month, but I know I'll be talking about this year's Boston Marathon for the rest of my life. Besides the same dreadful weather everyone experienced, I came into this year's race with my own set of injury-related challenges and doubts, and almost didn't run at all. But I did, and I finished, and I will forever be grateful I gave myself the chance.
Fifty years after he won the race in 1968, Amby Burfoot—author of the new book Run Forever: Your Complete Guide to Healthy Lifetime Running—also crossed this year's finish line soggy but smiling. As an astute scholar of sport and science, Burfoot has spent the weeks since not only recovering, but also considering the implications of this historic day.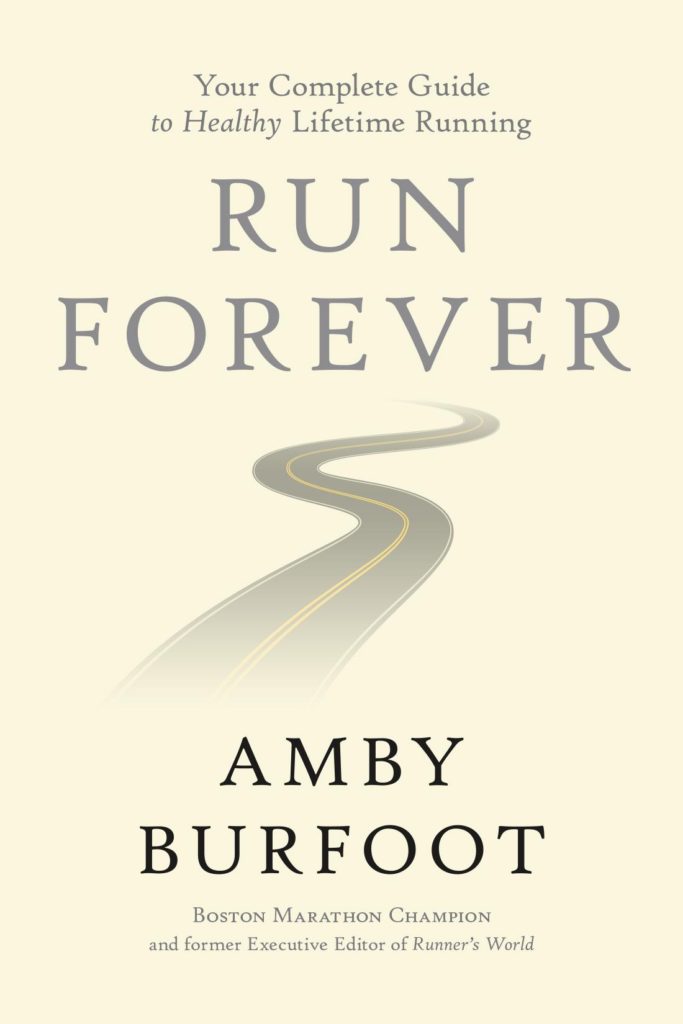 After first confirming it was one for the books—by far the worst conditions he's encountered at Boston, or any marathon, during his decades of pinning on bibs—Burfoot was kind enough to chat through some of his reflections. Here, some top takeaways from the race, his book, and our conversation about both.
Rewards come to those who expect the worst, but don't rule out the best.
Burfoot's a believer in positive thinking: "To be running 50 years later as I am has a modest amount to do with the body and a whole lot to do with the mind and the way you frame everything in your life," he says. However, he doesn't recommend a completely rosy view of the marathon or any other difficult endeavor. In fact, one way Burfoot describes preparing himself for a tough effort is a technique called contrasting, visualizing not only success but also obstacles that may come up and how he'll handle them.
Somewhat subconsciously, he did this pre-Boston. "The best thing for me is that I had envisioned conditions so horrendous that the actual race day was not as bad as I imagined," he says, "five or seven degrees colder and a stronger wind, which could have been really just about deadly." Picturing things even worse didn't make the day easy, exactly, but he was better steeled than he would've been.
Those who truly excel tend to pair that type of mental exercise with positive self-talk. In Run Forever, Burfoot describes how before a big event, now-retired elite marathoner Ryan Hall would say: "I'm not sure I'm going to win or run super-fast tomorrow. But I'm open to the possibility." Personally, I've found that phrase extremely helpful; if you ran close to me in this year's race, you'd have heard me quietly repeating "open." You can't control everything or know what race day will bring, but breakthroughs come when you wholeheartedly accept the idea that things might turn out better than you think.
Running for something bigger provides fuel for the fire.
Any charity runner knows this—but this year's race showed even elites can gain from turning their focus outward. Eventual women's winner Desiree Linden, who'd decided it wasn't her day, twice paused to help fellow American runners regain contact with the pack. "Then suddenly it all came around for her and she realized she had a race to run for herself, which isn't how she felt earlier. So that was wonderful," Burfoot says. (For a full rundown on this, read Kiera Carter's excellent Runner's World article on the topic.)
Burfoot sees the power of the bigger picture in his own Boston performances, too. The group he ran with last month boosted each other both mentally and physically. Megan—the daughter of Burfoot's longtime running partner John Valentine—sang and danced to keep spirits lifted, and even fetched one of those discarded ponchos for Burfoot's brother Gary when his body temperature began dropping.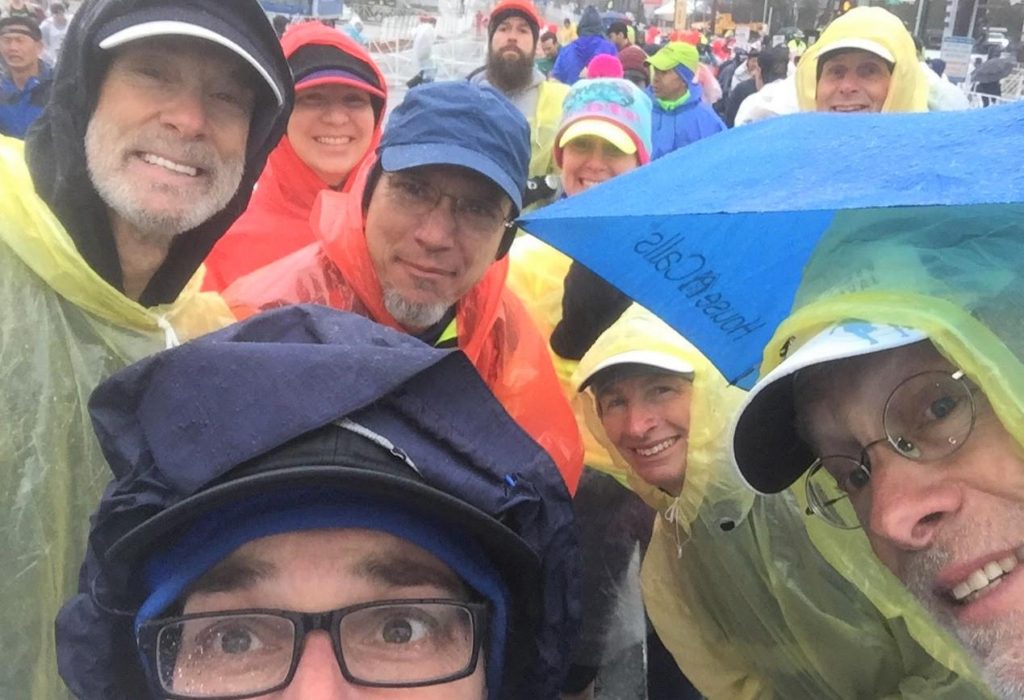 After being stopped before the finish line of the 2013 marathon due to the bombings there, Burfoot now avoids sprinting to the line. Instead, he slows down, savors the moment, and thinks of Martin Richards, the 8-year-old who died there that year. Each time, Burfoot considers the words with which he closes his blog post about this year's race: "Every run is a new adventure. Every mile is a gift."
Justice in the running world matters (even to those outside of it).
In the leadup to Boston, one of the big stories—I wrote about it for Runner's World—was about the marathon's policy on transgender runners. Debate about this topic is far from over, especially when podium places and prize money are at stake. But the Boston Athletic Association, which organizes the race, confirmed that for the rest of the field, runners can compete as the gender with which they identify, provided that's also the gender under which they qualified.
Afterward, headlines focused on why fifth-place Jessica Chichester, and some other top female finishers, weren't awarded prize money. The reason has to do with something called the Elite Women's Start, designed to give the top females better visibility and an opportunity to truly race each other. The unusual circumstances of the day exposed a quirk of that system, disqualifying some women with breakthrough performances from claiming cash in a way that wouldn't be exactly the same for men.
Burfoot says he knew this would cause controversy—and though it took a couple of weeks and a particularly inflammatory Buzzfeed article, outrage ensued. The B.A.A., in response, awarded the money and will review their policies going forward. "It sort of went the way I had thought it would go, where they had to do the right thing," Burfoot says.
Women are tough—and smart.
Much has been made of the fact that more men than women dropped out of this year's brutal race. Burfoot isn't surprised—for years, he's been talking about the fact that women runners have some advantages, especially over long distances. "There's ample evidence that women pace marathons better than men. We don't know whether it's physiological or mental," he says. "Perhaps all that testosterone we guys are lapping up makes us go out too hard."
What he's certain of is this: "Every race I run, after I get a third of the way into it, I look around for a woman running strong and steady and then I just follow her. I know she's going to hold that pace till the end."
That type of steadiness may have paid dividends for women this year in Boston, a course on which a too-fast start can have disastrous consequences on any day. By the time you hit the hills from miles 16 to 21, your energy stores will run out and your muscles fatigue. In conditions as treacherous as this year's, slowing to a jog or walk late in the race boosted the already-high risk of hypothermia. Runners who played it smart from the beginning were far more likely to avoid that outcome and persevere.
You can always strive for excellence—you just have to adjust your definition.
Some runners actually did achieve personal-bests last month in Boston, but the vast majority didn't. Even the times the winners posted were far slower than would normally be expected.
"I certainly feel that it was a day to run to the conditions," Burfoot says. Originally, he'd wanted to run around four hours and 15 minutes. "But I declared to my group that we were totally running it like a long winter training run and the only thing that mattered was getting to the finish. And in fact, we did all finish together."
In his book, Burfoot keeps coming back to the idea of adaptive excellence. It works for a tough day but even more, keeps you motivated, engaged, and active across a lifetime. Even if you can't run the same fast times you did in high school, you can continue to find new ways to challenge yourself, be it judging your times with age-graded calculators, maintaining a streak, or trying an entirely different routine.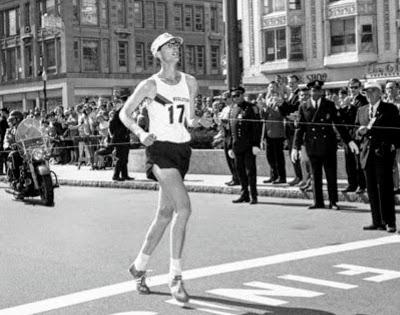 At almost 72, Burfoot plans to shift his focus—at least for a bit—from marathons to training like a miler, incorporating more strength training and hill running. Though he'll continue his 55-year streak at the Manchester Road Race on Thanksgiving, he's also tinkering with new activities, like the ElliptiGo and roller skiing. "We each have the right and the need to choose our own goals and make those what are important to us," Burfoot says.
That, ultimately, is the most profound lesson I'll take away from April 16. My time was far slower than had I not been injured, soaked, and wind-battered; still, the satisfaction and gratitude I felt when I neared the finish line was just as intense as the year I'd run my fastest race. Even if I fear the inevitable challenges that come with time—and even Burfoot admits to doubts and anxiety about aging—as long as I stay open to the possibility, training and thinking differently may still produce new moments of triumph.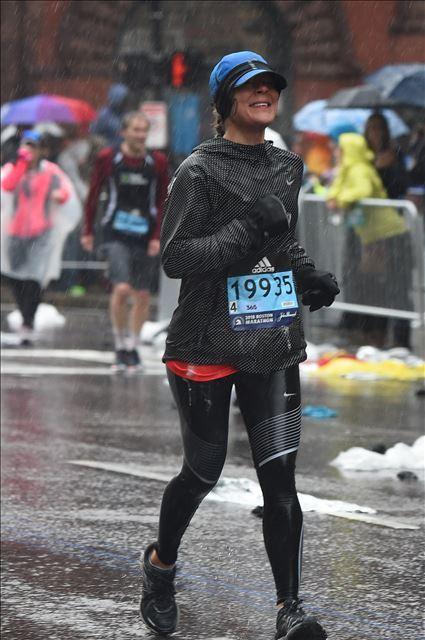 Let us know!
Did this post help you get closer to achieving one of your goals?