Six Things I Learned from Climbing Mount Kilimanjaro
Roughly this time one year ago, my dad forwarded me an email from a tour company, outlining a tentative itinerary for a trip to Africa in which he'd climb Mount Kilimanjaro with my uncle and then go on safari.
After skimming the PDF, I replied "This looks great. I'm going to come too, btw."
Widely regarded as one of the more accessible of the Seven Summits, Mount Kilimanjaro sits at 19,341 feet above sea level. Seven official trekking routes let you choose your own adventure: will you go short and fast with a four-day route, increasing your risk of altitude sickness? Or will you go long and slow with a seven-up, two-down route that takes more time but gives you a better chance of acclimating?
For the Geil family, traveling to Africa was adventurous enough, so we decided to play it (relatively) safe by taking the long, rambling Lemosho Crater route, which we felt would give us the best chance of summiting.
Of course, with any major undertaking, you learn a few things along the way. On this trip specifically, I learned the importance of not leaving your clothes on the tent floor just in case your tent floods during an overnight rainstorm. But on a broader note, here's what I learned while climbing Mount Kilimanjaro.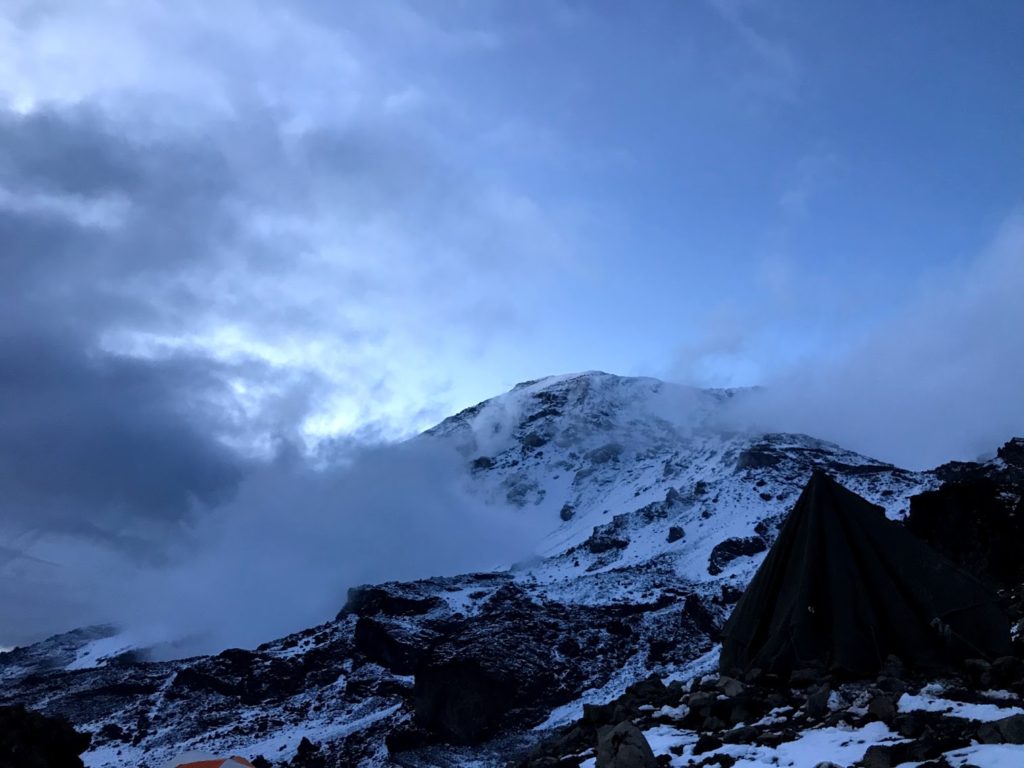 I learned the importance of "pole pole"
Climb Kilimanjaro and you will be guaranteed to hear "pole pole" at least thirty times a day — and that's a conservative estimate. The Swahili phrase meaning "slowly" is a bonafide mantra for all the tour groups and hikers climbing Mount Kilimanjaro, repeated over and over again to remind climbers that going slowly is the best way to ascend the mountain without succumbing to the effects of altitude sickness.
Off the mountain, I'm trying to incorporate pole pole more into my everyday life, reminding myself that I don't always have to be in a huge rush. Being the tortoise pays off sometimes.
I learned how to accept the things I can't plan for
Throughout the nine-day trek, our lead guide Tim patiently answered all of our questions, even the ones we asked repeatedly ("Are we there yet?") — except one.
"I have no idea what the weather will be like today, tomorrow, or in one hour," he informed us. "So don't even ask."
Weather in Africa is, at best, unpredictable. Weather in Africa as you're moving through several different climates and elevation zones is damn near impossible to guess at. Our best plan for getting through the hike and up the mountain was to focus on putting one foot in front of the other, without looking up, without staring at our watches, without desperately trying to refresh the Weather app on our phones.
Staying present kept me out of my own head during some of the toughest moments of the hike. I ran through probably every single mindfulness activity I know, from repeating a mantra to counting my breath.
I learned that climbing a mountain isn't always about the summit
In our case, an unexpected snowstorm ultimately prevented us from climbing the last 500 feet up the mountain. To translate, that's like quitting during the last two miles of your marathon. Before starting the trek, that would have been inconceivable to me; after all, we'd come that far — surely there's no way we'd wimp out during the final stretch.
Welp, that's exactly what we did, but to be honest, it didn't at all feel like "wimping out." As we stood at Stella Point surrounded by a cloud of wind and snow, nibbling on cold PBJs, my dad, my sister and I truly felt like we had come far enough to satisfy us. What others would think of us technically failing to summit was the last thing on my mind. We'd already been on the trail for seven days straight, put in at least 40 hours of hard uphill hiking, and battled the elements for dozens of miles. These last 500 feet weren't going to change what we had already accomplished on our journey to the top.
I learned that going down is just as hard as going up
On our first day of descending, my legs ate up the trail as I eagerly traipsed down the mountain, physically having to stop myself from running every now and then. We'd just climbed 18,880 feet — now, the easy part!
As anyone who's run a net downhill race will tell you, "HAHAHAHAHA." Turns out, going downhill can hammer your quads and easily lead to injury, especially as we picked our way down slippery, rocky slopes and steep grades. After two days of traveling in the same direction, the tops of my feet were so swollen they bulged over my Toms.
Lesson learned: be careful what you wish for. And also, maybe don't tie your shoelaces so tight.
I learned what being active looks like for all ages
The majority of people climbing Mount Kilimanjaro were not 28-year-old fitness instructors who basically work out for a living. In fact, I'd hazard a guess that most of the people we passed on the trail were at least five to ten years older than me (exception being the British family of four with a 12-year-old daughter and 10-year-old son), and we passed several groups of hikers closer to retirement age than middle age (for example, a couple from Germany in their mid-70's).
In our own little trekking group, I witnessed my dad (exact age withheld, but let's say it's around retirement age) hike the exact same trail as his 20-something daughters, despite having a knee replacement. I closely followed one of our guides, John, who's 57 and still leading groups up the mountain.
And I ate the dust of several of our porters, who spanned all ages but finished the day's mileage in half the time it took me to do it, despite having the added burden of carrying all our camping gear on their backs. They chugged past us grinning and laughing the entire way, shouting encouragements of "pole pole!" In my next life, I aspire to be a porter.
I learned that I'm totally the victim of short-term memory adjustment
I called my boyfriend the day we got off the mountain, and to hear him tell it later, I apparently sounded like I'd had my soul sucked out by a dementor. Asked in the immediate aftermath of the climb whether I'd do it again, and I gave a resounding "NOPE" and dwelled on all the painful, negative parts of the trip.
Now, as I write this exactly one week after landing on U.S. soil, I'd give a more cautious yes. That's not to say it was an easy trip. I was uncomfortable, I was pushed to my mental and physical limits, and in the end, I still fell short by 500 feet (even if I know it was the right decision).
But since I've been back, I've rehashed our every step dozens of times as I share our story with friends, family, and co-workers. And each time I tell it, I'm more and more nostalgic for the fun parts of the trek, and less and less bitter about the difficult moments (like, for example, I don't know, 18 straight hours of rain).
(And that's not because I'm crazy – research shows that marathon runners also have a short-term memory when it comes to pain)
More importantly, was the pain and struggle worth it to spend nine days hiking a once-in-a-lifetime trail with the two people I love most? Yeah, absolutely. And to that extent, I would definitely do it again.
Just maybe with more snow gear in my backpack.