Five Fitness-Related Galentine's Day Ideas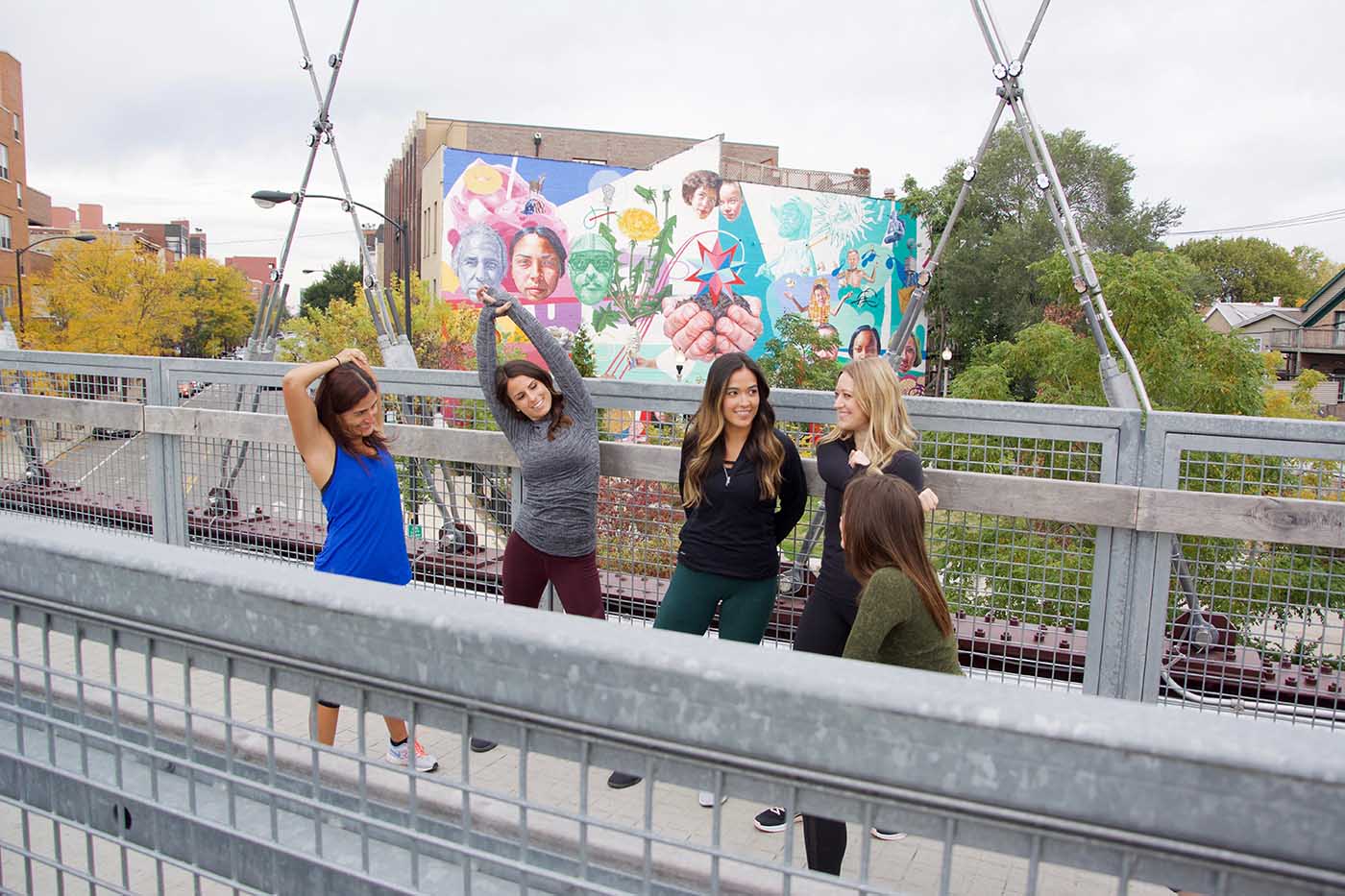 Galentine's Day is an unofficial holiday that celebrates gal pals, created by NBC's "Parks and Recreation" character, Leslie Knope. Traditionally, Galentine's Day is celebrated on February 13, but we recommend celebrating this auspicious occasion whenever you're able to get your lady tribe together for a fabulous and fit day.
While likely not the spirit in which Ms. Knope originally intended, we're celebrating Galentine's Day aSweatLife style, where everything – especially fitness – is better with friends. Gather your best girlfriends, book a post-workout waffles reservation, and go get your sweat on. We have a few ideas to get you started.
1. Tackle a relay-style group workout
Have fun with your friends by making up a workout that you all work together to complete. Take on a relay-style workout where each participant takes a turn being the pacer. For example, if you're at a gym, have one friend start on a treadmill while the other does push ups, holds a plank or works on a rower machine. When the runner gets to a set distance (a relatively short distance, between .15 and .3 miles), the friends swap. Keeping going until both partners have run a full mile. These workouts are totally customizable to the interests and skill level of you and your friends; get creative, have fun with it and be sure to cheer your friends on along the way.


2. Take it outside
One of the best ways to work up a sweat with friends is to spend time outside together. Take a page from Leslie's binder and head over to your favorite park to enjoy a snowball fight, go ice skating or try cross country skiing. Galentine's Day could be the motivation you need to bundle up and catch a few rays during the winter, whether this means taking a walk in a new neighborhood, venturing out of the city for a hike or playing in the snow.


3. Dance it out
Dancing with your girlfriends is always a good time, even if you're not the best dancer (guilty!) Take your moves from the club to the gym by signing up for a dance-style workout class. Dance classes are a great way to have fun, get your heart rate up and learn something new. From Bollywood to Zumba to ballroom to pole dancing (yes, it is a real workout), there is a style fit for everyone. Pick a class that is going to get you and your friends off your feet and having fun.

4. Play a game
Hit up a local gym and split into teams for a healthy competition with your ladies. A game of pick up basketball, volleyball or raquetball helps you let loose and get some exercise at the same time. Many gyms have options for drop-in rates, so you and your girls can get your game on without having to be members. You don't need to keep score, but if you do, consider a friendly wager – losing team buys the first round of mimosas!



5. Try something new
Galentine's Day is no ordinary day. Celebrate in style by trying a fun workout class that you've never done before. Working out with your girlfriends is the perfect time to try out puppy or goat yoga, visit a rock climbing gym or take a boxing class. Exploring new ways to work out is exciting, but can be a little nerve wracking too. Crush your nerves by making sure you have your girls in your corner.
Now go enjoy your brunch, you beautiful tropical fish.