Make the Most of Your On-The-Road Workouts With Pilates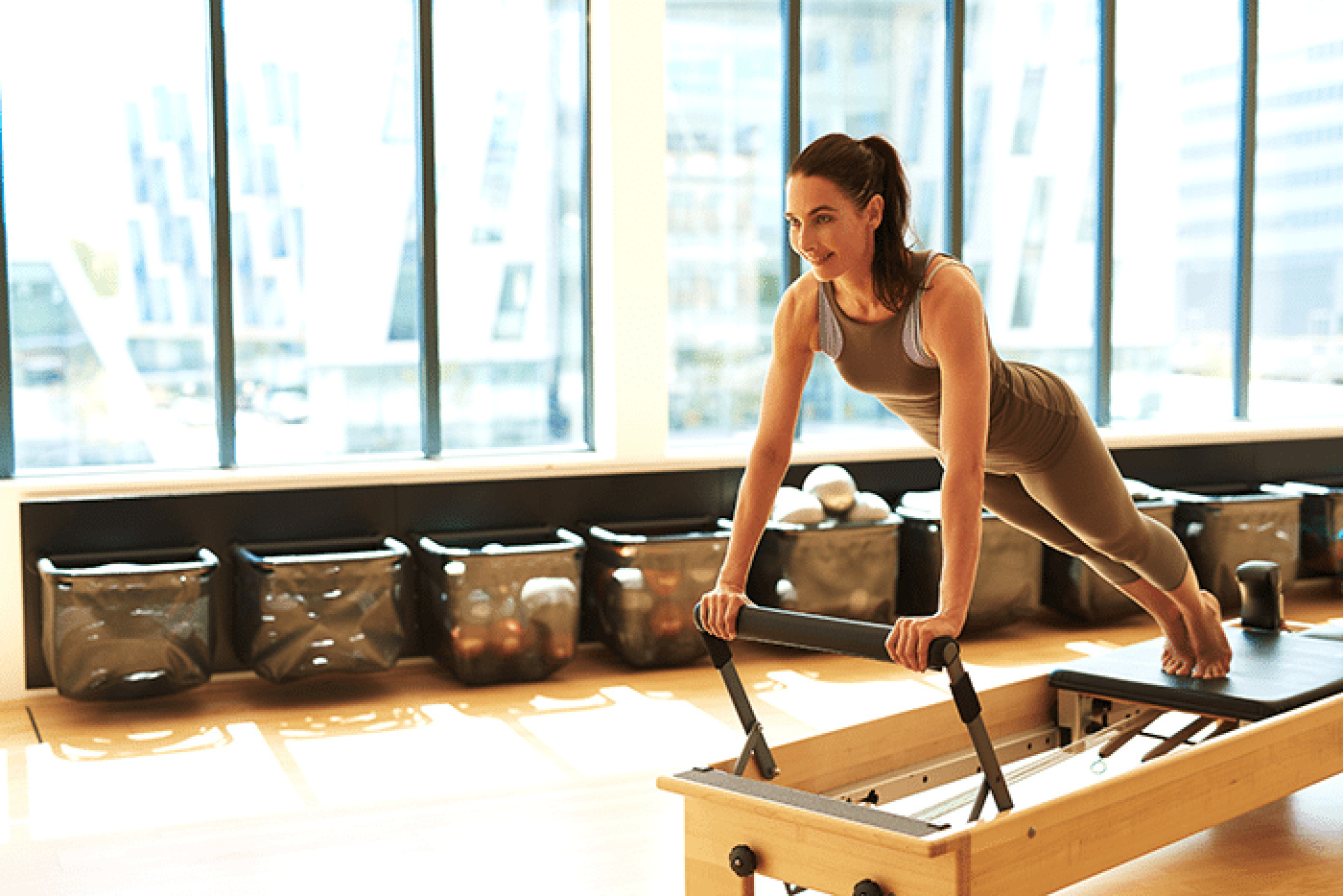 Whether you travel for business or pleasure, we all know that keeping up with a fitness routine on the road can be even more challenging than your workout itself. This is especially true for people who are serious about Pilates. After all, you can't exactly stuff a reformer in the trunk of your car or ask a flight attendant to help you hoist one into the overhead bin. But it turns out that you don't need much if any equipment to do Pilates on the road.
In fact, Pilates is an excellent type of workout to try especially if you travel frequently – it focuses on proper postural alignment, core stabilizer muscles and movements that focus both on strength and flexibility. This is true not only for reformer Pilates but a Pilates workout using only a mat. A similarly core-focused, toning, strengthening and lengthening workout, mat Pilates can be done anywhere you are.
I asked Doug Riccio, owner of dr pilates in the Larchmont Village neighborhood of Los Angeles, how we can all keep up our Pilates routine on the road if we can't go to our regular studio.
What's the best way to keep up a Pilates routine while traveling? Is it even possible?
Yes, it is, [especially] if you invest in a few pieces of equipment. One of them is the Magic Circle, which is a Pilates apparatus that we use. There are approximately 75 different exercises you can do with it. You can also use a Pilates ball, which adds an extra element for your core.
But you don't even need to bring anything with you. You can do things like hold a plank on top of the bed. You can also do Pilates push-ups or Series of Five on the floor. There are many things you can do just in your room to keep active.
Can a Pilates mat workout get the job done? 
Yes. You can do a Series of Five, which is an abdominal series that consists of a single leg stretch, double leg stretch, straight single leg stretch, double straight leg lower/lift and criss-cross.
You also do rolling like a ball. Anything you can do in a Pilates mat class can be done in your hotel room.
At dr pilates, we try to teach a combination of both mat and reformer because it's important to take some of these exercises back home with you and practice them there.
Are these exercises possible for people of various fitness levels to do?
Absolutely. If you can't do ten sets of an exercise, do eight. It's about keeping active.
How does traveling, especially sitting on a plane for hours at a time, for example, affect our bodies and what exercises can you do to remedy that?
Always plan ahead. Get up, don't sit stagnantly. Have a plan for when you get off the plane. If you are getting in early, walk around the city a little bit. Walking is probably the best thing for you after being in a seat for hours. For me, it's really important. No matter where I go—if I'm staying at a friend's place or traveling abroad, I want to know where the closest gym is and what activities we have planned that are going to keep me active. After being on a plane, you need an out. Walk, stay active.
Can you suggest other ways to stay fit while traveling?
Most new hotels now have gyms with areas to stretch, mats, weights and balls, so you have the equipment to do a Pilates workout there.
I believe that for people who want to stay fit, you need to watch what you eat, especially when you travel. Eating right is the number one thing. You can work out all you want, but if you don't eat right, it's a waste of your time.
I like to start every morning with a Paula Abdul shake with Forever Greens. You can make it with a NutriBullet. [If you want to make smoothies when you travel, the MagicBullet is a little more portable and gets the job done.]
Unsure where to start with a Pilates workout on the road? This Greatist article offers a 20-minute Pilates workout for any fitness level.