Robin Barnes Started A Movement With a Facebook Post
When jazz singer Robin Barnes isn't performing at various festivals and shows around New Orleans, she is working on making her hometown a more fit and connected place. After overcoming a serious illness, she focused on creating a healthier lifestyle for herself, which lead to her creating the Move Ya Brass fitness group off a single Facebook post.
Fusing New Orleans and Fitness
Move Ya Brass hosts weekly group runs on Mondays in New Orleans' City Park near the Museum of Art and Bounce Ya Brass & Hip Hop Ya Brass classes that alternate every six weeks on Tuesdays at Crescent Park. There is also a sunrise Stretch Ya Brass class held along the Mississippi River during the summer months and a new Twerk Ya Brass class is being introduced on Saturdays.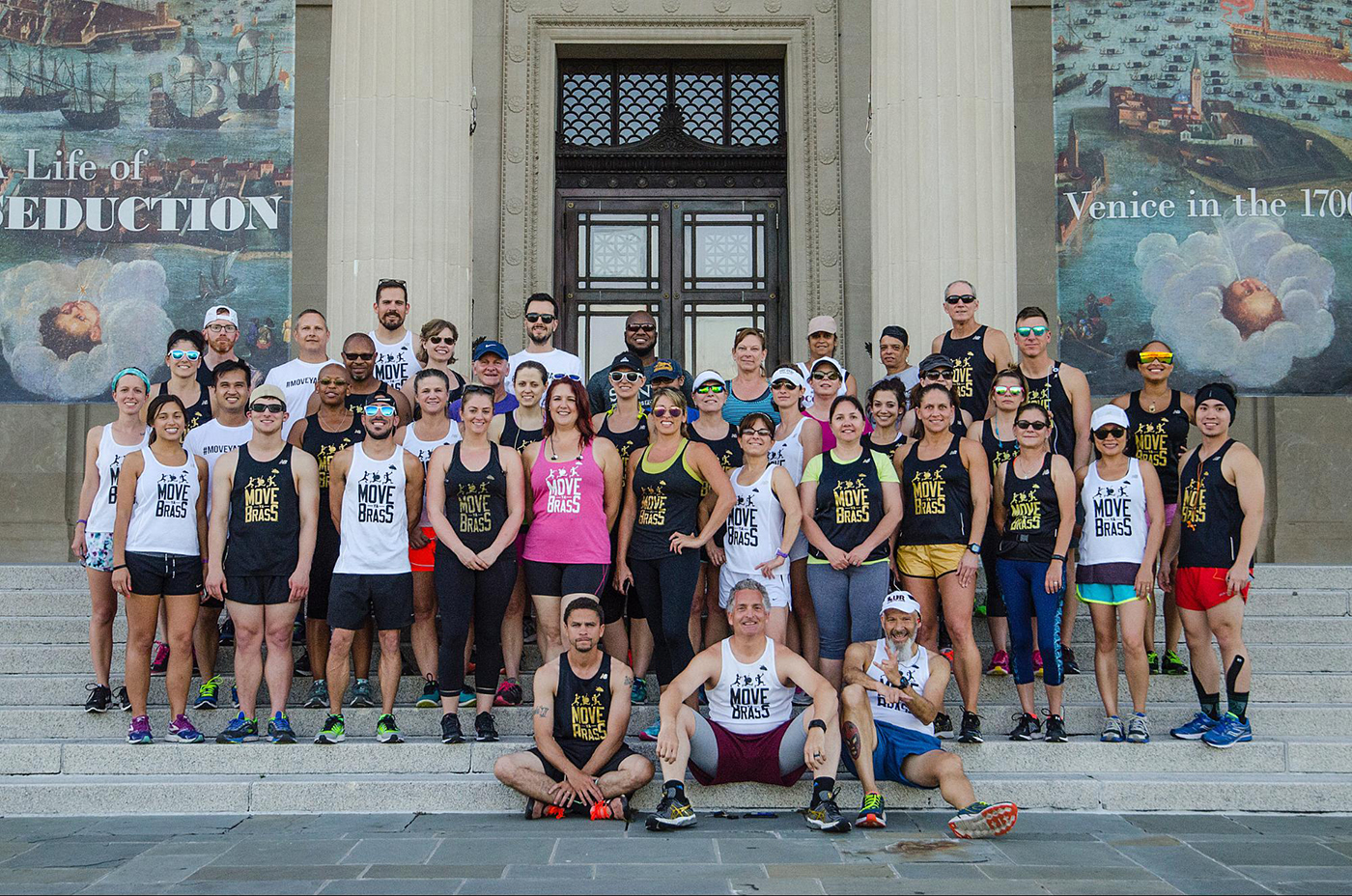 The classes aren't as daunting as they might sound to someone with no dance background or rhythm.
"I think some people are intimidated when they hear bounce music and they think they're just going to be twerking the whole time," Robin laughed. "In reality, ours is more incorporating of brass music which is more home for all of us, and bounce music. So, it's more of the lunges, squats, dancing, having fun. Just incorporating New Orleans moves with something people are more familiar with and comfortable with."
All the classes are free, which is a priority to Robin. "The goal is to keep Move Ya Brass as something everyone and their mama can do … because I barely can afford things sometimes," Robin said. "I feel like it's unfair in this world that people who really want to be healthy need to have income that can subsidize eating healthy. I'd rather you spend money on trying to eat healthy than trying to work out."
To fund Move Ya Brass, Robin relies on booking corporate events and sales of their singlets. She has a low overhead, as volunteers (many of whom have been with her since the beginning) handle administrative duties, help facilitate partnerships and serve as running coaches. Fitness instructor Shanda Domango is paid for the classes she teaches, but she volunteers her time as program director.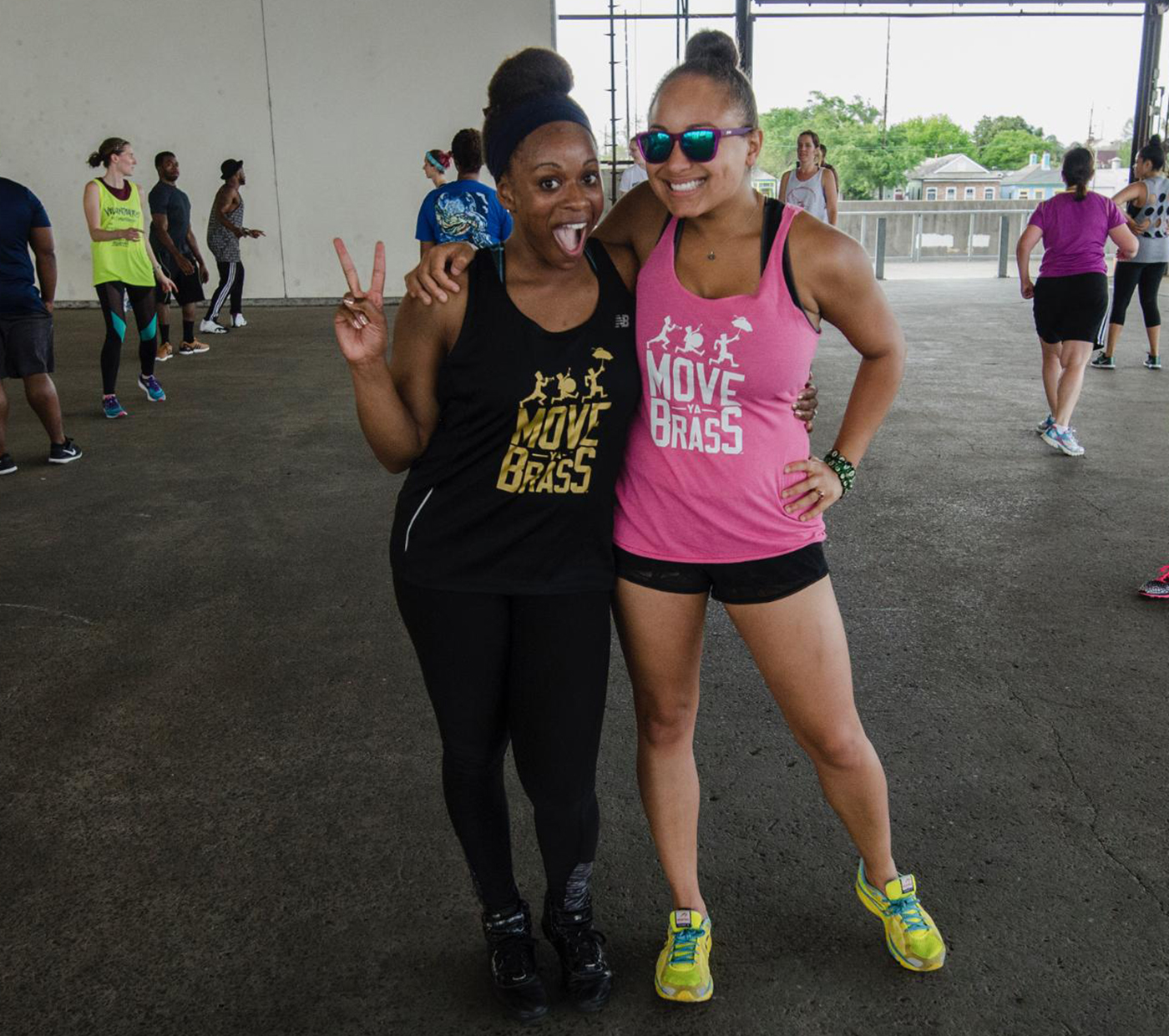 Taking Action
Robin started Move Ya Brass after she almost died from a rare strain of a kidney infection. She was put on a regimen of eight medications and followed a restricted diet of no meat, sugar, alcohol or bread, but upon her doctor giving her "medicine B without medicine A," she had a seizure.
"That's when I decided I wanted to take matters into my own hands," Robin recalled. Not wanting to be "droopy and sad and depressed and paranoid" from the medications, "I was like, let me try to be more active with vitamins and be more active with greens – basically not a traditional New Orleanian – and that's pretty much, I feel like, what saved my life. I'm happier and have more energy than I ever have in my life."
A new doctor also told her to incorporate more cardio to her day.  So, in July 2015, the musician took to Facebook, explained her situation to her friends and fans and invited them to run with her. Ten people she'd never met before showed up.
After that first day, the running group grew through word of mouth, welcoming runners of all ages, races and skill levels – from walkers to "some of the fastest runners in the city." But as Robin pointed out, "We're all just trying to have fun. That's what I always want it to be. I want it to be that funky, quirky group that's about supporting each other and giving each other a safe, positive environment to just be yourself."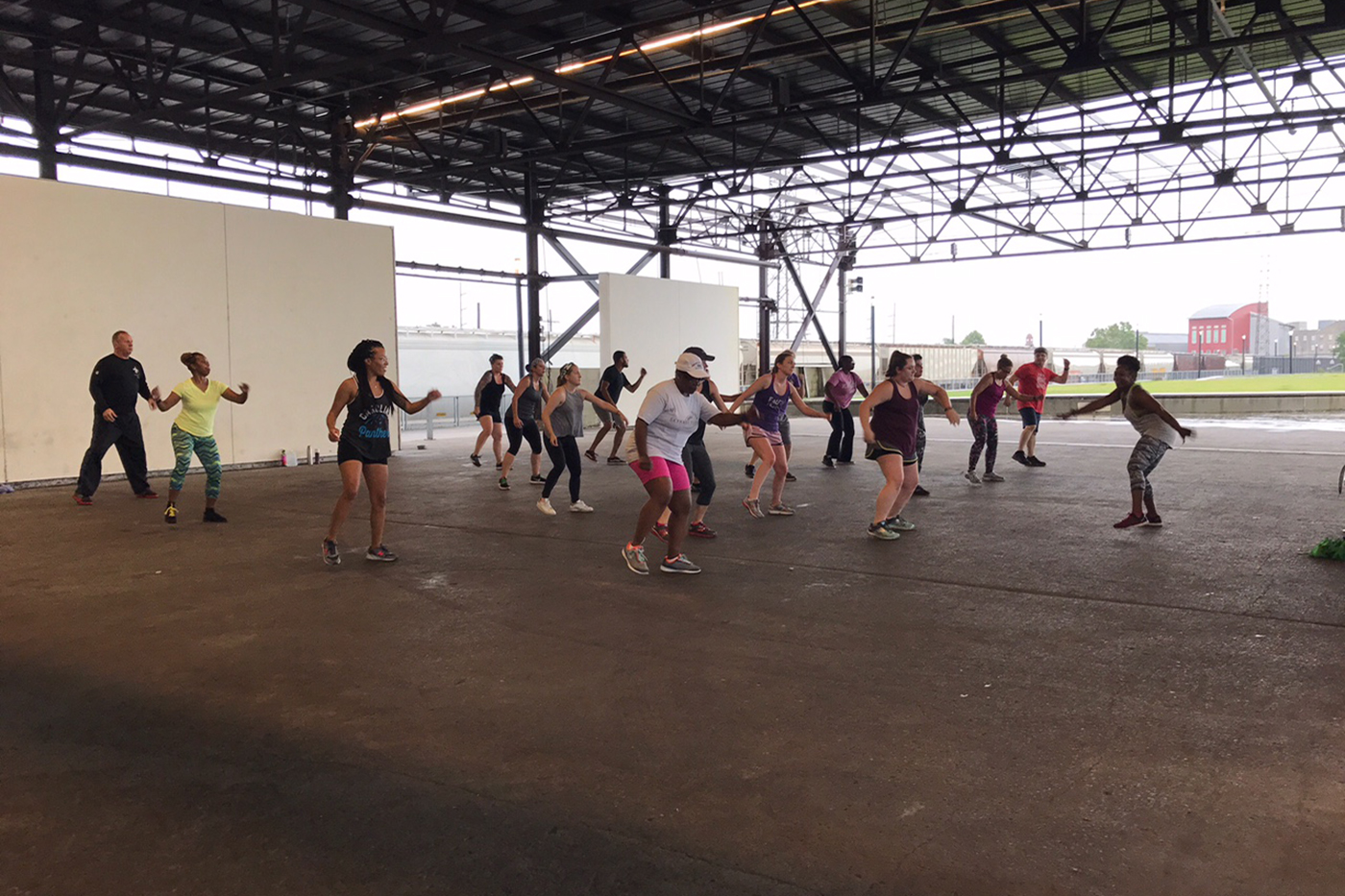 Move Ya Brass expanded when someone from Crescent Park called to inquire about fitness classes. Robin didn't have anything organized at the time, so she improvised and made up her Bounce, Hip Hop and Stretch classes on the spot. She then serendipitously met Shanda, who happened to teach the exact same classes Robin was scrambling to put together.
Finding Community
With her drive and enthusiasm, it's no surprise that the singer, who acts as her own manager and, at minimum, has three regular weekly gigs at two New Orleans hotels, turned one social media post into a fitness movement.
The Move Ya Brass Krewe on Facebook has over 600 members and there's usually at least 20 people at every group run and class. The group also races together, supports each other's outside running achievements and stays connected through newsletters and social media.
Despite her being the driving force, Robin is quick to credit the people around her for helping Move Ya Brass succeed, including her bass player and husband, Pat, who "supports any big dream I have."
"I promise you," she exclaimed, "if I didn't have the right people supporting me, Move Ya Brass would have seemed like a really crazy stupid thing [or] that the name sounded wacky … you just have to find that sense of community. You have to find that support system. I like to think [at] Move Ya Brass, we are enabling people to find that group that is supportive. Find those people that you might not be best friends with, but no one is judging you and everyone is just happy to see you."