Could ClassPass Credits Change How You Use the Multi-Gym App?
ClassPass's position at the intersection of tech and fitness allows it to test interesting things with its power to connect users to the gyms they love. Half of the reason I use ClassPass is because I find nothing more fascinating than analyzing the company's every move.
This week, ClassPass quietly rolled out a new way to use the platform to a small group of users in San Francisco and Chicago: credits.
What this looks like and what it could mean for users: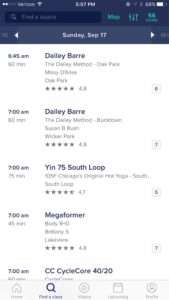 Potentially more classes:
This change could spell more classes for some users who are using lower-credit classes, depending on the user. The classes I tend to go to are the higher-credit classes. Apparently, I have discerning taste
Less advantageous Flex use for some and better for others: 
Previously, users who flexed – or changed their metro area to use ClassPass classes in another city – got a one-for-one class exchange regardless of the market.
Just for fun, I changed my metro area to New York City, where classes started at seven credits a class and went up to 11 credits per class. That's a losing scenario for my current membership plan, but classes are more expensive in New York, so Flex users in markets like New York City are expensive to ClassPass.
If I flex somewhere like San Francisco, LA or San Diego on my current membership, I'm probably going to see a savings in credits.
Less simplicity for the user:
Over the years, ClassPass moved away from a few things that make it so easy to explain to users. From one membership that gets you access to unlimited studios each month. To one membership that gets you 10 classes to studios you love each month. To one membership that gives you 70 credits each month to access studios that are assigned a varying credit value.
If it's harder to explain, it's probably harder to use.
Because this is just a test, it may not be the future for ClassPass. Here's what they have to say.
ClassPass is currently focusing this test around providing "a more customizable membership experience that allows more flexibility around types and numbers of classes a member could attend within a cycle."
"We are constantly testing and evaluating the various levers we have to maximize membership benefits while driving more studio revenue. Currently, we are doing a beta test of a credit-based model in Chicago and San Francisco to a small subset of users," Ashley Hennings, Director of PR at ClassPass said, "Nothing definitive has been decided as it is early days of testing, but we'll be sure to share more should the company decide to move in this direction network wide."