Your Skin on Superfoods – And Superfoods on Your Skin
By now, you're probably familiar with the importance of superfoods in your diet. Blueberries for antioxidants, salmon for omega-3's, kale for vitamins and calcium, oats for fiber … the list goes on.
But what about what happens when you put superfoods on your face? I'm not talking about blending up a green smoothie and slathering it on your face (although hey, more power to you if that's the route you choose – anything for flawless skin, right?)
No, instead I'm referring to the latest trend in luxury skincare products: including superfoods as the prominent ingredient in all-natural masks, cleaners, moisturizers and toners.
After an intriguing email from Sephora tempted me to "feed my skin" with nutrient-rich superfoods, I decided to investigate. With Maggie in tow, I headed to Sephora on Michigan Avenue for a skincare consultation and mini-facial.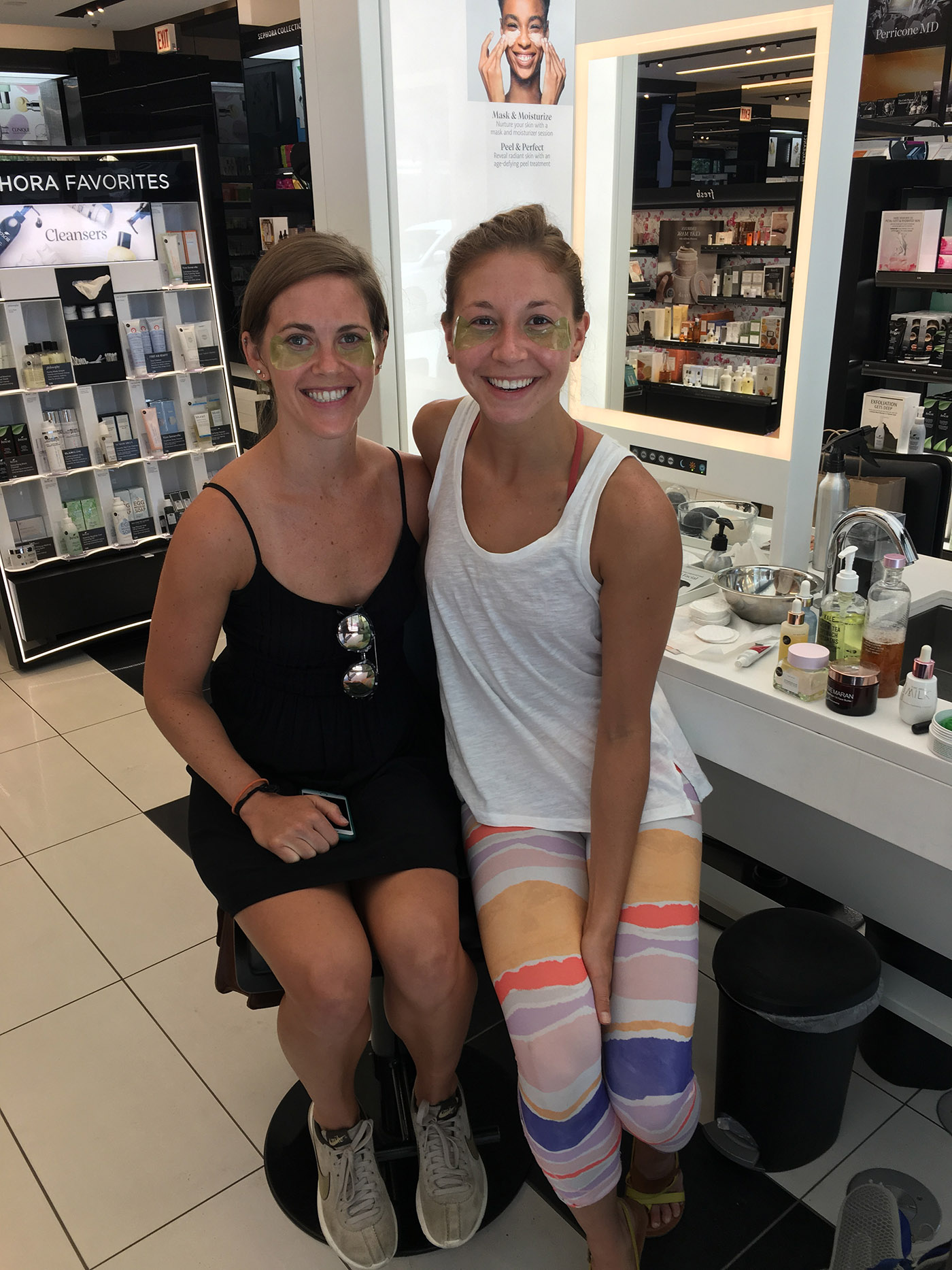 (Pro tip: Always do skincare consultations with a friend. First, everything is better with friends, duh. But second, you get twice the products to try out. Skincare hack!)
After a quick skin assessment for the both of us (soothing, skin-toning products for Maggie, hyper-moisturizing and anti-aging products for me), the magicians at Sephora disappeared into the back and came out with trays of sample products, each of which heavily relied on superfoods as the stars of the show.
As we took turns getting pampered, our skincare consultants (Jessica and Brianna) told us more about the phenomenon of superfoods and how they can become a part of your skincare routine.
A spinach, kale, green tea and vitamins cleanser from California brand Youth to the People was massaged onto my face, with the promise of detoxifying my skin from the city air without drying it out. The gentle cleanser was thicker than my usual drug-store Cetaphil, with a thickness similar to luxury hand soap that made it feel super moisturizing. The superfoods in this cleanser, Jessica shared, were formulated to soothe your skin gently while still being powerful enough to give you a deep clean.
In fact, that's the prevalent theme of using superfoods in your skincare products: powerful but gentle.
"Some of these all-natural products can be as powerful as retinol, but without the chemicals," recommended Jessica. As someone who had fully bought in to the necessity of retinol in my anti-aging products, I was shocked to realize I could get the same powerful anti-aging magic with an all-natural, superfood-laden product.
Next came a hydrating watermelon mask from Glow Recipe, a product so popular Brianna was surprised to find it still in stock. You already know watermelon is a majorly hydrating fruit; now, you can use its extract as a moisturizer to plump your skin up. The pearly mask went on thick, but its light sheen meant I nearly looked presentable enough to walk outside.
From there, the skincare products came in a bit of a blur. Rose toner from Fresh for further hydration and soothing, Pure Argan Milk hydrating treatment from natural beauty guru Josie Maran, a hydrating and brightening serum from Boscia with sake as one of the main ingredients, another Josie Maran facial moisturizer with argan oil and finally, a Miranda Kerr-created face oil with Noni fruit. It was a whirlwind, but my skin was drinking in every ounce of product as I tried to keep up with Brianna's moves in a futile attempt to recreate this on my own at home. Maggie and I left with samples in hand and glowing skin, ready to face Saturday (pun totally intended).
Want to get started on your own skincare superfoods journey? Sephora recommends looking for the following ingredients in your skincare products: