First Impressions of Hiking Hong Kong
Each day, when I look out of my window at my cosmopolitan view of Shenzhen, China, I find myself nostalgic for the view that I had in Quito, Ecuador. Each morning I got ready for school gazing at Rucu Pichincha, one of many Andes mountains that I hiked while spending three years in that small South American country that simply stole my heart. Those breathtaking and majestic Andes will forever run through my blood.
This fall I was flying to Yunnan province in Southern China and found myself in awe as I stared down at the snow-capped Himalayas below. While they were a sight to behold, I think I can honestly say that I will not be climbing many of the mountains of my new host country. Fortunately for me, a 40-minute bus ride lands me in Hong Kong, and after many months of culture-shock-brain-freeze, I finally found it in myself to Google "hiking in Hong Kong" to happily discover the nearby landscape is perfect for short day treks. I am eager to tell you about the unexpected paths … and hairy friends … that I have discovered on the island.
This was my introduction to hiking Hong Kong. Victoria Peak is located on Hong Kong Island, 1,810 feet above the first floor of those 60-story skyscrapers that seem to soar into the sky. The views over the city from the peak are in sharp contrast to the patchwork landscapes I remember from Ecuador, but they are breathtaking as well.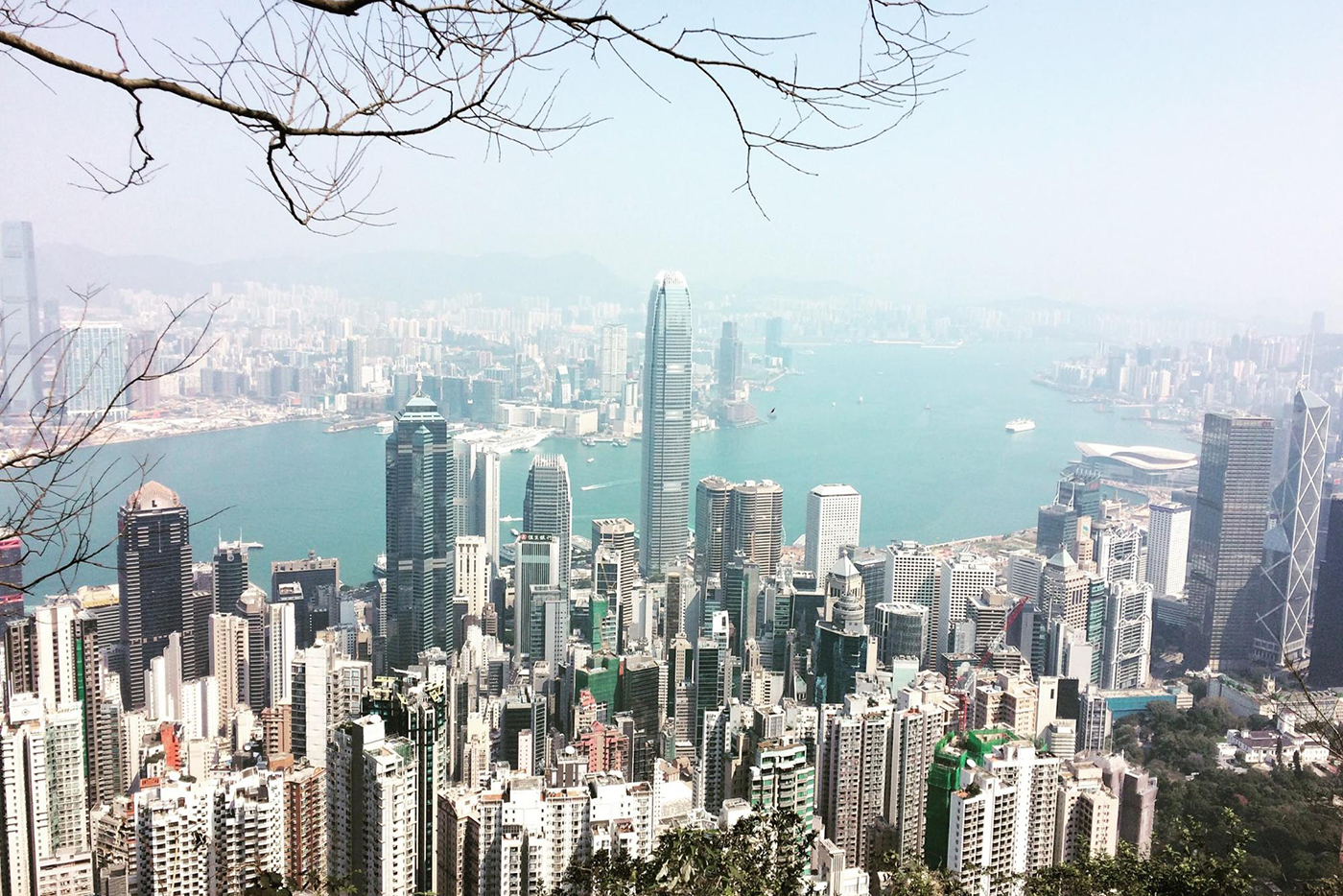 Previously, when someone said anything about hiking, it conjured images of dirt trails and switchbacks. Hong Kong has some surprises in store in this vein. There was less trail and more stairs on this three-hour trek. Stairs for days. Stairs that seemed to lead to heaven if you could forget about the hell that your legs were enduring. You gotta love a booty-buster, amigos. A historical surprise along the way, nestled in between two sets of staircases, were relics from World War II. Did you know the role that Hong Kong played in this world war? My Western-centric education had never made mention of such things. To learn more, you can take guided hiking tours or check out a book titled "The Fall of Hong Kong: Britain, China and the Japanese Occupation" by Philip Snow.
As my friend, Alice, and I were marching up a steep hill to get to the trail to start the hike, we came across monkeys. A whole troop of monkeys. Say what?! Yes, that's what I kept thinking as we saw one after another, including a baby getting an under-tummy ride from its mama. And then there was the gatekeeper to the trail: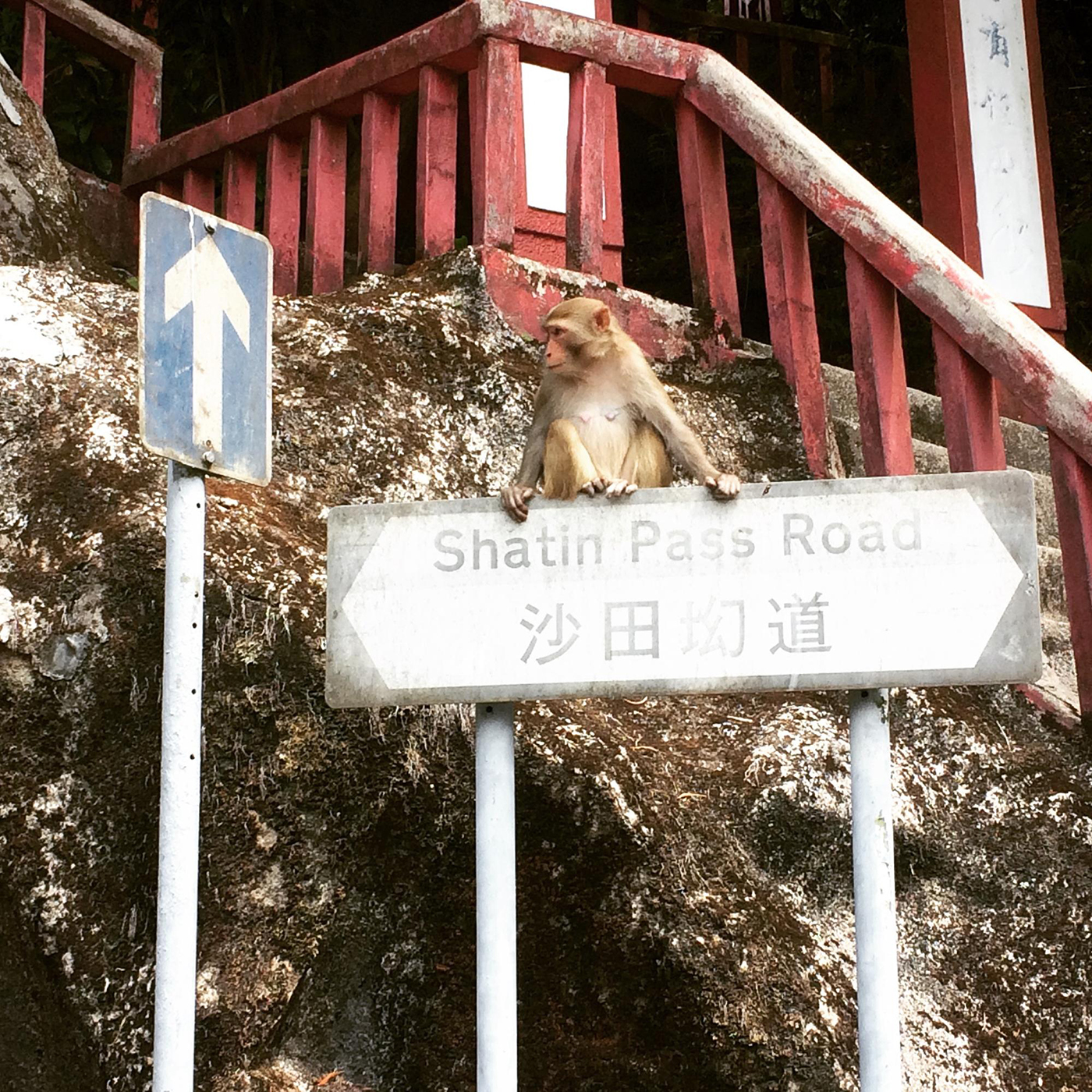 From metro-stop to the peak of the hike and back down again it was about three hours. This second hike corroborated my first impression: Hong Kongers take a no-nonsense approach to hiking. This was another haul up an outdoor Stairmaster. Unlike the gym, though, it offered more stellar views of the vertical city below, along with a good dose of Vitamin D from the bright sun above.
It was through a group called Meetup that I got connected with this trail. If you are new to a city, I recommend Googling to see if there are Meetup groups in your area; the groups form based on many different hobbies and are a fantastic way to get connected with others with similar interests. Our guide for this morning trek, a Scot residing in Hong Kong for 30 years, had a great deal of knowledge to offer. As we mounted 1,800 steps to reach our summit 430 feet above the sea, he informed us of the four major trails that run through Hong Kong. On the trails you will find distance posts. If you are ever injured on the trail, you can call Hong Kong's emergency number and tell them the nearest grid reference to get a nice helicopter ride or escort back to safety.
Unbeknownst to most, Hong Kong is 60% parks and paths. While I am no longer scaling Andean snow-capped mountains or summiting 19,000 foot peaks, I am getting a great dose of nature and gorgeous views.
Next hike: waterfalls!
And if this post or anything else we've created impacted your life, please support our Kickstarter.