Tips to Get the Most Out of Your Cooking Class
I don't remember precisely how it happened, but I do remember when it happened. In the middle of my senior year of college I became a Food Network junkie. Rachael Ray became my guilty pleasure after my classes were done each day … but really when I think about all that I learned from 30-Minute Meals and the enjoyment that I got from watching how to make delish dishes, her show was as educational to me as my Literature 300 classes were; Don Scheese was helping me feed my brain with the works of Emerson, and Rach was helping me feed my stomach with a tasty stoup.
With my Italian blood, I've always been a passionate eater, but senior year got me pretty jazzed about what I could do in the kitchen to prepare food for myself and loved ones. In the years following graduation, I have acquired many weighty cookbooks and since moving abroad, I have found a number of fabulous food bloggers to follow.
In recent years, my family has begun to put more emphasis on giving experiences for special occasions rather than gifts. When my mom asked me what I wanted this year for Christmas, the foodie in me piped up, "A cooking class!" And that's what I got. The following are some tips on making the most of your class that surfaced as I was chopping and sautéing, while preparing a recipe for swordfish.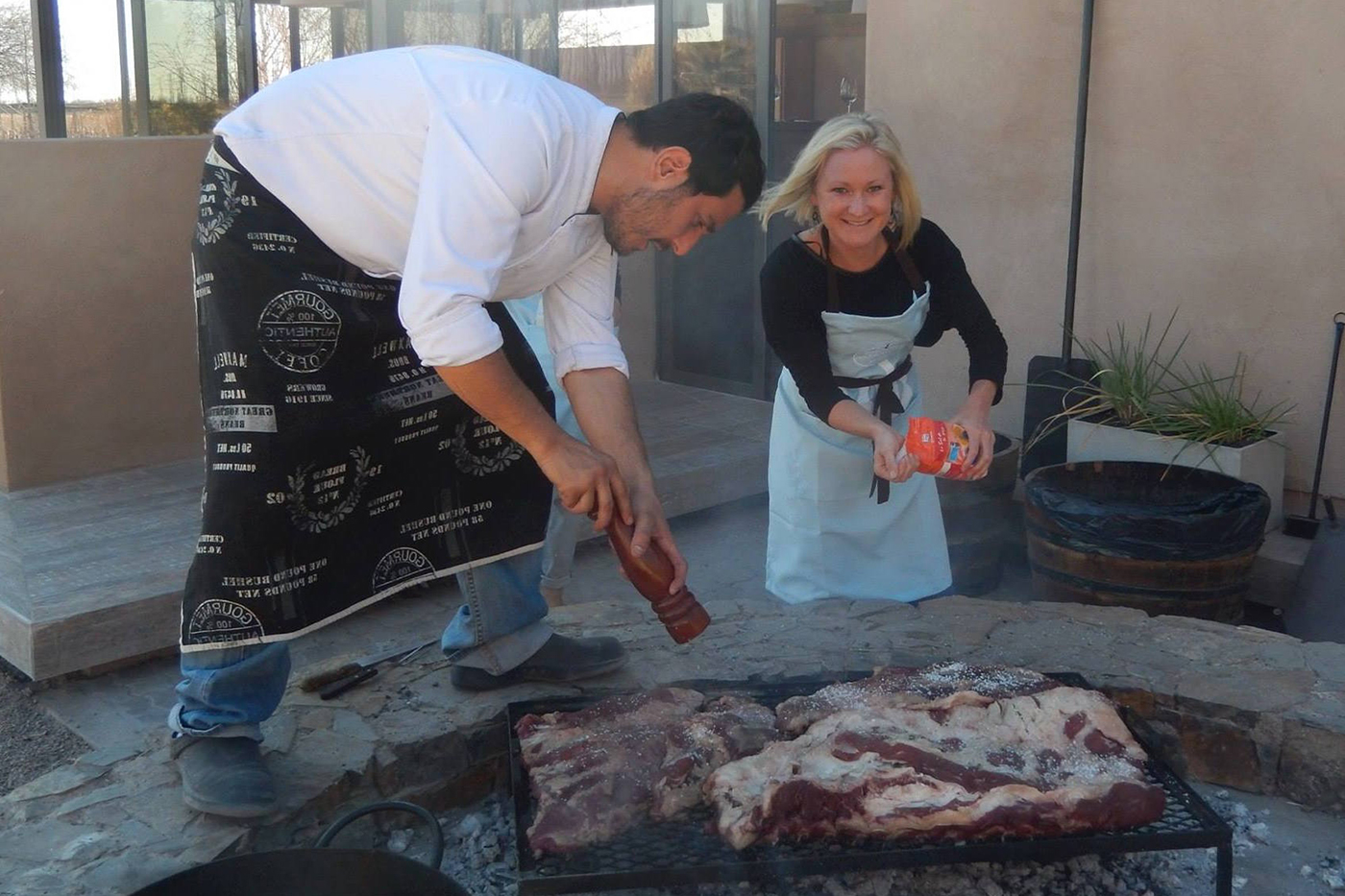 1. Consider the location.
While this is not about the class itself, finding a quaint part of your city – or a new city – adds to the excitement of the experience. I was rather spoiled as my first cooking class was an 8-hour adventure in Mendoza, Argentina with my grandmother. It was just her, our chef José, and me … and bottles of wine with a blue, blue horizon out the full-length glass walls. While that is not an everyday experience, consider locale when you choose your cooking class. Are there fun boutiques in the area? A quaint bookstore or coffee shop to hit up beforehand? A cool bar with microbrews to chat about the new tidbits you learned afterwards?
2. Call ahead to learn about the setup of the class.
I will admit that I was a bit disappointed when I arrived and found out that during my most recent cooking class we split up into teams to cook different parts of a larger menu. While I enjoyed the class altogether, I felt I missed out on learning other techniques since my group prepared just one dish of many.
3. Choose your cooking partners mindfully.
What are you looking for socially? Would this best be a space for you to go solo? To do some team building with your colleagues or significant other? My grandma and my mom joined in the fun this Christmas. I cook for my family a good deal when I am home, but it was special to cook with them during the class.
4. Be bold.
Ask questions during the instruction. If your course is also divided into teams, kindly make your way into the process rather than feeling afraid of stepping on toes and letting your new partners do all of the active learning and prepping.
5. Take notes.
Here comes the teacher in me. Our brains retain about 10-15% of information the first time we are learning something new. Jot down the best way to slice that onion, the suggested wine pairings with various seafood, how long to marinade the meat and the cook times and temperatures for different foods.
With a whole new palate of foods to explore, I am seeking out a cooking class in Shenzhen or China to help me decide how to marry the flavors. I'm happy I found Rachael Ray over a decade ago; she helped me discover a delicious passion to explore. When I chomped into the Salmon BLT with mom and gram at our last class, there was only one thing to exclaim: Yum-O!