Fitness for the Busy Mom and Dad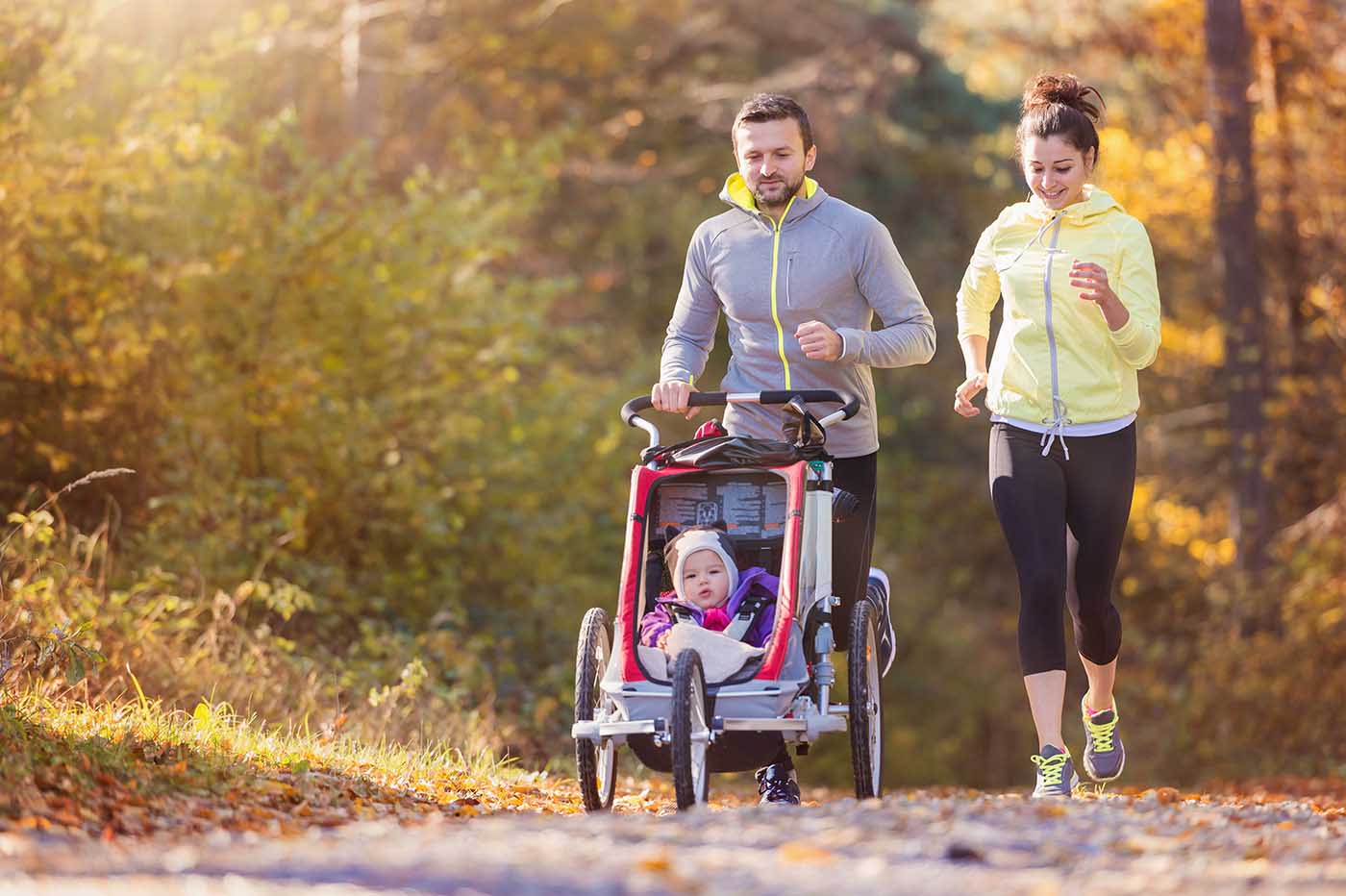 When I talk to friends and coworkers who recently had a baby, I am constantly amazed by everything they're able to juggle. By the time I leave work, go to the gym and get home, it's so late at night that I don't even feel ready to get a puppy. Fortunately, a lot of gyms and fitness programs are helping parents by organizing special classes that let them bring babies, so they can still get all the benefits of a fit lifestyle (including the much needed stress-management) while never missing a moment with your their little one – or having to find childcare.
A lot of these classes and groups are aimed at moms to address the unique things that their bodies go through after childbirth, but there are options for dads too.
Saturdays 10 am
Drop in $15
Fit Results in the South Loop is run by one of my long-time favorite trainers. I keep going back because of his tough workouts and welcoming environment. As a new dad himself, owner Lou Centeno realized that finding day care could be a major challenge to getting to group fitness classes. To combat this struggle, he recently began offering a Baby and Me class, where parents can bring their babies and expect a serious sweat. Expect to turn your stroller into an ab roller.
Classes offered every day except Friday
Drop in $45 (First Class $25)
With many competing priorities, it's tough for new moms to continue their fitness routine. Active Mom's Club, hosted at i.d. gym in Lincoln Park, encourages moms to set S.M.A.R.T. goals and provides the guidance to reach those goals during a 60-day session. Every member of the classes must be a mom, allowing participants to feel comfortable even when life feels a bit new and different. Workouts are high-intensity interval based, meaning you will make the most of every minute of work. Note that you have to be at least twelve weeks postpartum to participate.
Classes offered daily
Drop in $25
With classes ranging from Pre/Post Natal Weights & Cardio Intervals to Baby and Me Yoga, Cocoon Care in River North offers one of the widest arrays of options for expecting moms, new moms, and those wanting a variety of workouts. Whether you are hoping to tone for labor, or want to bring your little one in for a Mommy and Me workout, there's something for everyone. It's even available on ClassPass, for those who've kept it on Hold until life settles down!
Multiple locations: Chicago, Evanston, Niles, Arlington Heights, Glenview, Vernon Hills and Northbrook
Drop in $20 (First Class free)
With classes designed for expecting moms and new moms, Fit4Mom is a national chain with a growing presence throughout Chicagoland. They offer a wide variety of classes, including Stroller Strides and Stroller Barre, where you can bring your baby along during class. A coworker shared that her experience with Fit4Mom not only helped her get back into shape postpartum, but introduced her to a group of women who have become some of her closest friends. Fit4Mom prides itself on not only helping women stay fit and healthy, but also on connecting women going through the same craziness of bringing home a new addition to the family.
Mom & Baby: Mondays & Thursdays at 11:30 AM
Parent & Tot Yoga: Tuesdays and Fridays at 10:15 AM
Drop in $18
For yogi parents looking for a little zen, Bloom Yoga Studio in Ravenswood offers classes in a welcoming environment for kids of various ages for a family-based yoga class. They also offer prenatal and postpartum yoga classes, as well as workshop classes for expecting parents. The welcoming environment will ensure that your little one isn't the only one in Happy Baby.
Where do you go to work up a sweat with or without your tot?
Let us know!
Did this post help you get closer to achieving one of your goals?